Guys, Meghan Markle Is Wearing Crazy-Chill Wedding Makeup
Behold: The most classic Meghan makeup ever.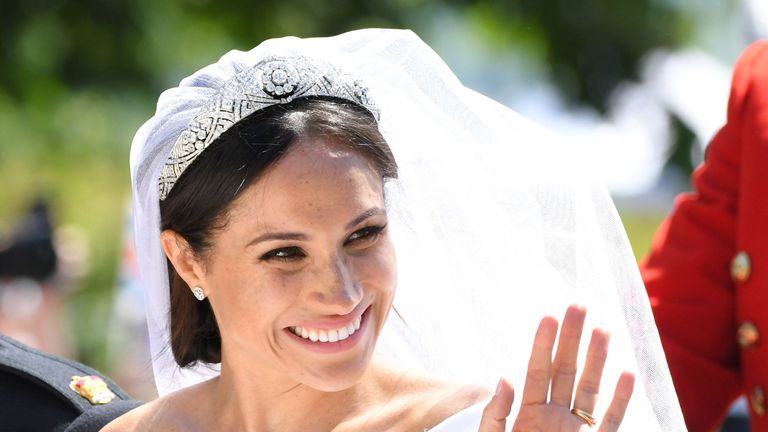 (Image credit: Getty Images)
UPDATE 5/19/18: The royal wedding, the day we've all been waiting for, is officially here, and Meghan Markle has made her wedding-day debut wearing a sleek chignon with swooping, center-parted bangs (opens in new tab), and, of course, a gorgeous face of subtle makeup.
Though there was quite the speculation as to whether or not Meghan would stick close to her usual makeup routine or try something bolder and darker, it looks like the royal-to-be has clung to familiarity (opens in new tab). Her skin is dewy and luminescent—with, of course, her freckles showing—while her eye look is slightly smoky with bold brows. On her lips: a neutral, rose-pink lipstick.

Though there's no official word as to who, exactly, did Meghan's makeup, sources say it was two of Meghan's closest American friends (opens in new tab), one of which is a stylist. We'll keep updating this story as details come in.
PREVIOUSLY:

Brace yourself: The royal wedding is officially just a few weeks away (May 19, y'all), and the closer we get to the big day, the closer we get to finding out—rather than just speculating about—exactly what Meghan Markle will look like as she walks down the aisle.
So far, we already know that Meghan will be able to "do as she sees fit" with regards to how she'll wear her hair. She'll likely opt for a style that's loose and wavy, yet partially up (like a half-up knot) to better showcase the tiara. As for her makeup, it seems as though she'll also have total control over the final look.
"Her day-to-day look is very beautiful and polished, and I'm sure that that's exactly what she'll extend to her wedding day, too," says British bridal designer Caroline Castigliano, MarieClaire.com's exclusive royal wedding expert. So, you know, maybe a few swipes of her favorite YSL Touche Éclat Radiant Touch concealer under her eyes, a hazy smudge of her go-to eyeliner MAC Eye Kohl Pencil in Teddy around her lash lines, and then a coat of Charlotte Tilbury's Matte Revolution in Very Victoria, the rosy-brown lipstick Meghan's rumored to love.
In any other celebrity-level wedding, it's a given that the bride would have free reign over her bridal look, but in royal world, there are zillions of strict protocols that must be followed on a daily basis (like a royal can't wear "casual" clothing (opens in new tab); a royal can't expose her cleavage; a royal can't have her chin turned up from the ground—yes, you heard me) and a wedding is no exception.
But according to Castigliano, the rules may be a little more flexible for
Meghan's big day, because it is, you know, her freaking wedding. Still, it's highly unlikely that she'll suddenly opt for a vampy burgundy lipstick with a thick cat-eye (though, hey, I guess anything is possible). Instead, Castigliano thinks Meghan will stick with a style in the vein of her classic, no-makeup makeup. "I think she'll have a very natural look," she says. "I love her 'nude' look myself, but I think that she'll go with something slightly softer and pinker—something that's slightly more classic for a bride."
Of course, the idea of a "classic" look varies from person to person—Kate Middleton, for example, chose thick brows, flushed cheeks, rose-pink lipstick, and dark, heavily lined eyes for her wedding in 2011. And, fun fact, she also did her own makeup, according to People. Can you imagine the pressure that is doing your own makeup for a freaking royal wedding televised around the world and living on the internet for decades to come? No, thank you.
But Castigliano doesn't think Meghan will go the DIY route, especially since she's spent the last decade of her life surrounded by a team of professional hairstylists and makeup artists on set. "I would think Meghan will probably get somebody to do her makeup, especially since she has so much experience with people coming in and doing it for her," she says. "And she's obviously got a specific style on how she wants her makeup done so that she looks as if she wearing makeup, but it's still quite natural."
In other words, Meghan knows what she wants and likes, and she'll probably have no problem communicating that look to whatever makeup artist she uses. Of course, this is all still speculation, since anything can—and probably will—happen before May 19. But until then, we're happy to imagine the possibilities for funsies.
Make sure to check out Meghan's all-time favorite makeup and skincare products, below. They won't turn you into a princess, but you'll definitely feel like one after using them.
Behold: Meghan Markle's 7 Favorite Beauty Products
Image 1 of 8
Fresh Sugar Advanced Therapy Lip Treatment with SPF 15, $26
&#x201C;I have searched high and low and tried every kind of lip balm, but this is the very best,&#x201D; Markle said about this soothing formula in an interview with&#xA0;<a href="https://theladylovescouture.com/meghan-markle-interview-her-beauty-look-more/">The Lady Loves Couture</a>. &#x201C;Soft, kissable, buttery lips. I swear by it.&quot;
Yves Saint Laurent Touche Éclat Radiant Touch Concealer, $28
In the same interview, Markle noted that her all-time favorite beauty product is this classic, light-reflecting concealer, saying, "It blends, it's compact, and if you've worked a 17-hour day and have nothing else on, you will still look relatively alive. Relatively."
Decleor Aromessence Rose D'Orient Soothing Serum, $35
Makeup artist&#xA0;<a href="https://www.instagram.com/minminmadotcom/?utm_source=ig_embed&amp;action=profilevisit">Min Min Ma</a>, who worked with Markle on the set of&#xA0;<em>Suits</em>,&#xA0;<a href="http://www.eonline.com/news/843437/how-to-get-meghan-markle-s-signature-beauty-look">has credited</a>&#xA0;this ultra-calming, rose-infused oil serum as the key to smoothing Markle&#x2019;s skin before applying makeup.
MAC Eye Kohl Pencil in Teddy, $18
To &#x201C;amp up&#x201D; her eye look when she&#x2019;s going out, Markle&#xA0;<a href="https://www.allure.com/story/meghan-markle-suits-beauty-tips" target="_blank">praised</a>&#xA0;this smudgy, gold-flecked brown liner, saying it&#x2019;s what her makeup artist uses on Sofia Vergara, and &#x201C;who wouldn&#x2019;t want those gorgeous brown almond eyes?&#x201D;
Nivea Skin Firming Hydration Body Lotion, $14
&#x201C;I use this religiously; it&#x2019;s honestly my favorite lotion on the market,&#x201D; Markle told&#xA0;<a href="http://beautybanter.com/bathing-beauty-suits-meghan-markle" target="_blank"><em>Beauty Banter</em></a>&#xA0;about Nivea&#x2019;s body-tightening formula. &#x201C;It&#x2019;s so affordable, and makes my skin look and feel amazing. I would buy a case of this at a time if I could find it.&quot;
Charlotte Tilbury Matte Revolution Lipstick in Very Victoria, $34
<a href="https://www.marieclaire.com/beauty/a19619285/meghan-markle-wears-charlotte-tilbury-lipstick/">It&#x2019;s been reported</a>&#xA0;that Markle&#x2019;s iconic nude lips are the work of this cult-favorite matte lipstick in the rosy-brown shade of Very Victoria
​Oribe Dry Texturizing Spray, $46
&#x201C;When my hair is feeling a little weighted, Suanne, my hair artist on set, has me bend forward and she sprays a little Oribe Dry Texturizing Spray...to give my hair a little extra bounce,&#x201D; said Markle to&#xA0;<a href="https://www.birchbox.com/magazine/article/meghan-markle-suits-beauty-secrets??utm_source=linkshare&amp;utm_medium=affiliate&amp;utm_campaign=93xLBvPhAeE&amp;siteID=93xLBvPhAeE-oSBviiZO_wvMnSiH5l_frA"><em>Byrdie</em></a>&#xA0;about this root-boosting spray.
​RevitaLash Advanced Eyelash Conditioner, $150
If the idea of lash extensions scares you, never fear: Markle adds length to her natural eyelashes with RevitaLash growth serum, telling&#xA0;<a href="https://www.allure.com/story/meghan-markle-suits-beauty-tips"><em>Allure</em></a>, &#x201C;I swear [my lashes] are as long as they could ever be.&#x201D;
Chloe Metzger is the deputy beauty director at Cosmopolitan, overseeing the editorial content and growth strategy of the hair, makeup, and skin space on digital, while also obsessively writing about the best hair products for every hair type (curly girl here; whattup), and the skincare routines that really, truly work (follow her on Instagram to see behind-the-scenes pics of that magazine life). She brings nearly a decade of writing and editing expertise, and her work has appeared in Allure, Health, Fitness, Marie Claire, StyleCaster, and Parents. She also has an unhealthy adoration for Tom Hanks and would like to please meet him one day, if you could arrange that. Thanks.