Hilary Duff's Hair Routine Includes Texturizing Spray, Dry Shampoo, and More Texturizing Spray
BRB, going to go buy all of it.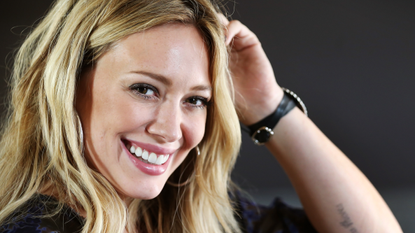 (Image credit: Getty Images)
Reasons why Hilary Duff is and always will be the best: She's responsible for the soundtrack to your entire childhood (ahem, "Come Clean," "Why Not," and "What Dreams Are Made Of"), she's a complete badass as twentysomething Kelsey Peters in TV Land's Younger, and, possibly most importantly to this beauty editor, she's got inspo-worthy hair. (Plus, you know, she's a good mom, she's kind, she's smart, she cares about animals, etc., etc. But also HAIR.)
And because I'm a very, very lucky person, I got to speak with Hilary Duff ahead of her Younger season finale that airs tonight and ask her about said hair—namely, what her favorite products are and how she gets that perfectly textured-and-tousled look at all times (hint: genetics, genetics, and lots of texturizing products).
The Routine
"I mean, I have to give a shout out to Cynthia [Vanis], my hair girl [on Younger], who is bomb," Hilary tells MarieClaire.com. "When I'm having any issue in my day, it turns into me hating my hair, so I always sit down and tell her, 'It's one of those days!' and she manages to make it look awesome." Ah, the perks of having an amazing hairstylist on a network TV show, am I right?
But, if you're not a major Hollywood celeb, never fear, because Hilary Duff does, in fact, use hair products at home. "I love R+Co products," she says. "I use their Mannequin Styling Paste (opens in new tab) a lot when I need some texture, or I'll use Oribe's Dry Texturizing Spray (opens in new tab)."
In fact, most of Hilary's go-to styling products revolve around adding texture to her waves. "You know when you wash your hair on the first day and it's too slippery? I like using something like Unite Second Day Finishing Cream (opens in new tab), this little paste-like product that gives my hair just enough grit so it's not too soft," she adds.
As for her dry shampoo? "I love Aveda's Shampure Dry Shampoo (opens in new tab)," she says. "It smells so good and it's in this little squeeze bottle that puffs out when you apply it." (I can attest to its goodness—I am a recent convert, thanks to Duff).
Of course, no matter how many texturizing sprays or pastes you layer in your hair, there's only so much you can do on your own to recreate Hilary's signature waves. But hey—at least you know which hair products to put on your wish list for the next time you've got some cash to burn.
RELATED STORY
Chloe Metzger is the deputy beauty director at Cosmopolitan, overseeing the editorial content and growth strategy of the hair, makeup, and skin space on digital, while also obsessively writing about the best hair products for every hair type (curly girl here; whattup), and the skincare routines that really, truly work (follow her on Instagram to see behind-the-scenes pics of that magazine life). She brings nearly a decade of writing and editing expertise, and her work has appeared in Allure, Health, Fitness, Marie Claire, StyleCaster, and Parents. She also has an unhealthy adoration for Tom Hanks and would like to please meet him one day, if you could arrange that. Thanks.