The Career Lift
The latest résumé boost? Cosmetic surgery. In an increasingly rough job market, Judith Newman finds that it pays to look good.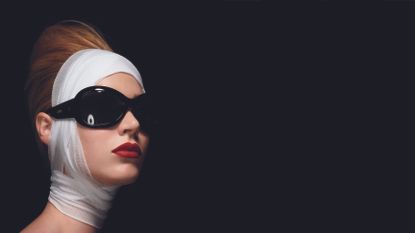 (Image credit: Michael Wirth)
"For godsake, who cares how you look?" says my husband, John, mopping up the blood pooling on the plastic tarp he's shoved under me. I am lying on my bed, leaking a little from my back, sides, knees - sites of small puncture wounds from my recent liposuction. "You're a writer, not an actress. Just spend a little more time at the gym!"
He continues muttering as I go to my Happy Place with the painkillers, content in the knowledge that I've done the right thing - for me. Of course I'm just a writer - and a lazy, slob-ola one at that. Of course I'm not judged solely (or maybe at all) on my looks. But I work for magazines, where the average editor's age is about 12 and getting younger - one day I expect to walk into a meeting full of fetuses - and where appearances clearly count. My goal in having a little work done wasn't so much to look fabulous as to avoid looking like a cross between a Berkeley therapist and a bag lady.
In a 2007 survey of 700 people, conducted by the American Academy of Facial Plastic and Reconstructive Surgery, 78 percent said that appearance is at least somewhat important in getting ahead at work. Presumably, not all these people were models, actresses, and strippers; they were regular Joes and Janes. While men are still more likely to say they're seeking cosmetic surgery solely for work (30 percent versus 14 percent), women are mentioning work more often than ever, say dermatologists and plastic surgeons.
And since the economy has taken a drastic turn for the worse, the fears have clearly intensified - as has the reality of age discrimination. "I've been thinking of letting my hair go gray, but I don't, because it could be a problem at work," says Elizabeth A., a tech writer in Silicon Valley. In her business, there's a pervasive belief that you have to be in your 20s or 30s to be up-to-date on advances and mentally flexible enough to learn new things. It's survival of the fittest - and the least wrinkly. "No one wants to work with someone who looks beaten down - especially now," says Sandra S., a 39-year-old real-estate agent who gets Botox and fillers.
Indeed, the most common reason cited for career-related nips and tucks is tied to aging. "First, people will come to me and couch it in different terms: 'I'm under a lot of stress, I want to look a little fresher.' But then, I'll hear about age discrimination at work," says Dr. Ellen Marmur, chief of dermatologic and cosmetic surgery at The Mount Sinai Medical Center in Manhattan. "People who were on the fence about big-ticket procedures are essentially buying time with less expensive ones. I have a top ad exec who still gets fillers and Botox despite sweeping layoffs. It's a vicious cycle for those whose appearance is part of their success: Look bad, perform badly, lose income, lose confidence, look worse."
Randy B., a blue-eyed blonde who works in television sales in West Palm Beach, FL, agrees. "I was 40, working in this highly competitive environment where I was making lots of cold calls - and most of the clients were men," she says. "I did OK, but then I came to New York City - to Dr. Lawrence Reed - for a mini face-lift, a brow-lift, and my eyes [upper and lower blepharoplasty]. People were like, 'You're crazy; you're beautiful.' But you know what? I don't know if it was the work or how I felt about myself afterward, but my business took off. I've done better since the procedures than ever before - and that's in a very tough business climate."
The patients who are "freshening up" for work are by no means limited to the AARP set. "I'm seeing a lot of women in their 40s, even 30s, who aren't ready for face-lifts but want something in addition to antiwrinkle injectables," says New York plastic surgeon Dr. Gerald Pitman. He's been performing a lot of neck-lifts on younger clients, where tiny incisions are made under the chin and behind the ears, and neck fat is suctioned (or cut) out to create a more angular chin.
But plastic surgery in the workplace can backfire. At 30, Trisha S., a television-development executive, was already concerned about not looking young enough - "I didn't have the body I did in college," she says - and got liposuction everywhere: on her stomach, thighs, knees, back, waist. She was perhaps a size 8 beforehand; now, with the surgery plus diet and exercise, the 5'6" pale-blonde beauty is a size 4. She also had her lips surgically plumped and got some Restylane to fill wrinkles - the ones nobody but her really saw.
But instead of getting kudos for her makeover, Trisha may have garnered a little envy: "Even though I think I'm more attractive, I'm more of a threat, too. My female boss seems to like me less and isn't listening to me the way she used to."
Shortly after our interview, Trisha was let go.
Maybe the key is to be up-front about what you're doing. Don't pretend you've got miracle genes - just fess up to the fact that you want to shave off a few years.
Ultimately, appearance really isn't that important, at least not to me. To hide that I want to look better - younger, more appealing - is to give that desire more weight than it deserves. If I hired somebody to write my stories, I'd be ashamed. If I hired someone to suck out my fat, I'd give you his number. But then, I've never been such a fan of nature anyway. Nature gave us mosquitoes. Man gave us the Sistine Chapel. And silicone.
HIRING FREEZE: New, nonsurgical solutions that erase age.
1. Lancôme High Résolution Eye Refill-3X, $55.

2. RoC Retinol Correxion Deep Wrinkle Filler, $21.95.

3. L'Oréal Paris Collagen Filler Lip, $19.99.

4. Givenchy Radically No Surgetics Global Age-Defying Eye Treatment, $100.

5. Clinique Youth Surge SPF 15 Age Decelerating Moisturizer, $48.50.
WORKPLACE ADVANTAGES: The latest "lunchtime procedures" let you perk up without sacrificing too much precious office time. Boston derm Dr. Ranella Hirsch gives us the scoop.
NAME: Evolence

WHAT IT IS: A porcine-derived collagen that fills fine lines, restores cheek volume, and lasts 12 months.

DOWNTIME: Minimal to none

COST: $500--$1000, depending on how much you need.

RISKS:: Bruising, swelling
NAME:Cynosure Cynergy

WHAT IT IS: A multiwavelength laser that primes skin before treatment so pigment, red spots, broken blood vessels, or hair can be removed with a safer, lower dose of energy.

DOWNTIME: Up to three days

COST: About $1000 per treatment, with two to three treatments typically required.

RISKS: Bruising, burns, discoloration
NAME:Alma Lasers Pixel 2940, Fraxel re:store

WHAT THEY ARE: Ablative fractional resurfacing lasers that treat brown spots, fine lines, sun damage, scarring, and melasma, with limited injury to the skin.

DOWNTIME: Three days

COST: Starts at $1500

RISKS: Burns, discoloration
Marie Claire email subscribers get intel on fashion and beauty trends, hot-off-the-press celebrity news, and more. Sign up here.