How to Cure Dry, Dehydrated Airplane Skin, According to the Pros
These four skincare essentials will save your skin the next time you travel.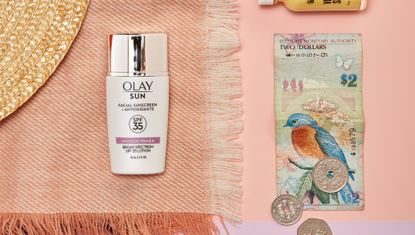 (Image credit: Janelle Jones)
"Airplane skin" is a travel-related truth. No matter how many sheet masks you apply or $5 bottles of water you drink pre- and post-flight, you'll meet the same complexion fate: dryness, out-of-nowhere breakouts, dullness, and more.

We asked skincare experts why your skin goes so crazy up in the air, and with that intel, rounded up the must-have essentials to keep in your carry-on. Most importantly, that includes the travel-friendly beauty products that are guaranteed to hydrate and protect your skin onboard, returning it to its pre-flight glow after you land.
Olay Mist Ultimate Hydration Essence with Aloe Leaf and Chamomile Extract; bkr Water Bottle + Gloss Kit; Rifle Paper Co Keychain; True Replenish Vitamin Packets; Cotify Jade Roller and Gua Sha Tool Set; Fance Wireless Earbuds
Why It Happens
Air inside a plane is insanely dry. "The humidity level is typically around 20 percent, which is less than half of the 40 to 70 percent that our skin is comfortable with," says Sajal Shah, a dermatologist in New York City. "The dry air zaps all the moisture out of your skin."
Factor in the glass (or two…) of Sauvignon Blanc you ordered to chillax, and your skin is bound to go into desert-like territory.
How to Fix It
Shah recommends spraying a hydrating mist that contains water-boosting glycerin—such as Olay Mist Ultimate Hydration Essence with Aloe Leaf and Chamomile Extract—continuously throughout the flight, and applying a fast-absorbing moisturizer while skin is still damp.
It's crucial to do both steps quickly, before the teeny-tiny droplets from the spray disappear into the dry air. We like Olay Regenerist Whip Fragrance-Free because its fast-absorbing glycerin-based formula is also laced with skin-smoothing peptides.
"The benefit of using a mist followed by a moisturizer is that you're adding hydration and then locking it into your skin," she explains.
Olay Masks Glow Boost White Charcoal Clay Mask Stick; Moon Juice Dream Dust; Klova Sleep Patches; Yanser Silk Eye Mask; Leminimo Leather Passport Holder
Why It Happens
Jet lag can confuse your body's—and your skin's— biological clock. "Skin undergoes normal circadian rhythms, and certain activities occur in the morning while others occur in the evening," explains New York City dermatologist Joshua Zeichner. "When you change time zones, your skin's natural repair mechanism may be thrown off as your sleep cycle is disturbed, contributing to dull-looking skin."
How to Fix It
Post-flight, use a mask that contains kaolin clay as well as activated charcoal to help clean out pores and slough off the older, dull skin cells. The result: Clear pores and a super smooth surface that naturally reflects more light.

"Clay has calming and soothing properties to reduce inflammation in the skin," explains Zeichner. Olay Masks Glow Boost White Charcoal Clay Stick contains both glow-getters along with hydrating glycerin, which means it won't leave your already-parched face even more dry and tight. (Plus, the twist up stick applicator makes it super travel-friendly.)
Olay Daily Facials 5-in-1 Cleaning Cloths; Yoga Knot Hair Ties; Beats Solo3 Headphones; Wildsam Field Guides Los Angeles Book; Mast Mini Almond utter chocolate; Pinch Provisions travel kit; CAP Beauty matcha sticks
Why It Happens
Let's face it: Traveling is stressful. "An increase in cortisol levels and other stress hormones can lead to overactivity of oil glands and cause acne breakouts," explains Zeichner.
Another culprit: "A build up of makeup, dirt, and bacteria on skin also increases the risk of breakouts during the flight," says Yunyoung Claire Chang, a dermatologist at Union Square Laser Dermatology in NYC.
How to Fix It
Make sure your skin starts with a clean slate—literally. "I always make sure to remove makeup and also recommend cleansing before the flight," notes Chang.
And while tossing cleansing cloths in your carry on makes sense, not all are created equal. Those that are pre-moistened can dry out while sitting in the package, and can leave a residue behind on skin if you don't rinse after using them.
Opt for Olay Daily Facials 5-in-1 Cleansing Cloths that contains gentle cleansers as well as hydrators like grape seed extract and glycerin. Lather up by adding water to wipe away makeup and general airport grime before and during your flight.
Olay Sun Facial Sunscreen + Antioxidants Broad Spectrum SPF 35 Lotion Make Up Primer; Lack of Color hat; Madewell scarf; Fendi sunglasses; & Other Stories circle purse; Juice Generation vital shot
Why It Happens
You're more susceptible to incurring UV damage while flying because you're closer to the sun, where the ultraviolet rays are stronger, explains Shah. And yes, that's true even if you aren't in a window seat. "Ultraviolet light is coming at you from all directions and penetrating every glass window," she notes.
How to Fix It
You know what's coming: Wear sunscreen every day.
Whether it's laced into your moisturizer (like Olay Total Effects Whip Fragrance-Free SPF 25) or a light, barely-there makeup primer (such as Olay Sun Facial Sunscreen + Antioxidants Broad Spectrum SPF 35 Lotion Make Up Primer), shielding skin from UV light at high—and normal—altitudes is the only way to protect your skin.
That's also how you can prevent blotchy brown spots from popping up now and when you're older. Because after all, you're still going to want amazingly flawless skin when you're a jet-setting golden girl.
Marie Claire email subscribers get intel on fashion and beauty trends, hot-off-the-press celebrity news, and more. Sign up here.
Nicole Catanese is a beauty and wellness editor.