The Products My 59-Year-Old Mom Swears By
She has the most amazing skin.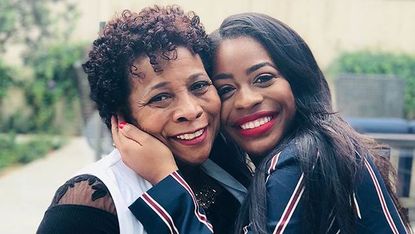 (Image credit: Instagram/@mayaalenaa)
My mom, Deborah Allen, who I call a true Queen and angel on earth, is turning her big 6-0 this year. I'm not just saying this because I'm her daughter, but take one look at her skin, and you'd guess that she's maybe hitting her mid-30's. I could talk forever about her heart of gold, selfless love, fun-spirited demeanor, amazing sense of style, and unequivocally hilarious text messages—but her forever young skin tips will benefit us all. A glowing, poreless complexion when you're an amazing mom, wife, and working woman is on everyone's goal list, right? Same, same. So, pull out your notebooks.
To keep it real: Maintaining skin this youthful takes work, and is not at all an effortless process. My mom's skincare routine, as it is for many women, is a ritual, and her dedication shows through that glow. Yes, you can successfully work a 8 a.m.-until-whenever job, tend to your family, and spend a few extra minutes in front of your bathroom mirror. Having a beauty editor for a daughter definitely plays a part in her journey, but she didn't discover a results-driven regimen until recently. From the anti-aging products she covets, to her advice for other women with mature skin, here's how to have 30-something skin in your 60s.
Why She Got More Serious About Her Skin
Maya: "You've always taught [my older sister] Tay and me to care for our skin, but I noticed you've taken your skincare routine even more seriously this year, which is amazing. What inspired that?"
Deborah: "Maya, you've inspired me. I've always been into skincare, but before you became a beauty editor I only used botanical-based products with organic, clean ingredients. You remember, Basis Facial Cleanser and Witch Hazel Toner were my go-to's for years. When you were growing up, it was important for me to teach you to wash your face so that your skin was nice and cleansed. When you became a beauty editor, I read all of your articles, and decided I wanted to age gracefully. I studied everything you wrote, and learned more and more about skincare, and how important it is to invest time into my regimen. I don't want wrinkles on my face, or a gobble-neck. I want my beauty to be timeless. And that doesn't mean wearing a whole lot of makeup. It's about feeling beautiful for myself, not anyone else."
Her Makeup-Free Month Challenge
Maya: "Speaking of makeup, I can't believe you went makeup-free for a month. Ma, I could never. Where did that idea come from?"
Deborah: "Wearing a fully fresh face with no makeup was a challenge I wanted to take on for myself for 30 days. I started using Dr. Barbara Sturm's Darker Skin Tones Line, which I'd heard so many incredible things about. I wanted to see real results, and find out if my skin could glow without makeup, using only the help of skincare. My makeup routine is super-light anyways, and it's easier to wash my face and go. I went without lipstick, too, which was hard for me as you know how much I love my lipstick. But I have to be honest, I did wear a little bit of eyeliner to wake my eyes up more in the morning, but that's all. I actually committed to more than 30 days makeup-free—it was about 45 days."
Maya: "How did your skin respond?"

Deborah: "Halfway through the challenge, I noticed my rough patches vanished. Especially around my nose area where I had a few flakey spots. Now, my skin is so much softer, glowier, and super-supple. I can run out of my house if I want without wearing makeup. Makeup is a choice—If I don't want to, I don't put anything on, and it wasn't like that before. I used to put makeup on every day, even if it just was a light powder, or liquid foundation. During my challenge, people started noticing my skin immediately. I was getting so many compliments by week two. Everyone was like: 'Oh my gosh, your skin is glowing.'
Drinking water and making sure your diet is filled with vegetables and skin-boosting foods like salmon is also important. What you eat on the inside, will show up on your skin. Just like it's important to be beautiful from the inside-out, your skincare routine is an inside-out job. You're going to age, regardless, but you don't have to look like it."
Her Anti-Aging Skincare Routine
STEP 1: CLEANSE
"In the shower, I use the Dr. Barbara Sturm Darker Skin Tones Foam Cleanser. With this cleanser, I like that you don't have to use a lot, and it gives you such a great lather. I put one to two pumps on my Clarisonic, and cleanse my face and my neck. I have the Clarisonic Brush Head for lighter exfoliation. I pay extra attention to my forehead to smooth wrinkles and fine lines. Before I get out of the shower, I turn the water on cool to close my pores."
STEP 2: TONE
"While my skin is still damp, I apply Kiehl's Cucumber Herbal Toner with a cotton swab. I like that this toner doesn't burn because I don't really care for that tingly feeling—this is very gentle. It's not tacky or sticky either, which I also love. I let this soak into my skin for a couple minutes."
STEP 3: SERUM
"I pat the Dr. Barbara Sturm Darker Skin Tones Hyaluronic Serum onto my skin and let that marinate. The serum makes my skin feel so supple, and leaves behind a noticeable glow."
STEP 4: SPOT-TREAT
"Then, I apply the Dr. Dennis Gross Collagen Brighten & Firm Vitamin C Serum on the areas I have skin discoloration. I can see that it's lightning my dark spots."
Shop My Mom's Anti-Aging Skincare Routine for Glowing Skin
STEP 5: MOISTURIZE
"Next, I apply Dr. Barbara Sturm Darker Skin Tones Face Cream. Just like the cleanser, a little goes a long way. It deeply hydrates my skin."
STEP 6: EYE CREAM AND LIP BALM
"I absolutely love the La Prairie Anti-Aging Eye and Lip Perfection à Porter. I'm slowly but surely noticing a change, and I don't have any under-eye bags anymore, which is major. The Lip Balm is amazing. It feels so good, so I skip lipstick. It makes my lips feel really moist, and in my opinion moisture is better than shine."
STEP 7: NIGHT CREAM
"At night, I remove my makeup if I wear any that day. Then, rinse my skin with warm water, and finish off by applying the Urban Skin RX Even Tone Night Treatment to treat problem areas I'm dealing with at the moment."
Shop the Skin-Smoothing, Fine Line-Fading Products My Mom Swears By
For more stories like this, including celebrity news, beauty and fashion advice, savvy political commentary, and fascinating features, sign up for the Marie Claire newsletter.
RELATED STORY
Maya Allen is the former Digital Beauty Editor at MarieClaire.com where she covered makeup, skincare, haircare, wellness, you name it! She has a 15-step skincare routine, owns over 200 red lipsticks, and enjoys testing the latest and greatest in beauty. On most weekends, you can find her at her happy place, which is her makeup vanity. There, she's usually blasting her speakers while singing along to lyrics at the top of her lungs, and making sure her highlighter is on point.