Moringa Oil Is Here to Save Your Skin, Your Hair, and the Planet
Moringa is so much more than the source of a trendy beautifying oil. For the people of northern Uganda, this sustainable resource represents the future.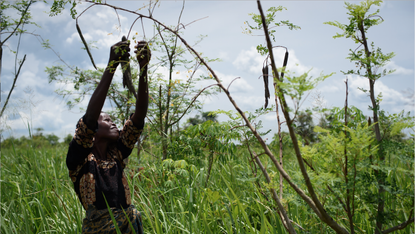 (Image credit: Jennifer Huxta)
In northern Uganda, just off a red dirt road that leads to the border with South Sudan, Betty Acan, a member of the Acholi people, has managed to coax a living from the ravaged land. She's always been a farmer—sesame, mango, cassava—but these days, she's focusing much of her effort on moringa. "It's amazing," Acan says, plucking a slender seed pod from the branch of one of her moringa trees. "I cook the leaves with vegetables, and I drop the seeds in my tea. It's medicinal."
She's not the only one enamored with these trees: The oil extracted from moringa seeds is prized for its beautifying powers and has made its way into many hair and skin products. But unlike palm oil, a beauty staple grown on vast plantations that have deforested more than six million acres of tropical rain forest, moringa oil comes from drought-resistant trees that actually help improve the environment—and the lives of the estimated 1.4 million Acholi who live in the country.
Beginning in 1987, this region was ground zero for the Lord's Resistance Army (LRA) conflict, which displaced an estimated two million people. Acan, 43, experienced it firsthand. The route she walked to school became a battleground for LRA rebels and government soldiers, both of whom harassed and killed many Acholi in the crossfire. "I saw dead bodies on my walk to school," Acan remembers. "Every time we heard gunshots or saw soldiers moving, we would run and hide in the bush." When her formal education was cut short because of the conflict, she and her family went to IDP camps in order to survive.

After the LRA was ousted from Uganda in 2006, the Acholi were left with few ways to make a living. Many turned to charcoal or timber production, and the environmental effects have been disastrous. According to one recent study, an estimated 200,000 acres of trees are cleared each year in Uganda, and if things continue at this rate, the country could lose all of its forests within 40 years. As the trees disappear, soil erosion will increase at a rapid clip and more greenhouse gases like carbon dioxide will be released into the atmosphere. This cycle may already be affecting weather patterns; just this year, locals say, the annual February rains failed to come.

The solution is not as simple as letting this land grow wild. More people are moving into the region, increasing the need for land and food. And for many, like Acan and her family, who have been farming here for generations, agriculture is seen as the only way to make a living. "My father used to say, 'If you don't farm, you become a thief because there's nothing in the house,'" Acan says.
So in addition to growing cotton, millet, and maize, which require clear-cut land and copious amounts of water, Acan has turned to moringa. The tropical tree, which is native to India, has a long history in Africa. Rural Ugandans often rely on the "wonder tree," as they call it, to prepare traditional medicines that treat pain, fever, and symptoms of pneumonia, bronchitis, diabetes, malaria, and tapeworms. They cook with the spinach-like leaves—a vital source of iron, B vitamins, beta carotene, and amino acids—and in some cases grind up the seeds, which have antimicrobial properties, for water purification.

As Acan moves through her farm collecting moringa pods, she explains that she won't have to search for a buyer or a middleman to buy her harvest, as she would for other crops. Cosmetics company Lush has already stepped in to buy her moringa. In partnership with AlumAlum Rural Investments, Lush purchases moringa and sesame seeds from about 200 local farmers and is also working to promote agroforestry, the practice of growing tree-based crops like moringa alongside food crops.
Editors' Picks: Products That Use Moringa
Clarins Cleansing Milk with Gentian
This waterless cleanser soothes and purifies with a blend of plant extracts, restoring vitality to oily skin.
Moringa in this all-over balm helps to moisturize and mattify the skin. Plus it smells amazing to boot.
Herbal Essences Golden Moringa Oil Shampoo
Herbal Essence's paraben-free shampoo infuses juicy orange, white floral bouquet, and coconut water to smooth frizzy hair.
The Body Shop Moringa Nourishing Dry Oil for Body and Hair
Moisturizing and illuminating, this dry oil can be used on your body and hair for an instant dose of hydration.
Changing the decades-old system of farming hasn't been easy. The country's central government in the capital, Kampala, gave incentives for farmers in northern Uganda to grow cotton, sesame, and maize on large-scale farms, and trees were cleared in preparation. But AlumAlum remains focused on the long-term environmental and economic benefits of sustainable agroforestry. "We tell farmers that perennial crops, like moringa, are less work after the first year, and agroforestry systems can handle the dry season better," explains Anthony Akera, AlumAlum's operations manager.

The practice is starting to catch on. In 2016, with an interest-free loan from Lush, AlumAlum opened a solar-powered oil press and processing center on the site of a former internally displaced persons (IDP) camp; today, it employs 10 full-time Ugandan staffers to extract and filter the moringa oil for direct sale to Lush and other buyers.
Acan has already seen the benefits of this new way of farming. Her moringa trees will produce two harvests per year, and she can also grow food beneath the boughs, which provide shade. Though she still grows cotton, she says harvesting moringa is much easier, since it doesn't require the same chemical pesticides and frequent weeding, and her income from moringa is 10 times higher.
"My vision, my hope, is that moringa helps us come out of this stress and difficulty," Acan says, eyeing the charred trees and gutted fields that scar the landscape surrounding her farm. She and her husband have 17 children to support (seven of their own, plus three from one of her husband's co-wives and seven from his late brother). She's determined to send all of them to school, and she sees moringa as one of the keys to paying their education fees. "Because of the war, I wasn't able to complete my studies," she says, walking back to her house with an armful of seed pods. "Now my focus is my children's education—at all costs. I'm trying everything it takes to make sure they can do what I didn't."

This story appears in the August 2019 issue of Marie Claire.
RELATED STORY
Celebrity news, beauty, fashion advice, and fascinating features, delivered straight to your inbox!