We Tried the New L'Oreal Paris Glycolic Acid Serum—Here's What Happened
Add it to your nightly routine ASAP.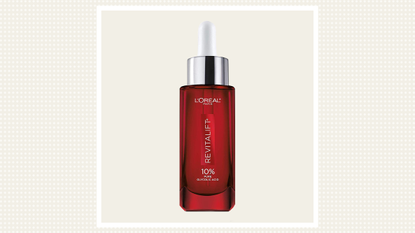 (Image credit: Courtesy)
I like to keep my skincare regimen fairly simple and let my skin show through. But lately, one skin concern has been bothering me: my uneven skin tone. Some days my face is red and splotchy, and while I love the freckles across the bridge of my nose (cute), I'm not a fan of the hyper-pigmentation and dark spots (not so cute) on other parts of my face. L'Oréal Paris Revitalift 10% Pure Glycolic Acid Serum (opens in new tab) promises to reduce dark spots in as little as two weeks, so I decided to give it a go.
The Research
Glycolic acid is an alpha hydroxy acid (AHA), and dermatologists have recognized (opens in new tab) it as an "effective resurfacing agent for younger-looking skin." An external panel of derms validated the effectiveness of this particular formula, which promises to visibly even skin tone and reduce both wrinkles and dark spots.
I'd been eager to try the popular beauty ingredient for a while, but I was slightly skeptical because I know glycolic acid can be harsh on sensitive skin. This one by L'Oréal swayed me because of what else was in it.
How It's Made
One of the things that sets the product apart from the dozens of other glycolic acid-infused products on the market is the unique formula—it's designed to offer not only a resurfacing effect, but also a soothing application and finish. L'Oréal combines glycolic acid with ingredients like aloe and hyaluronic acid to keep skin feeling moisturized.
Plus, it's fragrance-, paraben-, mineral oil-, and dye-free.
Love at First Drop
amazon.com
(opens in new tab)
L'Oreal Paris Pure Glycolic Acid Face Serum
My initial reaction was that it absolutely didn't feel like a $29.99 product that you can get at the drugstore—it feels luxe enough to be included in a spa treatment. The first night that I tried it, I washed and dried off my face and then applied four drops of the serum.
I was surprised at how quickly it absorbed into my skin and even more so at how lightweight it felt. Unlike several of the serums I've used in the past, this one didn't leave a greasy finish on my face. I added my moisturizer before going to sleep.
The following morning (this is crucial!), I applied L'Oréal Revitalift Anti-Aging Lotion with SPF 30. (opens in new tab) Important: the AHA in the serum may increase your skin's sensitivity to the sun, so you must apply sunscreen after using it and before going out in the sun. But that should be part of everyone's daily routine anyway, so no biggie there!
Results!
After using the serum nightly for a week, I started to actually notice my skin looking brighter (which made me look more awake even when I definitely hadn't gotten enough sleep). Also, my face was already feeling smoother.

I was pretty excited when, after just two weeks of using the L'Oréal serum, my skin looked noticeably more even. Some of the dark spots on my face even look a bit lighter. I'm definitely going to continue using it, and fingers crossed I keep seeing good results!
Maya McDowell is an Assistant Editor at HearstMade.