Queen & Slim's Costume Designer and Hairstylist on the Film's Powerful Imagery
"This movie truly is for us, by us, and we wanted to uplift as many people as we could behind the scenes and on the screen."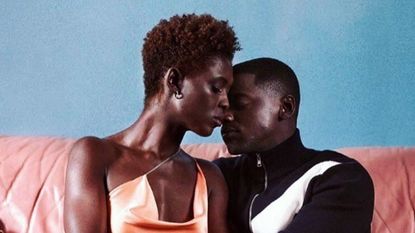 (Image credit: Campbell Addy/NBC Universal Pictures)
Marie Claire Newsletter
Celebrity news, beauty, fashion advice, and fascinating features, delivered straight to your inbox!
Thank you for signing up to Marie Claire. You will receive a verification email shortly.
There was a problem. Please refresh the page and try again.
In the two hours that I sat watching Queen & Slim, my eyes fixed to the screen, I cried cathartic tears, laughed out loud, breathed several sighs of relief, and experienced feelings of pride, angst, and hope all at once. It's a movie that makes you feel. The bone-chilling love story chronicles the complex nuances of being black in America through a couple who have been dubbed the modern day black Bonnie and Clyde.
The film is directed by music video provocateur Melina Matsoukas (if you've seen Beyoncé's Formation video, you're already familiar with her work) and written by Emmy winner Lena Waithe, a duo widely recognized for their award-winning work together on a Master of None episode. "This film is something that came from deep down in my soul and spirit," Waithe told the audience at the Queen & Slim screening I attended. "I wrote this film almost as a rebel cry, a protest art, and a fist in the air. As Nina Simone says, 'It's an artist's duty to reflect the times in which we live.' I hope I'm making my ancestors proud. I love black people unconditionally. I write about us in a way that no one forgets that we were here. I write about us because I don't want us to forget that we were here. We live in a country where our ancestors built it with their bare hands, and yet we are still treated as if we have to earn the space in which we keep."
The first scene in Queen & Slim unfolds after a swipe right on Tinder. The scene starts with breakout actress, Jodie Turner-Smith, "Queen," (Waithe said at the screening that she was excited to introduce the world to this brown-skinned actress who made her co-star shrink with her regal aura during their chemistry reading.) who meets up with Get Out star Daniel Kaluuya for their first date. Their initial chemistry in the opening scene, or lack thereof, is certainly nothing out of the ordinary, but during an innocent ride home, the future of their relationship takes a tragic turn. We follow the strangers-turned-partners on their run from Ohio to Cuba to escape prison. The fatal encounters Queen and Slim face on the road mirror the plight of the black experience. And all the while, as they confront the wrath of racism, fear, and discrimination, they somehow still hold on to love, which results in a moving experience for the audience.
One of the key factors that contributes to the film's powerful message is the rich imagery. The visuals reflected through each character's clothing, hair, and makeup tell a story—one that's as strong as the script itself. Queen's snakeskin boots, braids, and tapered natural haircut; Slim's striped tracksuit; Uncle Earl's closet full of Sean John tracksuits; Indya Moore's (a.k.a. Goddess) big curls; and Naomi's (a.k.a."Uncle Earl's girl") colorful braids all serve a purpose. Since the beginning of time, black people have used style as an expressive form of activism and resistance—this film is a true testament to that.
Using style and beauty to support the script, this movie masterfully depicts the black experience in its full and fly glory. To dive deeper into the creative process, costume designer and stylist Shiona Turini, along with lead hairstylist Brian Badie, share the story of how all the looks came together.
The Inspiration Behind the Styling Is Rooted in History
Shiona Turini: "When I first read the script, I felt immediately connected to it because it felt very for us, by us. I just hadn't seen black love painted in this way in a very long time. I started to research black activists to see how they portrayed these strong, beautiful black women and build my mood boards. One of my biggest references are Black Panthers and Angela Davis, and how it was always a turtleneck and slim leg pant, which inspired Queen's first all-white look in the opening scene. I thought about these women who were out there fighting the good fight. Their work speaks volumes and that impacted me a lot."
Authentic Hip-Hop References Influenced the Tracksuits
ST: "Uncle Earl (Queen's uncle) is stuck in an era, but still flossy. Everybody has that uncle, so I wanted his costumes to feel real. At Uncle Earl's house, it was an explosion of color, culture, personality, and community because it's the first time that they felt safe. We wanted each look, especially with Uncle Earl and Slim, to have a lot of hip hop influences. It was scripted that Uncle Earl has a closet full of track suits so I obviously chose Sean John. Puff is an icon in fashion: He was breaking barriers in a way that hadn't been done before. We wanted to honor him and remind the audience what a moment that Sean John tracksuit was.
For Daniel's tracksuit, I knew it had to be red and either velvet or velour to provide some texture. There's a lot of night scenes so it had to be something that stood out against his dark skin. By the end of it, I'd bought so many pieces of fabric because we camera tested each option. We made so many tracksuit options and collaborated with a few designers for options. But in the end, we went with a tracksuit I made myself because I was able to achieve the perfect shade to provide dimension and texture against Daniel's skin that wasn't too bright in the sunlight or too dark at night. Every detail mattered—even the stripes on Daniel's tracksuit are perfectly placed so that no matter what direction you look at him from, you still see them."
Queen's Outfit Changes Are Incredibly Intentional
ST: "For Queen, we wanted it to feel like she was literally stepping into someone else's skin in hiding. Her dress and boots feels like a huge departure from where she started, which is what she's experiencing throughout the film. The white turtleneck and white trousers she wore in the first scene, which was a hard sell to Melina, was influenced by black activists' signature turtleneck and slim pants. The second look is completely different because the dress has to do a lot. She has to jump out of a window, hang out of a car, get shot. So, I was really focussed on fabrication and how her dress moves and shapes her body yet still feels sexy in an obvious way. Her snakeskin boots were made by Aurora James from Brother Vellies."
It Was Important to Work With as Many Black Designers as Possible
ST: "This movie truly is for us, by us, and we wanted to uplift as many people as we could behind the scenes and on the screen. We tried to pull in as many black designers and female black designers as possible when designing the film. We worked with Brother Vellies, Pyer Moss, Telfar, Mateo, and more. For Uncle Earl's costume, I collaborated with Dapper Dan and Gucci, which was a career highlight in itself."
There Were Many Lessons Learned During the Process
ST: "The most important lesson I learned on set was to embrace all of the beauty in small, tiny, magical moments. For instance, shopping locally and going to the actual thrift stores in New Orleans was like a treasure hunt. And being on set felt like working with family—we fought like a family, but we also celebrated like a family. It's really something to go to work each day and have two talented, intelligent, and powerful women, who are both black to be your bosses. It feels different. Even on my worst days, I always felt supported. I'm constantly tasked with storytelling through clothing, and it's a challenge that I love. I enjoy weaving my own aesthetic and creative abilities into these stories. The biggest difference I noticed is in editorial work, I'm focused on creating a fantasy. In this movie, I was focused on amplifying the beauty in reality. The reality of what it means to be black in America."
There Are So Many Glorious Natural Hairstyles in Each Scene for a Reason
Brian Badie: "I've been doing natural hair since the '90s and have always embraced it. I wanted to convey the dimensions of textured hair in my art. We spent decades running from these looks, especially in film. So, I was inspired to highlight them. We didn't want to tone any hairstyle down, including men. If an actor or actress came in with curly hair, I didn't want to flatten it, I wanted to make it as voluminous as possible. Queen and Slim gave me a platform to express the multifaceted world of African American hair."
Queen's Hair Is Meant to Go Against the Grain
BB: "With Queen's first hairstyle, I wanted to do something that hasn't been done before in film. If we take it back to Poetic Justice, we've done the Janet Jackson box braids a lot. I wanted to find a way to make Queen's braids look current, high-fashion, and afrocentric. This helped me narrow down her look to two-strand twists using soft Marley hair extensions. The excellent braider, who applied Queen's twists under my direction, is from an African braiding salon in New Orleans called Raphine Braiding. We were super particular about the density and spacial arrangement of the twists.
When Queen gets her hair taken down and cut, I wanted her short hair to evoke more power, like she's coming out of her cocoon and leaving the structure of being a lawyer with all those rules and parameters behind. For her shorter hair, we popped the color to make it a warmer brown, mocha tone to contrast with her complexion for a bronzed effect. We used texturizing products to bring out the curls. To have a woman of color as beautiful as Queen with short, natural hair as the primary look on a major feature film is something you don't see often. I felt very blessed and fortunate to be a part of that design process."
The Afros, Colorful Braids, Fades, and More Are Meant to Highlight the Beauty of Black Hair
BB: "For Indya Moore's character, Goddess, we were allowed to go all the way there with volume. Our inspiration was a modern day Diana Ross. Instead of a totally round afro, my modern and fresh take on it was to add a geometric shape, which I elongated around her jawline and collarbone. If you look at it closely, the shape of her 'fro looks like butterfly wings.
And for Naomi's colorful braids, I can't take much credit for her hair because she has an amazing braiding salon in Atlanta Georgia called Diva Doll Hair Braiding. She was cast with colorful braids, so we wanted to keep that concept but I tweaked the color palette of her braids by adding electric pink and blue to complement her clothing. I wanted her hair to be a mix of urban American flair meets Japanese anime."
This Movie Is a Movement
BB: "Being on set of Queen & Slim was like being invited to an environment that's a part of a movement in black filmmaking. My first job was Eve's Bayou in 1994. I've been doing this before some of these people born and I've seen first-hand how the industry's evolved. To help bring Melina and Lena's vision to life, felt like a seat at that table, working with sisters and brothers who are all coming together to create a beautiful piece of work. It was a total cornucopia of artistry."
Creative team credits: Shiona Turini, Brian Badie, Ma Kalaadevi Ananda, Chelsea Barber, Michelle Cardoza, Andrea Johnson, Wayne Jolla Jr, Lana Mora, Korrey Robinson, Alan Tuskes, Myeisha Wade, Miranda Welsh.
For more stories like this, including celebrity news, beauty and fashion advice, savvy political commentary, and fascinating features, sign up for the Marie Claire newsletter.
Celebrity news, beauty, fashion advice, and fascinating features, delivered straight to your inbox!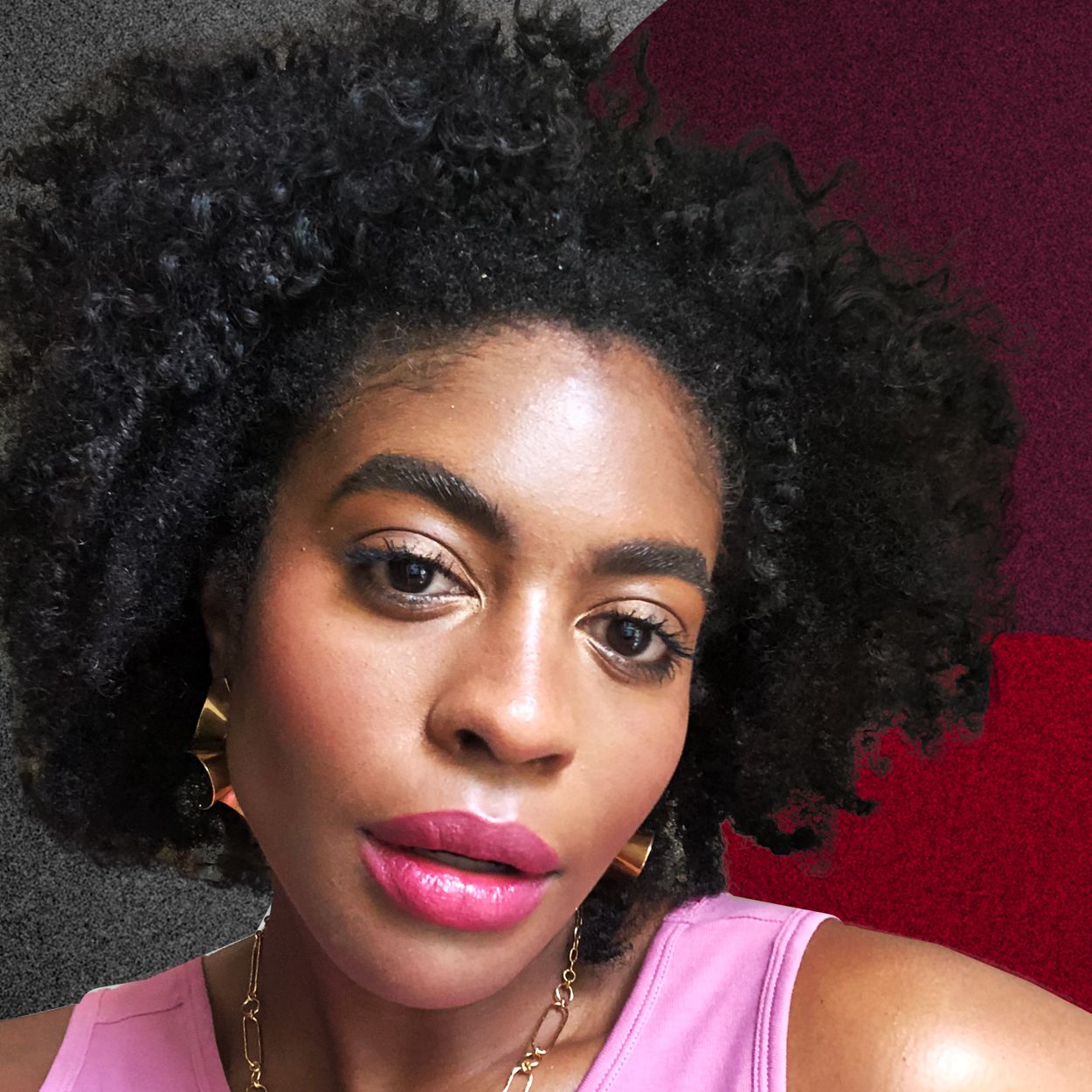 Maya Allen is the former Digital Beauty Editor at MarieClaire.com where she covered makeup, skincare, haircare, wellness, you name it! She has a 15-step skincare routine, owns over 200 red lipsticks, and enjoys testing the latest and greatest in beauty. On most weekends, you can find her at her happy place, which is her makeup vanity. There, she's usually blasting her speakers while singing along to lyrics at the top of her lungs, and making sure her highlighter is on point.