Foreign Beauty Report: Paris
Forget the stereotypes: French women aren't all sexy, unshaven smokers in chignons. Ying Chu discovers the secrets to modern beauty in the City of Light.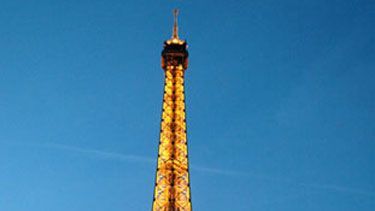 (Image credit: Barry King)
Messy hair, no makeup—you look very French," says Lancôme's artistic director, Aaron De May, over coffee at the Hotel Ritz in Paris' plush Place Vendôme. It was a humid Tuesday morning in July, and I had just rushed over from the 16th arrondissement, a residential neighborhood across town. The rumpled 'do? Thank the city's hard, heavily mineralized tap water and a hotel hair dryer that sputtered only cold air. The unmade face? Also unplanned—after hiking through the vast mazes of the Paris Metro, my makeup had completely melted off. And with that, I'd serendipitously discovered the easy, edgy sex appeal of Clémence Poésy, Charlotte Gainsbourg, and Vanessa Paradis—an about-face from the overt glamour that Catherine Deneuve and Brigitte Bardot once embodied. My mantra for the week: Just go with it.
After a careful scan of my glowy (er, sweaty) face, De May pulls out a stunningly bright tomato lipstick: "All you need is a slick of red." Simple enough. This lightens my purse—and my morning routine. But can a type A (blotting-paper-obsessed) American embrace such an effortless approach?
With the culture's rich heritage in fragrance, parfumeries—both classic (Guerlain, Caron) and new (Iunx, Francis Kurkdjian)—dot Paris streets like bodegas in New York City. "French women grow up with perfume," says Nathalie Duran, the chic 30-something creative head of Yves Saint Laurent Beauté. "We put it on like Americans apply sunscreen." (Is there anything less sexy than SPF? Yet it's all I can think about as I feel my skin scorching on the banks of the Seine.)
While traditional tastes veer to heady, spicy Orientals over the clean, fruity splashes favored stateside, today's Gallic girl, says Duran, appreciates both. So for YSL's latest creation, aptly named Parisienne, she paired a fresh, dewy rose and cranberry blend with creamy sandalwood and vetiver. The perfume is meant to evoke the morning after, well, a hookup. And this reveals another cultural divide: "That walk home is synonymous with having a love affair," says Duran, of what Americans typically call The Walk of Shame. "The people opening cafés smile at you. You don't have to hide anything!" When I spritz on Parisienne and head to dinner, my longtime Parisian friend Romain comments on how different I seem. (Is it the perfume? My matted hair?) I heed Duran's advice—"We never talk about beauty secrets with men; we want to appear effortless," I say, and change the subject, unsure if I come off as elusive or just aloof.
>> -->
While biweekly blowouts are as foreign to French women as monthlong holidays are to Americans, hair and scalp treatments—at hair clinics like Institut Leonor Greyl—count as regular monthly maintenance. I check into colorist Christophe Robin's suite in the luxe Hôtel Le Meurice, the new salon destination for the likes of Lou Doillon and Audrey Tautou. Here, an incredible conditioning scalp massage is coupled with the most pristine buffed-nail manicure I've ever had (no cheesy French manicures!). I leave with a refreshed bounce to my previously limp hair.
Afterward, I stop by the eclectic studio of Odile Gilbert, the country's most celebrated female hairstylist. Gilbert—a longtime collaborator with designers Jean Paul Gaultier and Karl Lagerfeld, and creator of the outsize wigs in Sofia Coppola's Marie Antoinette—has recently opened her private atelier to public clients. The outspoken artiste shares this advice: "French women love to be natural. That means not washing your hair every day—even if you exercise. A little sweat is OK." Translation: Klorane Dry Shampoo (her staple, in addition to Aveda Pure Abundance powder and Camellia wood combs).
The French are currently obsessed with organic everything.
Stockpiled with everything from hair tools to wrinkle creams and vitamins, pharmacies here are a beauty junkie's nirvana—and a convenient one-stop shop for locals. I enter the revered Pharmacie Swann across from the Tuileries Garden and hand over a laundry list of European must-haves. As I pore over the wall of copious Parisian toothpastes, a friendly woman in a white lab coat gathers my wares, including Citrate de Bétaïne (the ultimate hangover cure), Biafine ointment (a skin-soothing panacea), and Créaline H2O makeup remover (a backstage fave). I'm in and out in 10 minutes flat.
My favorite way to shop is at the city's intimate boutiques, many of which carry well-edited fashion and lifestyle goods alongside beauty finds. My credit card gets a workout at Merci (run by the couple who founded posh baby brand Bonpoint), where there's an Annick Goutal custom-blend perfume bar, and at Mon Soin du Visage, a chic boutique that sells organic soaps and serums, run by a Japanese expat.
>> -->
The real reason French women don't get fat: They're masters of detox—tinctures, teas, weekly spa treatments. Plus, in hiking the subways, walking (briskly, even in heels), and cycling the streets, they amass heaps of incidental exercise.
So in addition to cruising to my appointments on two wheels, I check into the Orlane, Darphin, and Payot spas for a variety of slimming treatments. In each 90-minute session, I'm kneaded, buffed, and steamed into submission and, hence, purged of "toxins" (and, I hope, all the butter I've ingested this week). When in doubt, ask for Thalassotherapy (a detoxifying seawater soak—covered by French health insurance!) and hoard the wellness blends from Kusmi Tea.
All the spa- and shop-hopping eats away at my time for lunch—a meal, I've noticed, French women often skip (another secret to staying slim).
The purpose for all the detoxing, of course, is to temper the culture's affinity for indulging. (Cheese! Wine! Baguettes! It's no surprise that Marie Antoinette was the one to popularize chocolate in its solid form—she wanted to eat it on the go, naturally.) However, the best way to satiate a sweet tooth comes from the storied Parisian bakery Ladurée, famous for its colorful macaroons in flavors like jasmine-mango and salted butter caramel. (Unlike sugar-addicted Americans, French women enjoy desserts in moderation—i.e., one macaroon at a time.) Thankfully, when I stop by the shop at the end of the week, I come across a guilt-free way to enjoy them: Ladurée's six sweet new skin treatments—infused with almond oil, a patisserie staple, and topped with a macaroon-shaped lid.
After five days in Paris, I make like a local and catch the TGV to Provence for the weekend—eye cream and detox tea in hand. After all, the key to living the French paradox is balance—and there's a lot of rosé and chèvre where I'm headed.