The Ultimate Guide to Mask-Proof Makeup
No smudging here.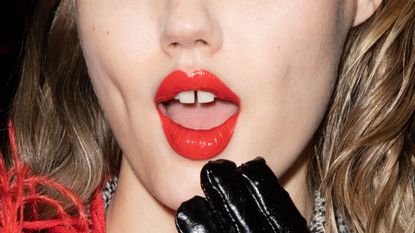 (Image credit: Rosdiana Ciaravolo)
I have a very frustrating predicament. Every time I leave my house, I automatically go through my standard routine: I grab my keys, wallet, phone, and throw them all into my purse. Then I grab a lipstick and swipe it on. Then, as I go to grab my mask, which I always wear when I leave the house, I realize what I've just done. After six months of quarantine (!!) I still put on lipstick only to realize that there's no point. For one thing, no one can even see it underneath my mask. Secondly, by the time I'm back from running errands, that lipstick will be smudged all over the inside of my mask and face, along with the remnants of my concealer, blush, and cheekbone highlight.
An easy solution would be just to never put on makeup. Please! Whether I'm putting on a face so I look presentable on Zoom calls or I just need a little pick-me-up, I love my makeup routine. There are so many products that I'm constantly testing out that going makeup-free is just no fun for me. I'm also not going to remove my makeup before stepping out of my house. So here's my solution: Invest in makeup that can survive being squashed to my face for a few hours at a time. A little compromise is the name of the game, so here are the best players for mask-proof makeup on the market.
Category #1: Lips
Lip products are probably the most missed makeup product during these mask-infused times. Not only do masks completely cover the lips (if you're wearing them correctly), but lip products are some of the most smudgy makeup items out there, even in regular circumstances. Sadly, there's no standard tube lipstick that won't smudge on your face and stain your mask. So, as Part 1 of learning to compromise, matte lipsticks and lip stains are the heart and soul of lasting lip products.
If you're a person who can't stand the texture of matte lips, allow me to introduce you to a few alternatives. In a great new standard of innovation, there are now brands that are creating matte lipsticks with a hydrating balm or oil included. First, apply the lipstick and allow it to dry down. Top it with the balm for a hydrated-feeling lip with the longevity of a liquid lip. If you're okay with some slight smudging, using a lightly-colored lip balm is also an option! Yes, it will smudge, but most balms are light enough that it won't be very noticeable.
Shop Smudge-Proof Lip Products
Category #2: Face Products
If you feel naked without a bit of concealer, foundation, blush, or highlighter, the smudging from those products on your mask can be even more frustrating. A bit of bad news: If you're into a super dewy base, it's almost impossible to achieve that look if you want a makeup base that will stay on while wearing a mask. So, when selecting base products, it's essential that you choose ones that sink and dry into the skin and are designed to be long-wearing. A lot of matte foundations and concealers will have this effect, and are therefore less prone to smudging. For blushes, highlighters, and other cheek products, layering is often the way to go. A cream blush underneath a powder will last longer than it would on its own. However, for these products to truly be mask-proof, a little extra attention needs to be paid to primers, setting powders, and setting sprays. More on these, below.
Try These Stay-All Day Face Products
Category #3: Primers and Setting Sprays
For truly lasting makeup, these three types of products will extend the longevity of any look: primer, setting powder, and setting sprays. Primers not only even the skin and prepare it for makeup, but certain primers are created to help foundation, concealers, and cheek products last as long as possible. Powders also help base products last longer. If you already have a preferred base product that needs some extra staying power, a good finishing powder can transform a dewy, smudge-able product into something that will last all day.
Setting sprays have a dual purpose, and when shopping for one, it's important to pay attention to the claims and aims of a setting spray before making a purchase. Generally speaking, the two most common aims of setting sprays are this: making makeup last longer, and rehydrating the skin after powder. It may seem counterintuitive to put on a powder only to spray a setting spray on top of it, but those two products actually work together for maximum staying power. A few minutes before putting on a mask, the setting spray should be spritzed on and allowed to dry down completely. After that, you're good to go without worrying that your contour will somehow end up on your mask instead of your face.
Shop Setting Products
As fun as it is to find new products that suit modern needs, it's also important beyond words that everyone continues to wear a face mask while COVID-19 is ongoing. A smudged lipstick is a small price to pay for keeping everyone around you healthy and safe. If someone in your life's rationale for not wearing a mask is, "Well my makeup will smudge all over it!" hit them with this link and let them know that they have no more excuses anymore.
Tatjana Freund is a Beauty Commerce Writer, covering makeup, skincare, and haircare products and trends. She's a fan of vodka tonics and creepy Wikipedia pages.