Where to Buy Reusable and Washable Cloth Face Masks
Most brands will give back to COVID-19 relief for each purchase.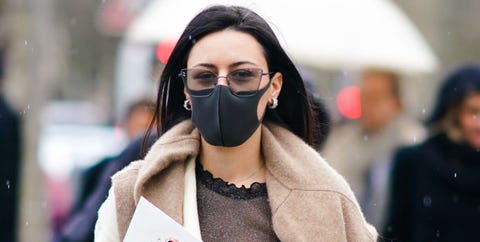 Edward Berthelot
Getty Images
As the fashion industry continues to offer its support to those affected by the COVID-19 pandemic, many brands have started to make and sell non-medical face masks to the general public. Some brands, like Frankies Bikinis, are even offering complimentary masks with online purchases. (The CDC recommends that everyone should wear a cloth face mask when venturing outside.) The selling of these masks provides a source of income for the brands (companies large and small have seen a decline in traditional retail sales) and most brands have, smartly, included some give-back initiative along with mask purchases. Though the selling and purchasing of face masks is not to make a fashion statement, as covering up becomes the new normal you may find yourself looking for comfortable, reusable, and washable masks instead of DIYing one at home. Ahead, 45+ face coverings to shop, from floral print to camo design masks.
This content is created and maintained by a third party, and imported onto this page to help users provide their email addresses. You may be able to find more information about this and similar content at piano.io