Where to Buy Reusable and Washable Cloth Face Masks
Most brands will give back to COVID-19 relief for each purchase.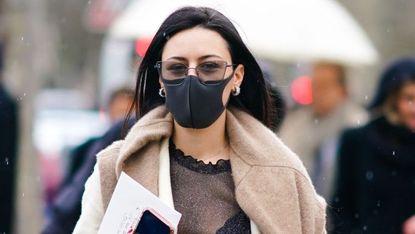 (Image credit: Getty Images, Edward Berthelot)
Marie Claire Newsletter
Celebrity news, beauty, fashion advice, and fascinating features, delivered straight to your inbox!
Thank you for signing up to Marie Claire. You will receive a verification email shortly.
There was a problem. Please refresh the page and try again.
As the fashion industry continues to offer its support to those affected by the COVID-19 pandemic, many brands have started to make and sell non-medical face masks to the general public. Some brands, like Frankies Bikinis, are even offering complimentary masks with online purchases. (The CDC recommends that everyone should wear a cloth face mask when venturing outside.) The selling of these masks provides a source of income for the brands (companies large and small have seen a decline in traditional retail sales) and most brands have, smartly, included some give-back initiative along with mask purchases. Though the selling and purchasing of face masks is not to make a fashion statement, as covering up becomes the new normal you may find yourself looking for comfortable, reusable, and washable masks instead of DIYing one at home. Ahead, 45+ face coverings to shop, from floral print to camo design masks.
1/47
BaubleBar - Adjustable Face Mask Set of 2
Breathable Face Masks
BaubleBar's face masks are reusable and double layered with adjustable ear loops. The company goes one step further in noting the cost of production for full transparency: fabric, trim, beads, labor and packaging ($6.65), freight and duties ($4.30), handling costs ($0.95).
2/47
Express - Olivia Culpo Express Together Tie-Dye Face Covering
Tie-Dye Face Mask
This black and white tie-dye face mask was designed by Olivia Culpo. For every face mask sold, the brand will donate $10 to Feeding America, from now until August 29, 2020.
3/47
Mavi - Bandana Print Face Mask
Lightweight Face Masks
Mavi's face masks are lightweight, breathable, and made with a double layer of pre-washed 100 percent cotton. Should you not love this bandana print print, you can get the camo version. For every bundle sold, the brand will donate a bundle to Homes for the Homeless (HFH).
4/47
NTK - Don't Touch Me Mask
Cotton Face Masks
There's no mixed messaging here once you slip on this "don't touch me" mask over your face. It's 100 percent cotton and machine washable. For every mask you order from this brand, it will donate $1 to The National Domestic Violence hotline.
5/47
Grayson - Non-Medical Face Masks
Breathable Face Masks
Grayson's face masks are made from its soft and breathable shirting fabrics. Coming in packs of four, each mask is lined in Italian white cotton. All proceeds will go to One Fair Wage's emergency cash assistance program for service workers who have lost their jobs (most of whom are women and single mothers). In addition, the brand is donating reusable masks to the Los Angeles Downtown Women's Center.
6/47
Clare V - Bowie Mask
Feminine Print Face Masks
Clare V's launching a new style called the Bowie after the brand's bisous masks quickly sold out. The new designs are made locally in Los Angeles and sealed with the label's signature embroidered lip design. They are 100 percent cotton and machine washable.
7/47
Beyond Yoga - In This Together Mask
Handmade Face Masks
If you love Beyond Yoga's fitness gear, you'll be glad to know the brand's also offering face masks. They are handmade in Los Angeles, reusable, and machine washable. With each mask purchase, Beyond Yoga will also donate two masks to essential workers.
8/47
American Eagle - AE Reusable Face Mask & Scrunchie Set
Tie-Dye Face Masks
This functional set containing a face mask and scrunchie will come in handy when you need to keep the hair out of your face. The mask is reusable and made from breathable 100 percent cotton fabric. Twenty percent of proceeds will go to the Crisis Text Line.
9/47
Erdem - Face Mask Meadow Teal
Italian Cotton Face Masks
This face mask is made from leftover fabric in Erdem's pre-fall 2020 collection. The mask includes a removable filter that inserts into a pocket on the reverse. In support of COVID-19 relief efforts, 100 percent of net profits from these masks will be donated to the National Emergencies Trust Coronavirus Appeal.
10/47
VPL - Vintage Japanese Yukata Fabric Face Masks
Japanese Fabric Face Masks
Made in California, these reusable and machine washable face masks are crafted from 100 percent cotton Japanese vintage fabric and lined with khaki cotton jersey fabric also from Japan. The masks are lightweight, making them a good option for summer, and come with an interior pocket for filters.
11/47
Theramasks - Reusable Antimicrobial Copper Mask
Reusable Antimicrobial Face Masks
This reusable, antimicrobial copper mask is made in the United States at a FDA registered facility. It lasts through 60 washes and one size fits all. Theramasks has recently delivered 250,000 of these masks directly to the D.C. National Guard and other first responders in the states.
12/47
Daniel Patrick - Camo Face Mask
Camo Face Masks
This mask is 100 percent cotton and comes in a variety of prints and colors should camo not suit your tastes. Every mask is machine washable and will vary slightly in print or color due to the nature of the brand's prints.
13/47
ética - Limited Edition Poplin Face Mask
Tie-Dye Face Masks
Each ética face mask is handmade with upcycled cotton poplin that is treated with a nontoxic botanical tie dye. Each order comes with one mask and two antibacterial meltblown poly filters. For every mask sold, the brand will donate a four-pack of its medical-grade masks to hospitals, healthcare workers, and first responders.
14/47
Emilia George - Cotton Face Masks
Cotton Face Masks
Maternity wear brand Emilia George is now making 100 percent cotton masks for shoppers in addition to producing 100,000 masks for the National Institute of Health. These washable and reusable masks are made with two layers of cotton and lined with a "webbed interfacing" middle layer.
15/47
Boden - Non-Medical Face Covering
Soft Jersey Face Masks
Boden's pack of three masks feature classic prints and patterns from the brand and are all designed in-house in London. The masks are made from soft jersey fabric and have an internal wire along the top edge for fit on the nose.
16/47
Summersalt - Face Coverings (Pack of 3. No Exchanges or Returns.)
Triple Layered Face Masks
Summersalt's face masks are available in packs of three. They are all triple layered, adjustable behind the ears, and are made from recycled materials and 100 percent cotton. For every set sold, Summersalt will donate a face covering to an organization doing their part to help the larger community. (You can even nominate organizations for this by sliding into the brand's DMs with a name.)
17/47
Nordstrom - 6-Pack Pleated Cotton Adult Face Masks
Pack of Six Face Mask
Nordstrom offers a pack of six knit cotton masks that are washable and sits comfortably on your face. For every package of masks purchased, Nordstrom will donate a mask to help protect kids and families in their communities.
18/47
En Saison - 5 Pack Face Coverings
Stripe Face Masks
A pack of five fuss-free cotton face masks that will shield you when you're outdoors.
19/47
Heroine Sport - Assorted Face Coverings
Metallic Face Masks
Not a fan of flashy prints or bright colors? You'll likely gravitate towards these metallic options.
20/47
Cotton Citizen - Face Mask in Desert Mirage
Los Angeles-Made Face Masks
Cotton Citizen's double-layered cotton face masks have an adjustable nose bridge and elastic ear loops for a comfortable fit. The masks are made (remotely) right in Los Angeles.
21/47
Koral - Infinity Face Mask
Antimicrobial Face Masks
Activewear brand Koral is offering face masks made from its excess antimicrobial performance fabrics. These masks offer benefits such as fast-drying technology and UV protection with breathability. A portion of the proceeds from mask sales will be donated to No Kid Hungry.
22/47
Lucky Brand - 5 Pack Pleated Cotton Face Mask
Stripe Cotton Face Masks
These face masks are made in Los Angeles and come in a pack of five. Lucky Brand will donate five masks, when you buy five. Masks will be donated to the brand's "unhoused neighbors and low-income Angelenos through their community partners."
23/47
BlackStrap - Civil Mask Assorted Color Multi Packs
Breathable Face Masks
BlackStrap creates masks out of repurposed antimicrobial fabric that is both breathable and lightweight. For every mask sold, the brand will donate a mask to someone in need.
24/47
Eberjey - Rosi Protective Face Mask
Up-Cycled Face Masks
Eberjey's unisex, washable face masks are made from up-cycled fabric from past collections and include three layers of protection. The purchase of these masks goes directly towards keeping Eberjey's seamstresses actively working. (They're made in Miami, Florida.) For every mask sold, the brand is donating one to a health care worker.
25/47
Lele Sadoughi - Set of 3 Face Mask
Colorful Pack of Face Masks
Lele Sadoughi's face masks feature uplifting colorful prints. The masks come in a pack of three and they feature a three-layer design with classic ear straps, a metal nose piece, and an opening for a filter. The masks are machine washable. For every mask pack purchased, the brand will donate one custom designed headband to a medical worker (these headbands have button hooks to make medical masks more comfortable around the ears).
26/47
Misha Nonoo - MN Mask
Black and White Face Mask
This black and white non-medical grade face mask is made from a cotton blend and cotton jersey. There is an opening to insert a filter, and the ties easily fit around your head. For each mask purchased, $3 is donated to the World Health Organization's COVID-19 Response.
27/47
Tabacaru Swim - Pack of Two Floral Face Masks
N95 Filter Face Mask
Tabacaru Swim's face masks are made of up-cycled materials from the brand's current collection. The masks are reusable, washable, and are double layered with cotton on the inside and water-resistant fabric on the outside. Each mask comes with a N95 filter inside it and one extra N95 filter. Twenty percent of all mask sales will be donated to The Los Angeles Food bank.
28/47
Onzie - Mindful Masks Assorted 2 Pack
Quick Drying Face Mask
Onzie uses multi-layer fabric made of "full flex spandex technology" to create its face masks. The fabric is stretchy, comfortable, quick drying, and breathable. The brand has donated over 15,000 masks, and counting, through its Mindful Mask give back initiative.
29/47
Goldie - Protective Face Mask
Peruvian Pima Cotton Face Mask
Goldie's face masks are made from high-quality double layered 100 percent Peruvian pima cotton for thickness and protection. (The cotton is sourced and manufactured in Peru.) The side ear pieces are made from elasticized ribbed loops.
30/47
Masks USA - Everyday + Filter Face Mask
Five-Layer Carbon Insert Face Mask
This 100 percent cotton mask is made in the states and has a carbon insert made of five layers of "PM2.5 air mask filtering." This non-medical grade mask comes in a basic black color and is both washable/reusable.
31/47
Ari Jogiel - The Vanguard Mask
Cotton Filter Mask
Ari Jogiel's "Vanguard Guard to Guard Masks," are made in Los Angeles after the designer took some time to "research, design, source, test and create" the label's face masks. For every mask purchased, Ari Jogiel will donate a mask to a front line worker. The masks are made from two layers of anti-microbial fabric, has a built-in 100 percent cotton filter, and are washable/durable.
32/47
Sanctuary - 5 Pack Fashion PPE Masks
Multi-Print Face Mask
These one-size-fits-all unisex face masks come in a pack of five. The masks have built-in nose wires and are made with 100 percent cotton muslin. For each purchase, Sanctuary will donate a medical-grade mask to organizations in need.
33/47
Greylin - Woven Cotton Face Masks
Three-Layer Face Mask
Greylin's face masks come in a variety of prints from floral to gingham and are made from the brand's fabrics in Los Angeles. Filters aren't included with your mask, but there is a middle pocket for filter inserts. Its give-back mission is this: "Your purchase will help us match donations to homeless shelters and essential workers in the DTLA area."
34/47
Elyse Maguire - Reusable Crinkle Cotton Face Mask
Ribbon Tie Face Mask
This reusable, machine washable face mask features double layer, breathable fabrication with ribbon ties. Each mask will have a slight pattern variation and are made in the states. For every face mask purchased, the brand will donate masks essential workers on the front lines.
35/47
Christy Dawn - The Sustainable Mask
Cotton Floral Face Mask
Christy Dawn's face masks are made from 100 percent dead stock cotton with easy-to-wear elastic ear straps. They are both reusable and washable by hand. Aside from the floral print, the brand also offers solid colors as well as stripes/plaids along with a kid-friendly face mask set.
36/47
Rag & Bone - Pleat Mask
Upcycled Face Mask
Rag & Bone's face masks are crafted from upcycled ready-to-wear fabrications from the brand and are made in New York City. For transparency, the label reveals the cost to "produce and deliver a single mask" is $21. According to its website, for the month of June the brand will be donating $5 from each sale of each mask to Campaign Zero.
37/47
Jonathan Simkhai - Fabric Mask Pack
Neutral Color Face Mask
These 100 percent cotton, machine washable masks come in packs of four and contain neutral colors for those seeking more subdued hues. Each mask has an optional pouch for removable filters. For every face mask pack purchase, Jonathan Simkhai will donate a "civilian mask to local front line essential workers in need of non-medical mask protection."
38/47
The Mighty Company - Face Mask in Orange Glitter
Glitter Face Mask
The Mighty Company's wide range of glitter face masks are quickly selling out. The exterior of this piece is made from orange glitter stretch nylon while the inside is lined with 100 percent antimicrobial cotton. For each mask sold, the brand will make a second one that will be donated to The Midnight Mission homeless shelter in downtown Los Angeles.
39/47
Vida - Protective Mask
Cotton Filter Face Mask
This machine-washable protective mask is made of two layers of 100 percent cotton and features adjustable straps as well as a nose piece for a snug fit. Each mask comes with a "multi-layer PM2.5 Filter featuring 2 layers of Meltblown Filter and 1 layer of Carbon Activated Fabric." The filter should be replaced every seven days.
40/47
Tanya Taylor - Protective Face Masks
Upcycled Mix Prints Face Mask
Tanya Taylor's pack of three machine washable face masks are made from upcycled fabric in mixed prints. Each mask has a double lining of fabric, nose clip, and elastic ear loops. For every pack purchased, Tanya Taylor will donate the funds to create one non-medical grade mask to be donated to a healthcare worker.
41/47
Reformation - 5X Masks: L.A. Protects
Assorted Face Mask
Reformation is offering face masks in a pack of five that will feature assorted prints and colors based on the fabrics they have on hand. If you prefer surprises, place an order with them to see what you'll receive. The brand is limiting purchases to two sets.
42/47
Alice & Olivia - Staceface Protective Face Mask
Graphic Print Face Mask
This double layered face mask features the brand's iconic face print and has removable stitching if you wish to add a filter. It's made from a jersey material that you can machine wash. For every mask sold, Alice & Olivia will donate one to communities in need.
43/47
Jaanuu - Face Mask
Antimicrobial Face Mask
The face masks from Jaanuu come in a pack of five both for adults and kids. The breathable masks are made from the same soft, antimicrobial-finished fabric as their signature scrubs and are both reusable and washable. For each mask sold, Jaanuu will donate one to an organization in need.
44/47
Citizens of Humanity - Cotton Mask
Cotton Face Mask
The brand has repurposed its sewing facility to make masks for front line responders, including hospitals, healthcare workers and children's advocacy groups. Citizens of Humanity's face masks come in packs of five that contain an assortment of neutral colors like denim and black. They are made from 100 percent cotton and are washable.
45/47
MOTHER - The Don't Spray It 2 Pack Face Mask
Printed Face Mask
MOTHER is making washable face masks that feature the brand's heritage prints from over the years. The masks are lined with 100 percent cotton and come in a pack of two—designs will vary because masks are handpicked at random for orders. For every mask set purchased, $10 will go to No Kid Hungry.
46/47
Collina Strada - Face Mask With Bow
Floral Bow Face Mask
This Collina Strada face mask is crafted from dead stock materials from the brand's collections. The mask fastens with bows and has an opening to insert filters. For each mask purchased, the brand will provide five masks to healthcare workers in New York City.
47/47
Smoko - Pearl Boba Tea Face Mask
Boba Tea Print Face Mask
This playful boba tea printed face mask is made from 100 percent cotton and has a pocket for filters. The washable mask has a wire insert for the nose area, so it stays put, and has adjustable ear straps.
Celebrity news, beauty, fashion advice, and fascinating features, delivered straight to your inbox!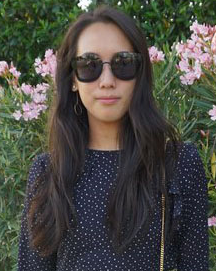 Marina Liao is the former fashion news editor at MarieClaire.com, where she covered celebrity style (from Meghan Markle to Katie Holmes), fashion trends, and shopping advice, plus conducted original interviews with industry insiders. She's also had many opportunities to write content in other areas such as beauty, food, tech, and even home. Her previous fashion stints include POPSUGAR and Cosmopolitan.