Adria Arjona Is Serious About Self-Care
Long baths, short showers, face icing, and Beyoncé (on repeat) help the Morbius actress get things done.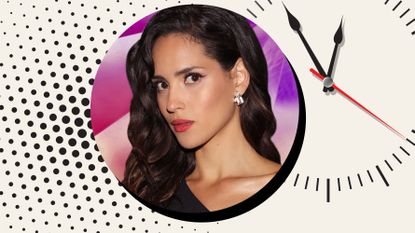 (Image credit: Hanna Varady)
Marie Claire Newsletter
Celebrity news, beauty, fashion advice, and fascinating features, delivered straight to your inbox!
Thank you for signing up to Marie Claire. You will receive a verification email shortly.
There was a problem. Please refresh the page and try again.
Welcome to Beauty Around the Clock, Marie Claire's weekly peek into the daily lives of some of the most game-changing women in their industries. Ever wonder how they get it all done in a day? Here's your answer.
The rising star, 28, made waves in HBO's True Detective and the Michael Bay Netflix movie 6 Underground. Next up: a spotlight in Armani's campaign for My Way, the brand's new carbon-neutral, sustainable fragrance, and an upcoming Marvel movie, Morbius, costarring Jared Leto. Here, she talks celery juice, ice massage, and meditation—all in a day of self-care.
Rise and Shine
I usually wake up around 8 a.m. if I'm not working. I brush my teeth, then run to the kitchen to start brewing my coffee as I make my celery juice, which takes a certain amount of time. I like to be alone in the morning, and even if I'm working, I'll take an hour to myself. I'll meditate or I'll do some Morning Pages. And then after an hour, I pick up my phone for the first time and start seeing what's going on in the world.
Morning Rituals
I consider my celery juice and that hour for myself part of my beauty regimen. Beyond that, I usually just ice my face. It depuffs it. I feel like it's firmer and the ice brings back circulation to my face—and it's also super cheap. Then I put Mario Badescu's rosewater spray on my face to freshen up. I love the smell of it. Finally, I follow with sunscreen.
Mental-Health Moves
I do a lot of running and HIIT workouts [in isolation]. But boxing is usually my go-to. I feel like I expel everything and leave it on the bag.
Power Start
After a workout, I have a shake with chia, ground flaxseed, maca powder, Vital Proteins, and blueberries.
Bathing Beauty
I shower twice a day. I'm a turn-on, turn-off kind of gal to conserve water. I live in California and cannot be taking a bath every day. I mean, I could, but I would be a total asshole. A bath for me is a moment, you know? I light a candle and decorate the whole thing. I do bath salts, lavender, some essential oils. And I get a good book. I've read a lot of Murakami, Men Without Women, and I've read Letters to a Young Poet maybe twice already during quarantine.
Beauty Signatures
I keep it pretty natural unless it's for a premiere or big event. But during quarantine, I've been doing Sassy Saturdays and Sundays. I wear just a little bit of mascara, then an Armani lip in shade 400, which I love because it's a bright, beautiful red.
Adria Arjona's Beauty Buys
Signature Scent
I like smelling clean and fresh as opposed to woody; I find orange blossom quite beautiful. Armani My Way is a warming, welcoming scent, an everyday perfume. I like to dab it on my wrist and put it behind my ears, one spritz in the hair; I don't spray it all over. Then when I go say hi to someone, they kind of get a sense of that smell.
Life Soundtrack
Beyoncé, Whitney Houston, and Selena. Those are my three girls, on constant repeat. If I have one tequila, forget it—you're not going to be hearing anything else.
Evening Wind-Down
My nighttime routine takes a lot longer than my morning routine. I cleanse my face with Emma Hardie Moringa Cleansing Balm. It smells delicious, like orange, which I love, and removes every single impurity. Then I'll do the rose spray and Armani Crema Nera, followed by the Vintner's Daughter serum. Right now, the sun is so intense in L.A. that I've been over-hydrating, dabbing on more really thin layers of oil on top of that. And I started combing my hair after showering, putting in leave-in conditioner or coconut oil. Before doing that, my curls would become too wild in the morning.
Before Bed
I'll do a gratitude meditation and watch The Office.
Lights Out
Usually midnight.
This story appears in the Fall 2020 issue of Marie Claire.
RELATED STORIES
Celebrity news, beauty, fashion advice, and fascinating features, delivered straight to your inbox!