Why the Theragun Prime Is Worth It
It's like a live-in masseuse.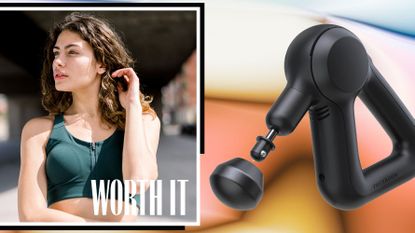 (Image credit: Design by Susanna Hayward)
The Promise
Therabody—the company formerly called Theragun after its signature tool—is the place to go to if you're looking for a personal massager. Their hand-held devices, whose vibrations expertly massage sore, overworked muscles in need of some T.L.C., now come in four distinct models: Pro, Elite, Prime, and Mini. Each massager comes with a set of attachments, all designed to be used on different areas of the body.
The Theragun Prime is the simplified, no-nonsense device. It has four attachments, can deliver up to 30 pounds of force to any given area, and is virtually silent as it de-stresses your muscles. If you haven't ventured into the personal massager market before, this tool is an easy starter device that can work with an array of issues.
Why I'm Obsessed
I truly can't remember the last time my back didn't hurt. Whether it's because my core has never been engaged, or my posture is deteriorating while working from home, or some other mumbo jumbo, dull-but-constant back and neck pain is just something I've accepted as normal. I'm a big fan of the occasional massage, but they can get pricey, and there are only a few therapists that I trust to really get the knots out of my back. Nothing irks me more than a relaxing massage—I want to be in a mild place of discomfort the entire time, and then emerge from the session feeling noticeably looser. For me, a gentle massage is essentially paying someone to rub oil on your body. I can do that at home, for free!
The last few months, my back has been an absolute wreck. There are kinks in my neck that never come out, and I was getting used to waking up in discomfort every morning. It doesn't help that I moved a few weeks ago, which required more heavy lifting than I've done in the past few years combined. Normally, this would be the time when I would spend upwards of $200 on a massage. But it didn't feel like the right time to get into an enclosed room without a mask on. It seemed like the anxiety of contracting COVID would work against the relaxation vibe I was going for.
I'd been hearing whispers of the Theragun and decided now was the time to splurge on one. When it came to selecting the model, I went for the Prime for a few reasons. First, it was the least costly of the bunch, but still promised an intense massage. Second, while the idea of buying the Theragun Pro, which can deliver 60 pounds of force, thrilled me, let's be honest: I'm not an athlete nor a person with especially large muscles. I figured it was time to forget my masochistic massage tendencies and instead get something that worked better with my lifestyle.
I am not disappointed in the slightest with my choice. While I'm sure the Theragun Pro is wonderful, the Prime does everything I need it to, and more. On the lowest setting, I feel comfortable using it on sensitive areas like my neck. I turn it on high to cover larger, more durable areas like my back, quads, and glutes. It truly feels like have a live-in masseuse. It's easy enough to use on yourself, but you can also get someone else to wield it while you lay back and relax. I can now go a full week without feeling like my spine is trying to escape from my body. And if I do have the occasional ache, five minutes with my Theragun clears it right up.

For more stories like this, including celebrity news, beauty and fashion advice, savvy political commentary, and fascinating features, sign up for the Marie Claire newsletter.
Tatjana Freund is a Beauty Commerce Writer, covering makeup, skincare, and haircare products and trends. She's a fan of vodka tonics and creepy Wikipedia pages.