24 Hours in Maddie Ziegler's Life
The dancer talks Friends, why she smells so good, and taking time to stretch.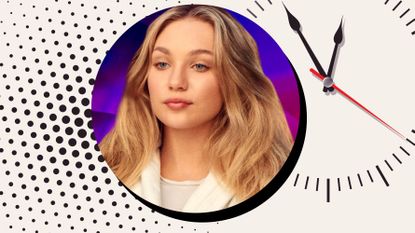 (Image credit: Design by Hanna Varady)
Marie Claire Newsletter
Celebrity news, beauty, fashion advice, and fascinating features, delivered straight to your inbox!
Thank you for signing up to Marie Claire. You will receive a verification email shortly.
There was a problem. Please refresh the page and try again.
Welcome to Beauty Around the Clock, Marie Claire's weekly peek into the daily lives of some of the most game-changing women in their industries. Ever wonder how they get it all done in a day? Here's your answer.
Whether she's dancing to Sia or proudly encouraging her fanbase to vote, Maddie Ziegler is an undeniable talent. An icon of Gen Z, the 18-year-old Pittsburg native encompasses her generation through stunning outfits, an obsession with Friends, and a playful attitude towards all things beauty. Ahead, the Dance Moms star and new face for Kate Spade's signature perfume reveals how she discovered the brand, plus her tricks for healthy hair and skin.
Rise and Shine
I typically wake up super early. This is a recent thing. I think it's because I don't have my blackout blinds right now. The first thing I do is I immediately take my dog outside. I used to always checked my phone first, but now having a puppy, it's really nice to focus my time on him before I do anything else, before I check social media.
Morning Maintenance
I'm super, super specific about my skincare routine and I have a very long one. I do the typical wash my face, brush my teeth, all of that. I have acne-prone skin, so I try to use all clean products, things that I know won't break me out or be too harsh on my skin. I have a fear, I think it's the dancer in me, to always be fresh and smell good. So I always have to refresh myself, put on my deodorant, my perfume before I head out the door, or even if I'm at home. It's like an instinct.
Beauty Signature
The only time I really do my makeup is when I have to do press or something. But it really, really helps me that I'm still lucky enough to be able to get ready, because it's easy to feel negative and down about yourself when you're just sitting at home in sweats—and that's what I do every day. So having my hair and makeup done really makes me feel a lot better about myself. And while I'm at it, I might as well go out and do something fun.
Hair Help
Growing up doing competitions, my hair was pulled and jelled and sprayed all the time. Now, I try and treat my hair better. Hair masks, like the one from Function of Beauty, are life-savers. I'm a night shower girl. I sleep with products in my hair then wake up and that's basically it. I have been loving wearing my natural texture more than anything else so I try not to put heat on it.
Daily Playlist
Anti by Rihanna. Honestly, this album never goes out of style for me. Every day, all day, that is my go-to because you want to hype yourself up when you're getting ready and you're in the mirror. And I just feel like all of Rihanna's messages and lyrics are all about that so that's why I love her and I love her music. I am desperately waiting for a new album to come out.
Shop Maddie Ziegler's Makeup Favorites
Signature Scent
I truly am excited to be doing this [campaign for the Kate Spade New York fragrance] because I've been a Kate Spade fan for as long as I can remember. It started with my mom being in love with it and then me, so the partnership just felt amazing and natural. I get compliments every time I wear it—from my family, from my boyfriend. It just makes me feel so good. I don't love an overpowering scent and this is the perfect mix of feminine, super floral and fruity, but not too strong. It's literally my ideal scent.
Self-Care Ritual
Being a dancer, it's really hard in quarantine because you can't go to all of your dance classes, you can't perform. But I've been doing lots of physical therapy, just really treating my body and making sure that it's in the best shape. As I get older, my body's changing and I can't just do all the tricks I used to do when I was little. I really have to warm up and treat my body. So that's been the main focus for me—stretching and working out at home because it really makes all the difference.
Cheap-But-Chic
Weleda Skin Food Moisturizer is my life. I get it on Amazon. It's so cheap, but it's better than all of the moisturizers I've used, and I swear by it.
Lights Out
I always take the dog out. I have to play with him to get his energy out before we lay down. But every night, other than doing my skincare routine, I fall asleep to Friends. I can't even tell you how many times I've watched it, front to back. I'm just ready to sleep knowing that Chandler and Phoebe are talking in the background.
Shop Maddie Ziegler's Skincare Favorites
Celebrity news, beauty, fashion advice, and fascinating features, delivered straight to your inbox!
Tatjana Freund is a Beauty Commerce Writer, covering makeup, skincare, and haircare products and trends. She's a fan of vodka tonics and creepy Wikipedia pages.