Beauty Inside and Out: Marie Kondo
The unassuming organizational genius and KonMari Method founder on how self-care sparks joy.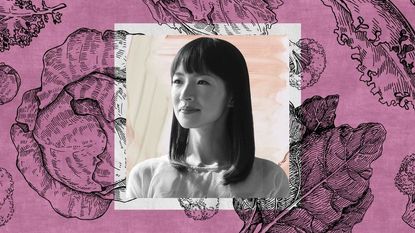 (Image credit: KonMari Media, Inc/Morgan McMullen)
Marie Claire Newsletter
Celebrity news, beauty, fashion advice, and fascinating features, delivered straight to your inbox!
Thank you for signing up to Marie Claire. You will receive a verification email shortly.
There was a problem. Please refresh the page and try again.
In the ultimate quest for inner beauty and outer glow, Marie Claire asks our favorite trailblazers to share intel on finding balance in their busy lives. Read it all here, in Beauty Inside & Out.

Spark joy. Who could have predicted that the phrase would become synonymous with cleaning out your sock drawer? Or that a tidying expert could gain international celebrity, become a New York Times best-selling author, land a spot on Time's 100 Most Influential People list, and earn an Emmy nomination for a show about…decluttering closets? (And cutlery drawers. And overstuffed medicine cabinets.) Certainly not Marie Kondo, the 36-year-old mother of two and unassuming force behind all the enthusiastic organizing. A native of Tokyo, who now calls Los Angeles home, Kondo takes great care to stay connected to her surroundings: "Recharging in nature has always sparked joy for me. I carve out time to practice Shinrin-yoku (the Japanese custom of forest bathing), or to visit onsens whenever I return to Japan," she says. "And I prioritize daily rituals that enable me to honor my whole self: The first thing I do each day is open the windows to let in fresh air." Ahead, Kondo (who just launched a new Container Store x KonMari collaboration) shares more self-care rituals and a comforting recipe that helps her find serenity now.
Inner Beauty
Tuning Fork & Clear Quartz Crystal
"Tuning forks are one of my favorite self-care tools. The sound they make is totally pure and I find listening to one comforting and reassuring. When I began tidying as my full-time job, I quickly learned how demanding the work could be. I started using tuning forks as a way to center myself—their sonic vibrations have a subtle healing power that helps me to reset. I strike a tuning fork against a crystal throughout the day to pinpoint causes of stress and to center me. If I'm uncomfortable or preoccupied, the tuning fork's pure tones can help to reveal what's bothering me. It doesn't take the problem away, but understanding the source of my anxiety is helpful so I can adjust my energy and actions."
No. 21 Aorashi Matcha Green Tea
"I make a point of taking breaks throughout the day, especially if I'm working on my computer. Savoring a cup of tea allows me to quiet my mind and refresh. I don't always have time for a full tea ceremony, but brewing a cup of loose leaf tea is a satisfying ritual in its own right."
Japanese Incense
"Meditating in the morning sets the tone for the rest of the day, and burning incense is a special part of my practice. These clever incense sticks, which light like a matches, burn for about 10 minutes and serve as a timer for quick but impactful meditation."
Amayori Hinoki Onsen Essential Oil
"Scents made with non-toxic, plant-based fragrances can help to cleanse the air and brighten a room—I use this one to maintain a purified space after tidying. Before bed, I also diffuse an essential oil. For a subtle scent, I tap a few drops into a small pile of salt, then I write down what I am thankful for or make a list of things that sparked joy during the day."
Outer Glow
Luxurious Yuzu Hand Cream
"I keep this with me throughout the day—it's lightweight but seriously moisturizing. Delightfully scented with yuzu, the smell is uplifting and makes me feel like I'm getting a mini spa treatment."
Japanese Onsen Saru Hot Springs Bath Soak
"This salt is rich in minerals and magnesium, which help to soothe tired muscles. I add a big scoop to my nightly bath—or put some on top of my head and rinse it off in the shower for an energizing rush. It helps me wash off the day and warm my body. This ritual is truly essential to my wellbeing."
Organic Finnish Pine Lip Balm
"The ingredients and packaging of this lip balm spark joy! They are all organic, vegan, and natural, even the one-of-a-kind pine jar it comes in."
Binchotan Charcoal Body Scrub Towel
"I use charcoal to purify water, the air, and add flavor to a pot of rice. This towel blends ultra-fine binchotan charcoal powder with soft cotton to gently draw out impurities and remove excess oil from the skin."
Recipe for Success: Marie Kondo's Amakaze Drink
Slow Cook the Amakaze
1. In a thermal pot or rice cooker, combine 1/2 cup cooked white rice and 1 1/2 cups water and mix well with a wooden spoon.
2. Add 4 oz. rice koji crumbles, which start the fermentation process, and stir to combine thoroughly. Koji is the secret ingredient here; it's a bacterial culture used to make fermented foods that serves the same function as a sourdough starter. It can be found online or in Japanese grocery stores.
3. Let the mixture sit for 8 to 12 hours in the 130 to 150° F range, stirring occasionally and maintaining the temperature at all times.
4. Increase the temperature to 167° F or higher to stop the fermentation and prevent the amazake from becoming sour. It will resemble a rice-flecked, super-runny porridge.
5. Pour the mixture into a mug or bowl and serve hot. Store the amazake in an airtight container in the refrigerator for up to one week.
RELATED STORIES
Celebrity news, beauty, fashion advice, and fascinating features, delivered straight to your inbox!