Belleza Para Nosotros
The Latinx community has so many beauty stories to tell—and that's why we need more Latinx-founded brands.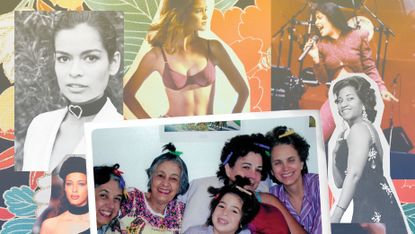 (Image credit: Getty)
Marie Claire Newsletter
Celebrity news, beauty, fashion advice, and fascinating features, delivered straight to your inbox!
Thank you for signing up to Marie Claire. You will receive a verification email shortly.
There was a problem. Please refresh the page and try again.
"Arréglate."
It's a saying that instantly transports me to my childhood bedroom in San Francisco, my mom combing knots out of my hair and making sure I'm wearing a cute outfit. The translation is "Get ready." But for many Latinx people, it's code for "Put on some lipstick before our guests arrive." Even now, before heading to any dinner or event, or even just stepping out for an errand, this command from my mom echoes in my head. Running to the supermarket to buy milk without combing my hair? Not so fast.
For a long time, I didn't think my love for beauty had anything to do with being Latinx. When I was a little girl, my mom, who's Nicaraguan, would let me rummage through her makeup bag, and I'd emerge from the bathroom an hour later, triumphant, silver eye-shadow painted from my lash line to my forehead. This may sound like a young-woman cliché: "My love for beauty comes from my mom." But the truth is that she let me into her cosmetics stash only because she didn't particularly care for it herself. I attribute her large collection of products to the magpie attraction our culture has to beauty and glamour. An appreciation for beauty is part of her DNA; she just doesn't like applying makeup.
And that's where my grandmother came in. My mom accepted my love of beauty, but my grandma—a woman never spotted without red lipstick—nurtured it. I used to help her get ready for celebrations, applying her blush and carefully brushing and braiding her hair. It was our ritual. Even when the makeovers I would force on her went awry—say, when I accidentally painted nail polish on her lips (I thought it was lip gloss)—the only responses I received were joy at my passion and excitement to be included in my shenanigans.
I recognize this same enthusiasm when I speak to the women of Latinx-founded beauty brands. These creators have a deep connection to their communities and want to make a space for future Latinx generations to play where they feel like they belong. Their brands, built around their cultural experiences, have a way of transporting me back to my own roots. Belleza para nosotros—beauty for us. So often, Latinx brands are celebrated only during awareness months, but they deserve the same year-round attention mainstream brands receive. Here, four of my favorites.
Luna Magic
Mabel and Shaira Frías are the Afro-Latinx Dominican sisters who won the Glossier Grant Initiative for Black-Owned Businesses in September 2020. Part of their business model is self-advocacy, something they want to pass on to young Latinx entrepreneurs. "It's not vain. We take a lot of pride in how we show up," says Shaira Frías. The brand's Matte Liquid Lipstick and Eyeshadow Makeup Palette are two of their most in-demand products, allowing users to create bold, colorful looks. Luna Magic also makes T-shirts that read "Cubana," "Boricua," and simply "Latina," encouraging customers not to downplay their background but to wear these titles proudly.
---
Sweet Street
Founders Lala Romero and Natalia Durazo are emphatic in their mission to empower the next generation of Latinx people. "We can be that reminder of 'You're beautiful. You come from this legacy of beauty.' It shifts the confidence in our communities and builds stronger leaders," says Romero. Among the products they create, the Wing Queen liquid eyeliner has become a cult favorite because of its intense pigment and always flawless application. All of their products pay homage to the Latinx community in Los Angeles—complete with endless attitude.
---
Tata Harper
"If it weren't for my Latinx background, my company probably wouldn't exist," says the Colombian-born, Vermont-based founder of her namesake brand. She credits her grandmother for instilling in her a passion for skincare. That passion has translated into one of the biggest, most sought-after clean and natural skincare brands in the industry. Inspired by family recipes infused with ingredients grown and harvested on Harper's farm in Vermont, the brand's products—including the best-selling Resurfacing Mask and Hydrating Floral Essence—give consumers a glimpse into Harper's cultural legacy.
---
Skin by Jem
Jessica Monzalvo, makeup artist and founder of Skin by Jem, went to elementary school in Kentucky, where she was the only Mexican girl in her class. She recalls wondering, I look so different from everybody else. Am I considered beautiful? As an adult working in the beauty industry, Monzalvo realized that clean, healthy skin was the key to making her clients feel confident. Her line, which includes the Rosa Clay Mask, Papaya Glow face oil, and Strawberry Dreams facial steam, began as a small-batch production and eventually attracted major retailers like Nordstrom. "It's really amazing to have the opportunity to create a company that you wish existed in the past for girls who look like you, for girls who aren't sure where they stand within the beauty community," says Monzalvo. "Inclusivity isn't a trend. It's who we are."
Shop These Latinx-Created Beauty Products
This story appears in the Spring 2021 issue of Marie Claire.
Celebrity news, beauty, fashion advice, and fascinating features, delivered straight to your inbox!
Tatjana Freund is a Beauty Commerce Writer, covering makeup, skincare, and haircare products and trends. She's a fan of vodka tonics and creepy Wikipedia pages.