Jimanekia Eborn Is the 'Trauma Queen' the World Needs
The sex educator and trauma expert is helping marginalized communities take back their power.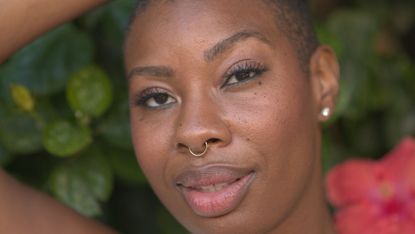 (Image credit: Jessie Yamasaki)
My mother was murdered by her boyfriend when I was a child; it's the reason I got into mental health. I was raised by my grandparents with the support of my two aunts. They've always been very open with me, and the older I got, the more information they shared with me about her death. It created this intense feeling of wanting to help women and keep them safe, so I decided to go to school to study criminal justice. During my third year—this is another hard thing—I was raped.
I didn't tell anyone for years. I spiraled and became very aggressive toward men who were similar to my attacker. I got kicked out of school, which was a blessing because it ultimately led me to becoming a rape-crisis counselor. I was the first person rape survivors would meet in the hospital after their assault. I was the one sitting next to them, holding their hands and keeping them feeling safe as they told their stories and got their rape kits. That experience was empowering for me.
I ended up going back to school and working in different mental health facilities that serve lower-income folks. I saw the disparity in these facilities and how folks of color and queer people were treated differently. I thought, I am a queer Black woman. This is awful. People came out of these facilities worse than when they went in.
One day, I was trying to imagine what sort of job in the mental health field would be ever-evolving, and it came to me: sex! I've always felt comfortable in the uncomfortable. When people start to cringe and get nervous in a hard situation, I'm like, Oh, there's movement; I love it. Growth comes on an uncomfortable basis.
I call myself the Trauma Queen, a name I found when I was really learning to love myself. Right now, I train folks in a personal intimacy coordinator program, creating online content and offering trauma and sex-positive support groups. There are all these people wanting to have sex, but so many of them can't because of this past trauma. My goal is to create spaces for them, and when the world does open back up post-COVID-19, I'll offer affordable retreats. One of my endeavors is called Healing Intersections. We focus on marginalized people who maybe don't get the support they need because of a lack of funds or resources in their areas. Our programs have a sliding-scale cost. We never want cost to be a burden.
As for taking care of myself—most people laugh at this—I love watching professional wrestling. It's on every day, and it helps me disconnect while I'm writing. I've also been doing more outdoor things, which has been healing and new for me. Culturally, we've been taught that that's not a "Black thing." We see Black people hung from trees somewhere in the woods, and that has a triggering, scary effect, so I'm trying to navigate a safe space for myself outside.
I'm resilient, as all sexual-trauma survivors are. We've been through things, and me calling myself a Trauma Queen is about being self-empowered with my own trauma. That's just one side of me, one aspect of Jimanekia. After all I've been through, I still feel like a queen: royal and capable and strong and magical and in control.
To support Eborn's cause, visit traumaqueen.love.
This story appears in the Spring 2021 issue of Marie Claire.
Related Story
Taylore Glynn is the Beauty and Health Editor at Marie Claire, covering skincare, makeup, fragrance, wellness, and more. If you need her, she's probably roasting a chicken, flying solo at the movies, or drinking a bad Negroni at JFK.