Ariana DeBose Was Pretty In Purple While Celebrating Diwali in New York City
What's more exciting: her sparkling purple eyeshadow or money piece?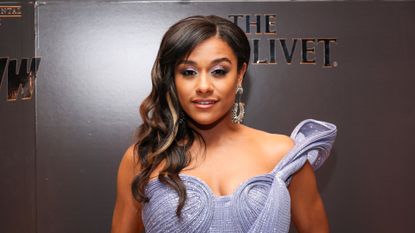 (Image credit: Getty)
Because purple pigment was so expensive to produce way back when (it came from a certain species of sea snail, long before the days of readily available snail mucin), it was a rare luxury—and thus a status symbol. While it's more accessible today, the color still has the power to make you look like a million bucks. See Marie Claire's June 2023 cover star Ariana DeBose, for example.
On Friday, May 3, the 32-year-old attended The New York Diwali Gala wearing fit-for-a-queen purple eyeshadow (and a matching gown, but we'll get there) by makeup artist Tamzin Cummings. Created with Charlotte Tilbury's new Beautyverse Palette, DeBose's eyeshadow look utilized three shades: Cyber Silver, which was applied in the inner corners, Digital Lilac, the main event here, and Space Chocolate, which perfectly complimented the Oscar winner's brown eyes. Cummings paired the shadow with some black eyeliner, flawless skin, and a pinkish-nude, glossy lip.
With her sparkle enunciated by big, silver earrings and side-swept curls that highlighted the single blonde streak in her hair, the West Side Story star's purple saree gown let the glimmer continue all the way to the floor. Designed by Gaurav Gupta, the dress featured an almost unimaginable number of tiny, sparkling beads that made the whole thing flow like (lilac-colored!) water.
"It was heartening to experience the joy & DANCING of South Asian culture in celebration of Diwali, celebrating the triumph of light over darkness," DeBose wrote in an Instagram post from the evening. Unsurprisingly, the Broadway sweetheart was an apparent star on the dance floor.
"Was sooo fun to dance together!!!" wrote Corefelt founder Shivani Bafna on DeBose's Instagram post. I would've loved to see that gown—and those sparkling eyes!—in action.
Marie Claire email subscribers get intel on fashion and beauty trends, hot-off-the-press celebrity news, and more. Sign up here.