The 20 Best Korean Skincare Brands in 2023
Peach & Lily, Glow Recipe, and Dr. Jart+ are just a few of our faves.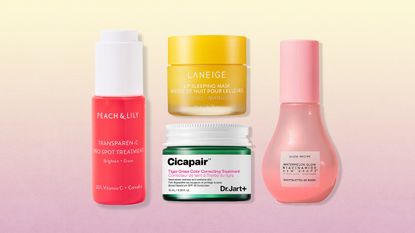 (Image credit: Brittany Holloway-Brown/Future)
Marie Claire Newsletter
Celebrity news, beauty, fashion advice, and fascinating features, delivered straight to your inbox!
Thank you for signing up to Marie Claire. You will receive a verification email shortly.
There was a problem. Please refresh the page and try again.
The K-beauty market is projected to be worth $13.9 billion by 2027, so it's safe to say that we're big fans of Korean skincare. And it's no surprise why: The best Korean skincare brands lead the charge in innovation, are sensitive skin-approved (K-beauty is focused on increasing hydration and reducing inflammation), and are sold at a super accessible price point. "Korean beauty goes hand in hand with skincare knowledge and empowerment," explains Alicia Yoon, the South Korea-born founder of Peach & Lily. "I love to see people engaging on the level of skin histology, skincare ingredients, and identifying personalized ways to care for their skin."
While rituals like double cleansing and harnessing the calming powers of watermelon originated in East Asian cultures, they've made their way stateside. Brands like Laneige, Glow Recipe, and Sulwhasoo have become cult-favorites—and quickly at that. From elite Korean sunscreen formulas to game-changing, glow-boosting essences and the use of ingredients like matcha, niacinamide, and ginger, the K-beauty contribution to skincare is unmatched. As such, we've taken the time to round up the best Korean skincare brands that deserve a spot in your routine.
Laneige
The brand might have a Parisian name, but LANEIGE—which means "fresh snow" in French—was founded in Seoul, South Korea in 1994 by Amorepacific, the corporation behind several of the brands in this list. Known for their iconic sleeping lip mask, they have begun to branch into more skincare items with face moisturizers, toner, essences, and more.
Peach & Lily
Founded by Alicia Yoon in 2012, Peach & Lily not only offer their own selection of skincare items, but also sell iconic K-beauty brands like Lagom, Banila Co., and Miwaji. Yoon places a focus on education: "I wanted to pass on the joy that came with taking control of your skin." To this end, you can find informational skincare guides on the site, with one explaining the famous multiple-step Korean skincare routine.
AMOREPACIFIC
A luxury Korean skincare brand, AMOREPACIFIC is the namesake brand of the Amore Pacific corporation, which operates well known Korean beauty brands LANEIGE, Sulwhasoo, Innisfree, and more. With a focus on ingredients enriched with green tea, AMOREPACIFIC seeks to provide skincare that penetrates skin with natural and moisture-enhancing formulas.
Soon Skincare
Friends Lisa Ballstaedt and Kayla Bertagna founded Soon Skincare in 2017 and officially launched in October 2018. What started as a goal of creating a Korean-inspired sheet mask that won't slip off your face quickly became a leading K-beauty skincare brand.
Banila Co
Founded in 2006 in South Korea, Banila Co. isn't new to the Korean skincare game. In fact, their ever-popular cleansing balm is purchased every 3.1 seconds. With a focus on a simplified routine, this skin-first brand boasts hybrid products to cut back on the mounaint of steps in your routine.
Glow Recipe
Christine Chang and Sarah Lee founded the fruit-focused skincare brand in 2017 after working together at L'Oreal. What started as an online retailer for other Korean skincare brands turned into what we now know as Glow Recipe. Their products are known for taking a single piece of fruit and making it the star of the show.
Sulwhasoo
Pronounced "Suhl-ha-soo," this skincare brand was founded on the philosophy of balance and harmony. Bringing together natural ingredients and innovative skincare practices since 1966, Sulwhasoo is one of the best-selling luxury brands of Amore Pacific's roster of brands. Keeping with the founders' dedication to holistic skincare, the brand is still a favorite of many thanks to its texture-smoothing formulas and subtle fragrance.
Soko Glam
Charlotte Cho founded Soko Glam in 2012 with her husband David to bring Korean beauty practices to the United States. Today, Soko Glam boasts a curated collection of Korean skincare brands. The couple also have a wildly successful and award-worthy Korean skincare brand, Then I Met You.
The Crème Shop
If there's one thing K-beauty brands know how to do, and do well, it's give us cute packaging with magical formulas inside. The Crème Shop is a leading example of this, boasting skincare products that make you feel like a kid again. They've had collaborations with famous characters like Hello Kitty, DreamWorks Trolls, and BT21.
Mediheal
One of the vital steps in a Korean skincare routine is a serum-filled sheet mask. It's also a beloved tool for self-care nights. Mediheal is the place to go for all things sheet masks, and has expanded into other skincare items as well. Founded in 2009, Mediheal actively works with scientists, dermatologists, and other skin experts to make sure its products have the best and most updated ingredients.
Sweet Chef
Sweet Chef mixes up concoctions of natural herbs, vegetables, and vitamins that our skin loves. Founded by the creators of Glow Recipe, the goal of this Korean skincare brand is to create nutrient-enriched natural formulas with ingredients like celery, turmeric, beets, kale, and more.
innisfree
Inspired by the W.B. Yeats poem of the same name, innisfree is a Korean skincare brand that uses the natural ingredients found on the island of Jeju to enhance skin in the cleanest way possible. For every skin need, there's a Korean moisturizer, sheet mask, clay mask, or serum. Hero ingredients include green tea, pomegranate, volcanic cluster, and soybean.
Cosrx
Having been in development since 2002, Cosrx (which stands for Cosmetics + Rx) was officially launched in 2013 by founder Jun Sang Hun. The brand keeps it to the point with simplified packaging and ingredients that get to the root of skincare concerns with reparative ingredients like cica, snail mucin, and propolis.
Dr. Jart+
When you ask someone about their favorite Korean skincare brand, chances are they'll probably mention Dr. Jart+. This brand bridges the gap between art and dermatological science—that's where the abbreviated name comes from; it means "Doctors Joins Art." Now a part of the Estée Lauder brand, Dr. Jart+ sticks to its founders' goals of creating innovative products that have become a staple in Korean skincare.
LAPCOS
Chances are, you've seen these sheet masks all over social media. They've been around since 2017 and have a massive celeb fan base, including everyone from Emily Ratajkowski to Camila Mendes. Their "born in Korea, evolved in Los Angeles," tagline perfectly encompasses the brand. LAPCOS leverages the holistic, Korean approach to beauty with the easy, breezy California way of life. While the brand started off exclusively selling sheet masks, they've expanded into shampoo, skincare, and body masks through the years.
Venn
This new-ish brand has been on the scene for just about five years–and they've already developed a cult following. Their entire ethos revolves around balancing the skin's microbiome, aka the flora and organisms living on the skin's surface. Every product in the line is designed to deliver nutrients, probiotics, and prebiotics that will strengthen the skin.
Belif
The science behind Belif was cooked up in an herbal apothecary centuries back. Now, the botanical blends discovered years ago have been leveraged in the skincare space. The result? Deeply hydrating, toxin-free skincare that won't irritate even the most sensitive skin types.
Meebak
If redness is your primary skin concern, this brand, which launched in 2019, should be on your radar. One of the primary ingredients in their line is cica, which has unmatched soothing and skin-evening powers. "We don't add heavy premiums like many brands out there, and instead focus on delivering our brand promise of younger, brighter, happier skin," brand founder Heeji Kim said in a press release shared with Marie Claire.
Peach Slices
Chances are you've seen the brand's "Snail Rescue" line go viral on TikTok. If you're unfamiliar, allow us to give you a crash course. This brand is Peach & Lily's little sister. It leverages Korean-loved skincare ingredients like snail mucin, along with honey and yuzu to gently exfoliate skin and control shine.
Son & Park
This Korean beauty brand is best known for its Beauty Water, which combines witch hazel and papaya extract, along with soothing rose water. This single product is a total game-changer.
Celebrity news, beauty, fashion advice, and fascinating features, delivered straight to your inbox!
Alexis Gaskin is a Freelance Beauty Writer for Marie Claire who can often be found painting her nails to match every outfit. She covers beauty, skincare, and fat fashion and will get distracted by any and all Halsey-related content or anything glittery.