The Best Beauty Looks From New York Fashion Week Fall/Winter 2023
You're about to see these trends everywhere.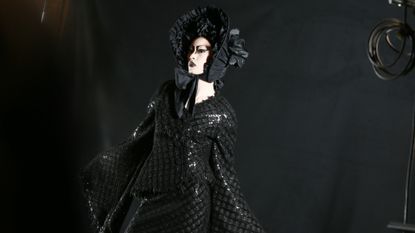 (Image credit: Getty)
Marie Claire Newsletter
Celebrity news, beauty, fashion advice, and fascinating features, delivered straight to your inbox!
Thank you for signing up to Marie Claire. You will receive a verification email shortly.
There was a problem. Please refresh the page and try again.
New York Fashion Week is back yet again—and the pros behind the scenes are already serving up dozens of beauty trends on a silver platter. Master hair stylists, makeup artists, and nail pros teamed up with top-notch brands (think: NARS, Bumble & Bumble, and Charlotte Tilbury) to mood board the runway glam. While all the looks make their grand debut on the catwalk, we got a sneak peak at what went down backstage. From product breakdowns to trends popping up left and right, team Marie Claire got the down low on the beauty magic this season.
Grunge glam was in full force at the L'Agence presentation and ethereal, rose-inspired ballerina buns stole the show at Christian Siriano. But NYFW is just getting started. Here, we've rounded up the best New York Fashion Week Fall/Winter 2023 beauty looks to grace the catwalk—and asked the geniuses responsible for 'em to share their go-to products and backstage secrets.
Christian Siriano's Petal Buns
Siriano himself was inspired by the "transportive romance of gardens" for his newest collection, and the hair and makeup leads interpreted that in a very literal sense. "Christian's collection is stunning. It feels ethereal and romantic. We were inspired by the hand-crafted floral accents found throughout the collection to echo this in the hair by creating a rose-like twist, with a 'stem' of hair weaving down the crown of the head, meeting the rose-like bun in the back," says Lacy Redway, Unilever stylist and celebrity hair artist. To create the floral shape, she recommends weaving the bun in a "figure eight" motion and pinning each section to the base of the ponytail.
On the makeup front, the shade of flowers and a dash of Audrey Hepburn served as a guiding light. Makeup pro Sofia Tilbury, who also happens to be Charlotte Tilbury's niece, led the backstage glam—and said the new Pillow Talk Matte Beauty Blush Wands were her go-to. "Fresh, bright fuchsia was a key feature of the collection, so we opted for a wash of pretty, pink, rosebud color on the eyes; a soft-focusing, beautifying blush using Pillow Talk Matte Beauty Blush Wands on the cheeks, and a pop of confident color with the satin-shine, fuchsia-pink Velvet Underground lipstick," she said.
L'Agence's Slept-In Eye
With a "rock and roll" esque collection as the bones, makeup artist lead and Stila Global Head of Artistry Charlie Riddle opted for a lived-in look. "She maybe slept in her eyeliner the night before and then woke up and really perfected her skin," he exclusively told Marie Claire. Skin was kept matte (shoutout Stila Stay All Day Foundation), but the glow in the picture above—which includes zero highlighter—is the work of a months-away launch (it's game-changing) and the newly-released All About Blur Instant Blurring Stick. "Blur is huge and it's not going away. People are wearing more makeup again, so having something like this is the perfect finish. It's skin mimicking. It's not glossy, but it plays up their own natural skin tone."
For hair, IGK swooped in with '90s supermodel waves. "The inspiration for the hair was the iconic supermodel era—think Cindy Crawford," says IGK stylist Melissa Parizot. "The key word would be volume," adds IGK co-founder Aaron Grenia. "Instead of the beachy waves, we're getting a lot of requests for the bouncy blowout."
IGK Good Behavior 4-in-1 Prep Spray
Rodarte's Gothic Fairies
Models were turned into mystical, gothic fairies at Rodarte—a bit of gothic grunge balanced by ethereal skin and sleek hair. "The collection is more fairy than goth, so we really wanted to do strong and bold makeup and linear eyeliner eyes with a dark black or blue lip," says NARS makeup lead James Kaliarados. "I think a lot of girls I know really want to look like this, so it's not totally costume-y or fantasy—it's really something people want to be a part of."
As for hair? "Everyone got straight hair and a middle part," says TRESemme stylist Odile Gilbert. "The idea is luxury, shiny, high quality hair—no braids this season." Anjelica Huston, aka Morticia Addams, was a baseline source of inspiration, but of course the team gave the look a modern spin. For some, that meant hair accessories, and for others that looked like full blown flower crowns. "I secured them with knots. It has to be beautiful, yet comfortable," she adds.
Proenza Schouler's Air Dried Hair
Natural was the name of the game at Proenza Schouler. Merit took charge on skin and makeup—keeping the whole vibe glowy, dewy, and extremely natural. Think: No mascara, no brow product, and minimal coverage. While a pared back skin-first look is nothing new, the hair for the show was notably undone, too. Guido Palau with Bumble and Bumble had the models air dry their hair. ""The inspiration for the Proenza Schouler look this season was 'Portraits of a Woman.' This encompasses different moments of life whether it be going to work, walking, meeting friends for coffee—the simple moments," he told Marie Claire. "Their beauty and realness are enhanced through a few select hair products to bring out their raw, genuine and natural sense of selves."
Pat Bo's Mosaic Manicures
Inspired to emulate the "modern day Kate Moss" and play off the collection's colors, celebrity nail artist and KISS brand ambassador Gina Edwards whipped up what she's calling a mosaic manicure. "French is still on fire—it's so explosive," she tells Marie Claire. "I was trying to figure out a way to make it even more interesting and the mosaic tip is a kaleidoscope of colors." While the full set isn't available for purchase, you can try recreating the look with the KISS Bare But Better Nails in Nude Drama. Just pick your go-to colors and carefully execute a design along the tip.
Alice & Olivia's Cherry Syrup Lips
The theme was "Americana" and the execution was flawless. The most exciting aspect of the glam came by way of "cherry syrup lips," courtesy of Elyse Reneau, the Executive Director of Global Beauty at Too Faced. "When Stacey [Bendet] was talking about Americana, I was thinking about Marilyn Monroe and a true blue-red lip. I love that I could just use one red and adjust the shade with liner. I used Lady Bold Lipstick and Yummy Bear on top, but it's not for the faint of heart. It has a serious plumping power. I wanted something super shiny and beautiful—it looks like Dorothy's slippers.
The accompanying hair look was a chignon bun—half of which were adorned with sparkly accessories. "The inspiration for this look was whimsicalness," says Nick Stenson, founder of Nick Stenson Beauty. "We combined girly, beautiful, and effortless, with lots of texture."
Anna Sui's Dopamine Eyes
We told you that dopamine makeup was going to be a big 2023 makeup trend, and the wild eyes at Anna Sui prove it. The collection itself was inspired by The Peppermint Lounge and drew inspiration from the '60s—and the glam followed suit. "The makeup is a reflection of the era's bold and vivid fashion sense, with an explosion of colour and tantalising textures," said team Pat McGrath in a press release shared with Marie Claire. The eye makeup bordered on neon and, if you look close enough, you'll notice that the mascara was colored as well.
Sandy Liang's Frosted Faces
"We were inspired by sweet but psycho energy," says international makeup artist Marcelo Gutierrez tells Marie Claire. "We went with a semi-matte finish for skin and they have this frosty eye using a lot of the glow products. It's a soft rock and roll look. The clothing is very beautiful and feminine—and the makeup leans into that stronger side of being feminine." In sum, it's "grungy, sad, pretty girl energy." Some of the models rocked a "goth" lip, while others walked the catwalk with nothing but a lip balm.
Marrisa Wilson's Graphic Bobs
Leaning into natural hair texture is a huge trend this season. We saw it at Proenza Schouler and yet again at Marrisa Wilson, Oribe Principal Educator of Content & Training, Kien Hoang drew inspiration from Wilson's Guyanese culture and heritage. Highly texturized hair was styled into graphic, graduated bobs with the help of a handful of Oribe products that amped up curl pattern as well as metal screens that helped shape hair into a triangle or umbrella design.
Jason Wu's Edgy Eyes
This season, Jason Wu wanted looks that nodded to cinema. He craved looks that are daring, yet feminine, and edgy. To achieve this, Diane Kendal, lead makeup artist for Jason Wu Beauty, created diffused smokey eyes in deep shades with a hint of gold in the inner corners. "This look reflects this season's outfits by combining sexy touches with a bit of edge," says Kendal. "Eyes are the punctuation of these looks with beautiful smoky eyes that give a nod to cinema."
Thom Browne's Celestial Glitter
Thom Browne's show served up, in my opinion, the best beauty look of the season. Inspired by the book The Little Prince, the models were done up like characters, ranging from elephants and extraterrestrial planets to fox's and brides. "There are 24 classic looks, which is a very golden and celestial asteroid design. We did star and line details with them. The other characters—we have the fox, the snake, the aviator, the elephant—and they all have their own special design," says lead makeup artist Isamaya Ffrench. "Everybody has diamantés built into their look. It's all beautiful, illustrative, outer space makeup."
Khaite's Rosy Tones
It was all about wet hair, fresh skin, and rosy tones at the Khaite fashion show, where Wella and Noble Panacea were the sponsors. Because the show fell mid-week, models' hair had been on a bit of a rollercoaster, which is why stylist Guido Palau decided to start with a fresh base before slicking hair back with