The 10 Best Floral Fragrances, According to Marie Claire Editors
I promise, these smell nothing like your grandma.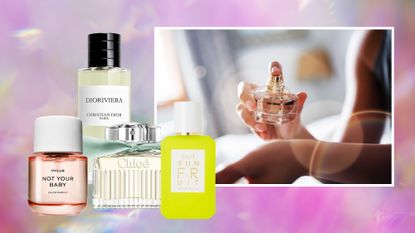 (Image credit: Future)
For the longest time, I refused to wear anything in the floral fragrance family. I feared smelling stale or too pungent or offensive thanks to an overpowering swarm of rose. But oh, how wrong I was. After doing a deep dive into the world of eau de parfums, I've come to the conclusion that the best floral fragrances are concocted with sophistication. Some smell light, airy, and are perfect for summer. Others have a subtle sweetness that marries floral notes with fruity or gourmand hints. Many, you wouldn't even guess have a floral composition, as woody, aquatic, and spicy notes mesh together.
"The floral category has been a fan-favorite for a long time, but I think there are cool new iterations and formulations that give florals a new sophistication," Ellis Brooklyn founder Bee Shapiro says. "We've been on a gourmand kick for so long, that fresh takes on florals feel modern. I would look for new takes on tuberose, rose, and gardenia." Cult classics from brands like Chanel, Gucci, and Diptyque will always have a spot on the list, but newer innovations from Dior, Krigler, and Byredo are quickly gaining popularity.
To find out which floral fragrance I, along with the rest of the Marie Claire team, deem to be the best of the best, keep reading.
What to Look For in Floral Perfumes
Floral notes run the gamut—you'll find the obvious rose note in some, but you'll also see geranium, lily of the valley, jasmine, gardenia, violet, neroli—the list goes on. The concentration and depth of each note will vary fragrance-to-fragrance.
Pay attention to whether your fragrance is an eau de parfum or eau de toilette—it indicates how long-lasting your fragrance will be. "Alcohol really works as a carrier and disperser of scent, making it the ideal base for perfume," Abel founder Francis Shoemack previously told us. An eau de parfum will have more perfume, less alcohol, whereas an eau de toilette will have less perfume and more alcohol, which means its scent is more fleeting.
The Best Floral Fragrances, According to Marie Claire Editors
The Best New Floral Fragrance
Dior Dioriviera Eau de Parfum
"I've professed my love for Dioriviera time and again, but I'll take any and every opportunity to sing the scent's praises. Every time I spritz the fragrance, I'm instantly transported to the South of France, which is where master perfumer Maison Francis Kurkdjian found himself inspired to create the fig-meets-rose fragrance. It has a light and airy composition with hints of sweetness that have had me spritzing on repeat all summer." — Samantha Holender, Beauty Editor
The Best Soft Floral Fragrance
Diptyque Paris Fleur De Peau Eau De Parfum
"Fleur De Peau is the epitome of a garden oasis in a bottle much ado to its strong notes of iris and ambrette seed extract that come from hibiscus flowers. But don't feel overwhelmed—it dries into a cottony and soft smell, perfect for day or evening or when you want to turn heads. I promise it's one you'll grab over and over again." — Deena Campbell, Beauty Director
The Best Warm Floral Fragrance
Yves Saint Laurent Libre Eau de Parfum Spray
"After spending so much time refuting the fact that I liked floral fragrances, I fell in love with this Libre perfume. True to form, it's classified as a warm floral fragrance. It's made up of notes like lavender, orange blossom, and musk, which gives it a heady base note topped with lighter floral touches. I feel that one spritz gets me through the entire day, and the bottle looks so timeless on my vanity. It's elevated and fun at the same time, making it ideal for wearing out at night or to the office in the morning." — Julia Marzovilla, E-Commerce Editor
The Best Fruity Floral Fragrance
Ellis Brooklyn Sun Fruit Eau de Parfum
"My go-to for sunny vacations, this fruity floral fragrance smells like summer and sunshine. I find the fruit profile, which is made up of fig and bergamot, to be more predominant, with jasmine offering up a subtle floral infusion. The more it sits on the skin however, the more I notice the warmth brought to the equation by vanilla and coconut. Overall, I find it to be a fairly light fragrance, so I'll spray more than my usual four spritzes if I want the scent to last all day. P.S.: It also comes in a travel version that's great to have on-hand for midday refreshes." — Samantha Holender, Beauty Editor
The Best Woody Floral Fragrance
Byredo Mojave Ghost Eau de Parfum
"I bought this Byredo perfume for myself but it was quickly adopted by my boyfriend, who swears by it in lieu of traditional cologne. It's on the woodier side of the floral scent spectrum, so it's great if you want to dabble in floral fragrances without going for the full bouquet. It has notes of ambrette and sandalwood combined with violet and magnolia, which leaves you with a skin-like scent that lingers. Plus, the bottle lasts forever since all you really need is one spritz." — Julia Marzovilla, E-Commerce Editor
The Best Fresh Floral Fragrance
LouLou Damour Eau de Parfum
"This fragrance from LouLou D'Amour is one of my daily go-tos in the spring and summer. It's filled with floral notes like green hyacinth, lily of the valley, and peony, sweetened by a hint of grapefruit, and balanced out by more masculine elements like cedar wood, jasmine, and botanical musk. The result is a perfume that's ideal for someone like me, who loves florals but never wants to smell like an actual flower." — Gabrielle Ulubay, E-Commerce Writer
The Best Luxe Floral Perfume
Krigler Mediterranean Peach
"The second I smelled this fragrance I was instantly transported to the Mediterranean—with a peach sorbet in hand. Krigler quite literally bottled the care-free, laidback, and relaxed energy I only feel while on an extended tropical trip. Jasmine, honey, and mandarin take center stage with this fragrance, but if you smell deeper, you'll notice a hint of wood by way of white musk. It's the perfect balance to the primarily sunny scent that's quickly become one of my signatures. It truly adapts to my skin (I pick up sweeter notes, but it genuinely smells differently on everybody." — Samantha Holender, Beauty Editor
The Best Sweet Floral Fragrance
Phlur Not Your Baby Eau de Parfum
"Phlur is one of the most coveted fragrance brands around, and with good reason. Its scents linger on skin all day long without wearing off, but aren't so strong that they're overwhelming. Their Not Your Baby fragrance is one of my new favorites—a sweet scent that immediately brings up notes of violet and mimosa, but also includes warmer notes like vanilla milk, tonka bean, and sandalwood. It's distinct, feminine, and challenges my long-held aversion to anything vanilla." — Gabrielle Ulubay, E-Commerce Writer
The Best Limited-Edition Floral Fragrance
Jo Malone Mallow on the Moor Cologne
"Jo Malone's limited-edition drops are always bittersweet—I fall in love with one of 'em and then they're gone. I suspect such is going to be the case with their latest release, Mallow on the Moor. It has a powdery finish and is true to the floral family. One to two spritzes is really all I need to leave a trail. It's noticeable without being too overpowering. The bottle is also on the smaller side, which is ideal for traveling (it's TSA-friendly!)." — Samantha Holender, Beauty Editor
The Best Floral Fragrance for a Night Out
"Tocca is one of my all-time favorite fragrance brands. Its scents are all tributes to the power of femininity, and their "love yourself" always makes me feel good when I'm getting ready in the morning. The Maya perfume, of their newer fragrances, incorporates some of my favorite scents, like wild iris, blackcurrant, and patchouli heart. It's a scent that's floral first and foremost, but that also reminds me of incense in the best way. It's the perfect evening option for the floral devotee." — Gabrielle Ulubay, E-Commerce Writer
The Best Spicy Floral Fragrance
Chanel Chance Eau de Toilette
"Spicy floral fragrance are some of my personal favorites—it's an unexpected twist on an uber-feminine flavor profile. Case in point? The Chanel Chance Eau de Toilette, which is a gorgeous classic. The stars of the show are pink pepper, jasmine, and amber patchouli, but rest assured the combination of ingredients is going to smell different on your skin at every point throughout the day. Sometimes you'll get a whiff of spice, while other times the fragrance will smell predominantly floral." — Samantha Holender, Beauty Editor
The Best Gardenia Floral Fragrance
Chloé Naturelle Eau de Parfum