The 10 Best Tom Ford Perfumes
Florals, gourmands, and fresh scents—there's something for everyone.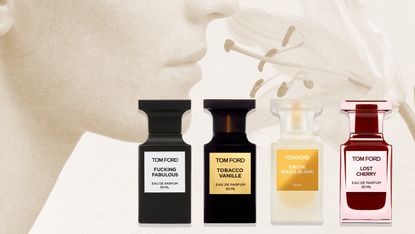 (Image credit: Tom Ford)
If you're a fashion girl, then I'm sure you know Tom Ford is synonymous with luxury. Well, I'm here to tell you that the same sentiment also applies to the fashion house's beauty line. From the brand's Soleil de Feu Spark Lip Balm to their crease-proof cream eyeshadow, we're pretty obsessed with Tom Ford's beauty offerings. However, there's one category that truly stands above the rest in Tom Ford's beauty line and if you've ever smelled the brand's iconic Black Orchid, I'm sure you can guess it's their fragrances. In fact, some of MC's very favorite perfumes come from Tom Ford and frankly, we (mainly, I) won't shut up about them.
My affinity for the brand's fragrances came when I was strolling along the aisles of Sephora in search of my next favorite vanilla perfume. One whiff of Tom Ford's Tobacco Vanille and I was hooked. Not only did it smell sophisticated and complex, but one spray lasted long after I returned home, plus the packaging was downright beautiful. Now after having tried my fair share of the brand's other scents, I can say with certainty Tom Ford's fragrances are unlike anything else.
While it's impossible to name the "best" perfume (everyone has different scent preferences, plus perfume wears differently on everyone), Ford's fragrances have got to come pretty close. They combine high-quality ingredients to create long-lasting, unique scents that are guaranteed to garner you a ton of compliments. Plus, these fragrances are housed in gorgeous packaging, deserving of your bathroom top-shelf. Below, we're sharing 10 of the bestselling and top-rated Tom Ford perfumes to add to your collection. Whether you're into floral fragrances or looking for your go-to fall scent, there's something for everyone.
The Best Deals on Tom Ford Perfumes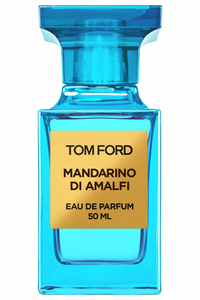 Tom Ford Mandarino Di Amalfi $295 $251 at Nordstrom
If you want to feel like a carefree beachgoer on the Amalfi coast, here is the way to do it without actually booking a plane ticket. Notes of citrus, calming herbs, and florals make up this relaxing fresh scent.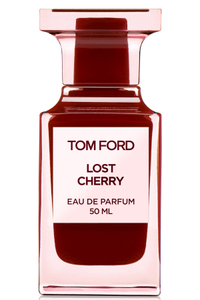 Tom Ford Lost Cherry $250 $212 at Nordstrom
Wearing Lost Cherry will ensure you don't smell like any other woman in the room, guaranteed. The top-rated fragrance combines notes of full-bodied black cherry, almond, and Turkish rose for a scent that's totally unique and robust. It's truly the kind of scent that will make heads turn.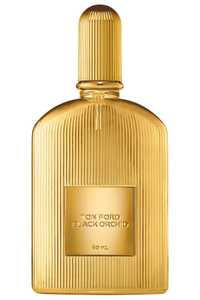 Tom Ford Black Orchid Parfum $190 $162 at Nordstrom
Black Orchid is one of Tom Ford's most iconic scents but this parfum version takes the floral fragrance to another level. This potent formula elevates dark florals like black orchid and ylang-ylang with a touch of rum and black truffle notes to create a fragrance that's pure seduction. Trust me when I say this is not your grandma's floral perfume.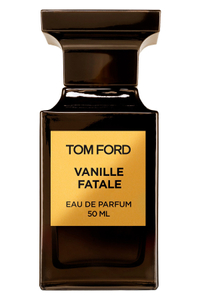 Tom Ford Tobacco Vanille $185 $157 at Nordstrom
This cult-favorite scent takes gourmand and turns it on its head for a scent that's unique, warm, and intoxicating. With a touch of sweetness from creamy tonka bean and vanilla, plus the spiciness of tobacco and ginger, this is a fragrance unlike anything else. This also happens to be Harry Styles' rumored scent, in case you were wondering.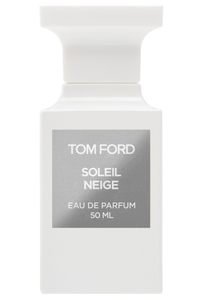 Tom Ford Soleil Neige $185 $157 at Nordstrom
If you're the type of person to switch out scents for this season, make sure you add this fragrance to your winter rotation. Inspired by the shimmer of sun on snow, this perfume combines wintery bergamot and warm musk for a scent that's equal parts fresh, clean, and natural. This fragrance would also make a wonderful gift for anyone on your list as it's totally gender-neutral.
The Best Tom Ford Perfumes
Best Overall Tom Ford Perfume
Tom Ford Black Orchid Parfum
Floral scents get a bad rep for reading a bit old, but there is nothing grandmotherly about this perfume. Often dubbed the most iconic of Tom Ford's perfumes, Black Orchid is best described as downright sexy and seductive. With notes of black orchid (obviously) and ylang ylang, this scent is definitely floral, but not overbearingly so thanks to a grounding note of patchouli. What results is a warm, slightly spicy floral scent that's perfect for nighttime endeavors or whenever you need an extra dose of elegance. This one is also the most potent concentration of Black Orchid out there, so one spritz is all you need for a long-lasting effect.
Customer review: "Seductive, expensive, boozy, elusive. This fragrance is the perfect marriage of opulence and sexiness. My husband loves this fragrance and I get compliments every time I wear it. Fills every room I walk into without the intrusion of cheapness or being too overwhelming. I recommend this fragrance!" — Sephora
Best Vanilla Tom Ford Perfume
With this fan-favorite scent, forget what you think you know about vanilla perfumes. While this scent is on the sweet side, it's not like the overtly saccharine vanilla scents of the 2000s. Instead, Tobacco Vanille is sophisticated, warm, and a touch spicy. Upon the initial spray, you get hit with sweet notes of tonka bean, vanilla, and cocoa, but as the scent dries down, you're left with the spicier notes of ginger and tobacco leaf. This is the kind of perfume you wear to date night to leave a lasting impression.
Customer review: "This has been one of my favorite scents the last couple of years. I can still smell it hours later and when I do my laundry I can still smell it on my clothes, a little goes a long way. I do not get a strong tobacco scent more spicy vanilla, I'm not sure if I'm just not sensitive to it. Ive had people come up to me and tell me I smell like Christmas when I wear it. If you like vanilla scents, but don't want to smell like a bakery, this scent is for you." — Sephora
Best Citrus Tom Ford Perfume
Tom Ford Mandarino Di Amalfi
In case you don't have a trip to the Amalfi Coast lined up, this fragrance is the next best thing. With a spray or two of this perfume, you'll feel transported to an Italian beach thanks to a combination of citrus, lively floral, and herbal notes. Here, juicy mandarin and subtle floral notes are paired with calming basil and shiso, resulting in a summery fragrance that's ideal for beach vacations. Even the bright, sky-blue bottle is reminiscent of turquoise ocean waters.
Customer review: "This perfume is not overwhelming, but is incredibly long wearing. Each time I use it, I feel transported to the Amalfi coast. It's a bit of vacation in a bottle." — Nordstrom
Best Amber Tom Ford Perfume
You know when the sun sets and the sky turns golden? That's what Tom Ford was inspired by when he created Soleil de Feu. While this perfume is meant to evoke sunsets on the beach, it's far from the typical tropical scents you might expect. With notes of tuberose accord, warm ambers, and exotic sandalwood, this is a comforting, woody amber scent that would be perfect to wear during the summer. It also offers a hint of spiciness, resulting in a complex, sensual scent that will last you all day.
Customer review: "Received a sample and wow, I couldn't stop smelling myself! This is the first Tom Ford fragrance I have actually liked. Definitely powerful, 1-2 sprays. But such a sexy amber& sandalwood. Full bottle worthy." — Sephora
Best Fruity Tom Ford Perfume
Lost Cherry is nothing short of unique and may be one of Tom Ford's most divisive scents, but don't let that sway you away from this delicious scent. Upon the initial spray, you're hit with the most delectable note of cherry you can imagine. But as it dries down, the scent evolves into a creamy, candy-like smell with notes of almond and tonka bean, plus you get a slightly floral hint of Turkish rose and jasmine. All in all, Lost Cherry is a delicious, full-bodied perfume you won't be able to stop sniffing.
Customer review: "This scent is SO sexy, SO intoxicating, its absolutely beautiful. The initial spray you can really smell the cherry and it might throw you off but just wait... JUST WAIT ONE OR TWO MINUTES while it warms on your skin and OH-MY-GOODNESS. its beautiful. Fall and winter scent only in my opinion but highly recommend." — Sephora
Best Warm Tom Ford Perfume
Tom Ford Fucking Fabulous
With a name like that, how could this perfume be anything less than iconic? The signature Tom Ford fragrance is unbelievably complex. First, you get an intoxicating, spicy leather scent followed by slight notes of citrus and lavender. Like most fragrances, this one is going to wear a bit differently depending on your body's own pH levels. I, for one, get the sweet tonka bean notes a bit more, but the hints of leather and spicy sage may come out stronger on you. However it wears on you, though, this fragrance lives up to its name.
Customer review: "Scent is very personal... and this one is personal to me. FF is so relaxing and intoxicating. I am loving the combination of the almond, tonka, leather etc. I do find myself spraying it more than usual not because it doesn't last long but because i love the top notes.... the opening for me is very addicting... i even spray this going to bed. :)" — Sephora
Best Spicy Tom Ford Perfume
If you're wanting to smell totally unique, Tuscan Leather is the fragrance for you. With this scent, you won't get any florals or sweetness here, but instead a distinct concoction of spicy leather and suede. It's subtly balanced with jasmine, which comes out even more the longer you wear this fragrance. And while Tom Ford doesn't designate genders for his fragrance, Tuscan Leather can read a bit more masculine. Be warned: People are going to stop you and ask what you're wearing with this original scent.
Customer review: "One of my recent purchases that I wear frequently. Complex, a bit heavy and very unique, I've had many great comments while wearing it. An ideal cold weather fragrance that is in my top 5 list. I liked it enought to opt for e 3.4 oz size." — Nordstrom
Best Fresh Tom Ford Perfume
If you're one to switch up your fragrances depending on the season, Tom Ford's Soleil Neige was practically made to use in the wintertime. In fact, the way the sun shimmers on fresh snow was the inspiration behind this fresh fragrance. Think of this scent as a combination of wintry fresh bergamot and citrusy lemon. To mature this fragrance up a bit, you also get subtle notes of jasmine and musk, resulting in a clean perfume that's incredibly wearable everywhere you go.
Customer review: "The name may mean "sun on snow" but this is my new Spring go to! So clean and crisp with the bergamot and lemon. I find myself reaching for it every day now. Don't hesitate to get this one. I purchased the 1 oz and wish I'd have gotten the larger size." — Nordstrom
Best Floral Tom Ford Perfume
Floral lovers will get a kick out of Rose Prick, Tom Ford's ode to his personal rose garden. Filled with a bouquet of different rose breeds including rose de mai, Turkish, and Bulgarian rose, this is a floral fragrance done beautifully. It also features notes of patchouli and sichuan pepper, which may not sound compatible with rose, but it adds just the right amount of edginess to give this perfume some spicy maturity. Trust me, this isn't a little girl's floral perfume, and we love it for that.
Customer review: "So beautiful! Rosey, floral, but done softly. The dry down makes it even better! Warm and inviting. I love it. This is my favourite of the last 3 Tom Fords I got. It's gorgeous and well done. 1 spray is all you need and on your pulse points / warm areas is best" — Sephora
Best Woody Tom Food Perfume
For those who don't want to smell like anyone else in the room, might I suggest Oud Wood, one of Tom Ford's best-selling fragrances? This fragrance will place you right in a smoky, incense-filled temple with spicy and woody notes such as rare oud, sandalwood, rosewood, and Chinese pepper. Once this scent dries down, you're left with lasting notes of amber and tonka bean that make this fragrance all the more rich and sensual. While this fragrance is technically unisex, reviewers note it leans a bit more masculine than feminine.
Customer review: "Got this perfume as a birthday treat for my husband and he absolutely loves it. It's deep yet not overpowering, long lasting yet fresh and woody at the same time. Like most TF fragrances it's really sexy and multidimensional. Can be worn all year round and won't cause headache in closed space. I personally wouldn't wear it myself but I'm sure it can be gorgeous on female skin too." — Nordstrom