The 11 Best Shampoo Bars for Every Hair Type and Routine
Say bye-bye to bottles.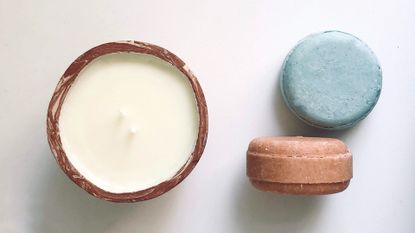 (Image credit: Getty)
As much as we all love our favorite shampoos and conditioners, it's time to face the facts: The waste that those bottles generate often end up in landfills or in the ocean, contributing to climate change and to the issue of plastic pollution that plagues worldwide health. For that reason, a number of beauty brands have begun to step up, creating waste-free products that work just as well—if not better—than the ones we're used to and that don't poison our water, soil, or bodies in the process. An example of these waste-free products is the shampoo bar, which has gained incredible popularity in recent years.
"One shampoo bar can replace up to three 200ml bottles of liquid shampoo," trained trichologist and Lush co-founder Mark Constantine tells us. "Since 2005, Lush has sold just over 59 million shampoo bars, potentially saving 180 million plastic bottles from becoming waste. Though Lush was the first to invent shampoo bars, with its wide adoption in the market, we estimate that this saves the world at least 1100 tons of plastic a year from everyone else selling them too."
But because most people are used to bottled shampoo, customers are often nervous about trying shampoo bars for the first time. Are they easy to use? Effective? Affordable? The reality is, so long as you can work up a good lather and use great styling products (I'm loving the Living Proof Full Texturizing Foam right now), your hair will feel and look just as clean.
To answer all this and more, I spoke to Constantine, who sold me on waste-free beauty and the ease of the shampoo bar. After this run-down, you'll never go back to bottled again.
How to Use a Shampoo Bar
Although shampoo bars work just as well as bottled shampoos, the process of applying the product is different.
"With a traditional liquid shampoo, you put the shampoo straight on the damp hair, while with the shampoo bar, you only put the lather on," explains Constantine, who feels that "shampoo bars are easier to use than liquid shampoo" for this reason. In other words, lather the shampoo bar onto your hands, then "take the lather off and put it through your hair using your fingers."
In following this routine, you'll have a gentler shampoo process because, he says, "you're not putting the neat surfactant straight on the hair." Thus, he concludes, "that means less split ends, less abrasion, and less wear and tear."
Worried that lathering the formula into your hands will make for a less effective wash? Don't be. Constantine reassures, "The essential oils—all the things that are making a difference to your hair—are carried in the lather. You can lather as many times as needed, but it will be a lot less than if you use liquid."
And because shampoo bars are so potent and don't require as much lather-rinse-repeat, they'll have a longer shelf life, saving you money in the long run. In fact, Constantine says that high-quality shampoo bars such as the ones at Lush last for around 60 washes.
What to Look for in a Shampoo Bar
Like any other beauty product, not all shampoo bars are built the same. When looking for the right formula for your hair, Constantine says it's important to look at the ingredients.
"The pH is important, as you want your shampoo to be slightly acidic," he advises. "Essential oils are good because they transfer across in the lather, which some herbs do as well. Coconut oil works quite well."
In terms of what to avoid, he says, "I wouldn't buy a shampoo bar that's based on soap, as that can disrupt the pH balance of your hair. I'd also avoid ingredients like zinc pyrithione. "
The Best Shampoo Bars
Best Shampoo Bar for Hair Growth
If you're on the lookout for the best hair growth products and hair growth shampoos, Constantine suggests this option, attesting that "it makes your hair grow." Infused with nettle, peppermint, and clove, it's formulated to stimulate your scalp and support overall follicular health. It also features a warm, spicy fragrance derived from natural cinnamon leaf essential oils. Users also say that it lathers easily, that it thoroughly cleanses the hair and scalp, and that they could notice new hair growth and better retention.
Pros: fosters hair growth; long-lasting; lathers well; supports scalp health; expert-approved; vegan; cruelty-free
Cons: can be drying
Customer Review: "After one wash, I immediately felt a difference in how my hair felt and how it looked. I thought it was just a placebo effect, but sure enough I keep getting compliments on how nice my hair looks. My partner also commented that my hair has gotten so soft. I've been using it for about a week now and my hair just keeps getting better—less oily, so soft, less tangles, etc. Not only does it work very well, it lasts forever." -Lush
Best Shampoo Bar for Volume
If your mane often feels lifeless or lank, Constantine recommends taking a look at this ocean blue option from Lush. He explains that it's perfect "for volume, added seaweed, and sea salt," each of which he says "transfers in the lather." The overall effect is similar to that of a sea salt spray, leaving your hair looking like you just got back from a day at the beach without drying it out. It also features a popular, light citrus spray derived from organic lemon oil.
Pros: volumizing; expert-approved; light scent; softening; cleansing
Cons: those with dry or damaged hair didn't find it conditioning enough
Customer Review: "I've been using this product for over three years and I will always come back to it. I have dry, coily, thick hair and for me this shampoo works like a clarifying shampoo. I use mousse on my curls and after using this shampoo I can trust that my hair will be squeaky clean. It also lathers up nicely and allows me to detangle my hair, so it is somewhat moisturizing." -Lush
Best Conditioning Shampoo Bar
Lush Godiva Shampoo and Conditioning Bar
This two-in-one shampoo and conditioning bar is ideal for those in search of a low maintenance daily wash routine. It promises to cleanse hair of dirt, sweat, and buildup, but is also infused with organic macadamia nut oil, cocoa, and shea butter, which condition and soften hair without making it greasy. In Constantine's words, "it's conditioning as well as cleansing," and therefore one of his top recommendations. Like all of Lush's products, the bar is also vegan and cruelty-free. Plus, it features a delicate jasmine scent that reviewers absolutely love.
Pros: two-in-one, nourishing; gentle, popular scent; cleansing; cruelty-free; vegan; expert-approved
Cons: may not be conditioning enough for curly or natural hair
Customer Review: "It leaves your hair feeling so clean and it's like it resets each hair. I have course, thick curly hair and it leaves it feeling soft and nourished. Don't even get me started on the smell! The lovely smell of Jasmine makes your hair smell great and just gives you a boost." -Lush
Best Co-Wah Bar
Lush Avocado Naked Co-Wash
"Our Naked co-washes are also a good option for those with thicker hair types," says Constantine, recommending this extra creamy option in particular. It's made using fresh, organic avocado along with cupuaçu butter, cocoa butter, and extra virgin olive oil, all of which deeply condition hair, revive dry locks, and help define curls and coils. It also features a citrusy, energizing tropical scent that lingers without coming on too strong. Finally, the formula incorporates lavender and nettle, which balance flaky, dandruffy scalps.
Pros: curl-defining; nourishing; cruelty-free; vegan; expert-approved
Cons: may be too rich for thin, greasy hair or scalps
Customer Review: "This co-wash has made my hair feel and look healthy and hydrated, and the smell is great. Since using this co-wash, I have noticed that my hair does not fall out as mush as it did when I used drug store shampoos and conditioners." -Lush
Best Strengthening Shampoo Bar
This shampoo bar from Viori incorporates organic Longsheng rice water, which helps nourish and repair hair from the inside out, resulting in strands that shine, have more volume, and break less frequently. Other ingredients include hydrating cocoa butter, and strand strengthening hydrolyzed rice protein. Several customers rave that this shampoo bar lasts for ages, reduces hair shedding, and that it makes hair more manageable and less tangled. Viori's products are also clean and sustainably packaged in an effort to have a smaller carbon footprint.
Pros: clean; volumizing; strengthening; hydrating; supports scalp health; reduces shedding
Cons: some customers with sensitive skin report scalp irritation
Customer Review: "My hair is incredibly weak and brittle, and falls out in clumps when I use other shampoo/conditioner combos, but I barely lose a couple of strands per wash with this one. This combo also makes my hair wildly soft and manageable, just the kind of hair I haven't been able to get with any other product." -Sephora
Best Shampoo Bar for Scalp Health
Superzero Soothing Scalp Shampoo Bar for Flaky & Itchy Scalps
This fragrance-free shampoo bar from Superzero is formulated to soothe irritated scalps and mitigate issues like dandruff, flakes, and dryness. It also supports strands themselves, repairing and preventing breakage while also increasing softness and shine. The formula also works on all hair types, from straight to coily, fine to thick, and promises to effectively cleanse the hair and scalp of all impurities without stripping it of its natural oils or moisture. Finally, its packaging is 100 percent recyclable, so you can rest assured that you're looking after both your hair and the planet.
Pros: supports scalp health; clean; vegan; works on all hair types; color-safe; sulfate-free
Cons: some users didn't find it clarifying enough
Customer Review: "Wow! I was skeptical on this but decided to take the chance. I've never used a shampoo bar before, so I really didn't have much expectations. Plus I've used thousands of dollars worth of products over the years that claim they help with dry and flaky/itchy scalp—and yet always fall short. So imagine my surprise when I used this product for the first time and was practically flake free for three days. Jaw is on the floor. my scalp feels SO clean and my hair looks so much better." -Sephora
Best Clarifying Shampoo Bar
Kitsch Clarifying Shampoo Bar
If you haven't discovered clarifying shampoos yet, get on board: These products banish buildup, sweat, dirt, and other pore-clogging materials that get stuck on your scalp, hindering hair growth and resulting in dandruff, grease, and irritation. They're meant to be used once in a while rather than every time you wash your hair, and are especially handy for those who work out frequently or who live in polluted cities. This shampoo from Kitsch is beloved by reviewers for its ability to cleanse thoroughly in just one wash and for how long it lasts (it provides just as much product as two bottles of liquid shampoo). Plus, Kitsch is a 40cean Certified Cleanup Partner and is committed to reducing pollution and the negative impact of plastic waste.
Pros: free of silicones, parabens, phthalates, sulfates, and artificial fragrances; supports scalp health and hair growth
Cons: none found
Customer Review: "Got my first bar and have been using for about week now and my hair has volume. Less fall out. Shine and the lather is amazing. No huge bottle taking up space." -Kitsch
Best Scented Shampoo Bar
The Earthling Co. Shampoo Bar - Sweet Sandalwood
The Earthling Co. is committed to sustainability by not only producing no-waster products like these shampoo bars, but also by pairing them with 100 percent recyclable, unbleached packaging. The product itself promises to enhance moisture, shine, and volume for all hair types and textures, and to cleanse hair without stripping it or irritating the scalp. Its fragrance is also completely natural. My favorite is this sandalwood scent, but the bar also offers other fragrances, including citrus, vanilla coconut, fresh mint, wild vanilla, cool breeze, and an unscented option.
Pros: many options; free of parabens; SLS, SLES, and silicones, vegan; cruelty-free
Cons: none found
Customer Review: "Ever since I started using shampoo bars my hair doesn't have to be washed as frequently. It feels light and soft and I absolutely love the smell of coconut!" -The Earthling Co.
Best Purple Shampoo Bar
Superzero Purple Shampoo Bar for Blonde, Highlighted, & White Hair
Purple shampoos are ideal for those who have blonde, white, or gray hair and are looking to keep their locks from turning brassy. This shampoo promises to deliver fast results, keeping highlighted and dyed hair looking fresh until its user's next salon appointment. It's also clean and free of sulfates, SLS, and SLES, and incorporates ingredients like keratin and plant-based hemisqualane in order to ensure that strands remain strong, shiny, and free of frizz.
Pros: fragrance-free; reduces frizz and breakage; works on all hair types and textures; free of sulfates, SLS, and SLES; clean
Cons: more suitable for blondes than brunettes
Customer Review: "The bar itself lathers better and applies more evenly than any other purple shampoo I've used. The tint is perfect and my hair is feeling healthier and stronger." -Superzero
Best Lathering Shampoo Bar
Zero Waste MVMT Peppermint + Eucalyptus Shampoo Bar
This shampoo bar by Zero Waste MVMT lathers incredibly well, according to reviewers, with a rich, cleansing formula that packs a punch. It's also handmade and fully biodegradable, and is formulated without harmful ingredients like parabens, SLS, phthalates, and palm oil. This peppermint and eucalyptus scent is popular among customers, but you can also indulge the grapefruit and sweet orange scent, which is perfect for adding a tropical vibe to your haircare routine.
Pros: cruelty-free; biodegradable; handmade; free of palm oil, phthalates, SLS, and parabens
Cons: contains sulfates
Customer Review: "The shampoo bar suds up great! And you barely need any... Usually I comb out a lot of hair after the shower with regular shampoo and conditioner, but with this stuff, virtually no hair came out! I'm obsessed! This is my new favorite brand!" -Zero Waste MVMT
Best Long-Lasting Shampoo Bar
Gracie & Co. 1942 Zero Waste, Organic Moisture Rich Shampoo Bar
These popular shampoo bars from Gracie & Co. 1942 are made with two primary purposes: to be more environmentally friendly than bottled shampoos and to save customers money by lasting longer than the average shampoo. This option, which is also TSA-friendly, is made using natural oils and butters like shea butter, carrot seed oil, hemp seed oil, nettle extract, and mango butter, all of which ensure that your hair and scalp don't get stripped of moisture during cleansing.
Pros: many scent options; sustainable packaging; moisturizing
Cons: contains SLS
Meet the Expert
Mark Constantine is a trained trichologist and entrepreneur who, along with his wife, Mo, co-founded Lush in 1995. Originally from the United Kingdom, he is committed to fighting pollution and animal testing, particularly in the cosmetics industry.
Marie Claire email subscribers get intel on fashion and beauty trends, hot-off-the-press celebrity news, and more. Sign up here.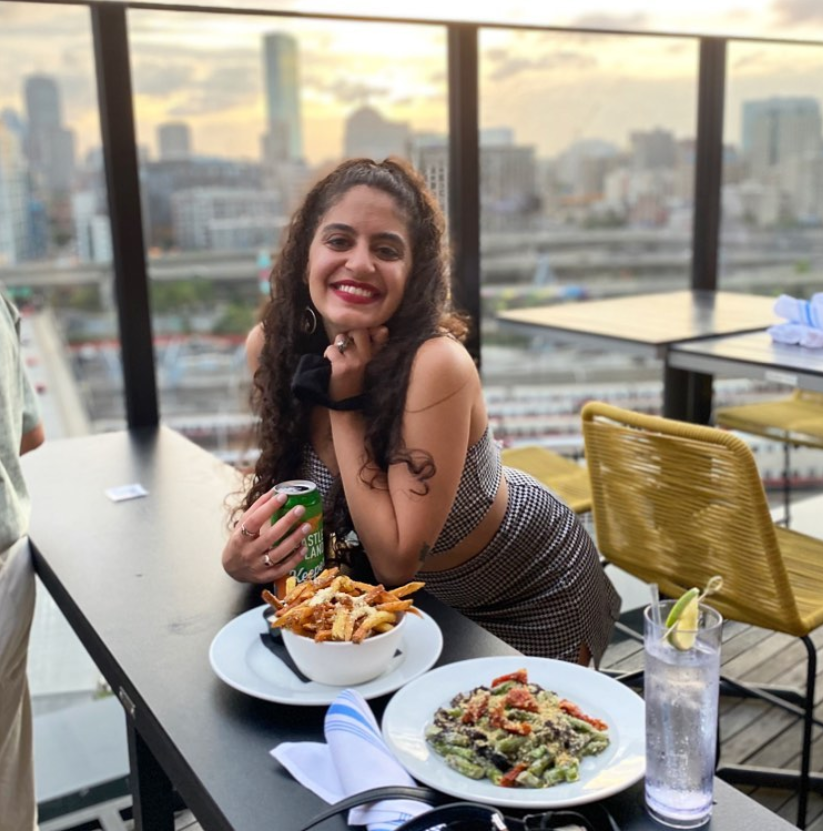 Gabrielle Ulubay is an E-Commerce Writer at Marie Claire and writes about all things beauty, sexual wellness, and fashion. She's also written about sex, gender, and politics for publications like The New York Times, Bustle, and HuffPost Personal since 2018. She has worked extensively in the e-commerce and sales spaces since 2020, including two years at Drizly, where she developed an expertise in finding the best, highest quality goods and experiences money can buy. As a film school graduate, she loves all things media and can be found making art when she's not busy writing.