Is Coconut Oil Good for Your Hair? Hairstylists Weigh In
Allow hair experts to walk you through how coconut oil can transform your hair.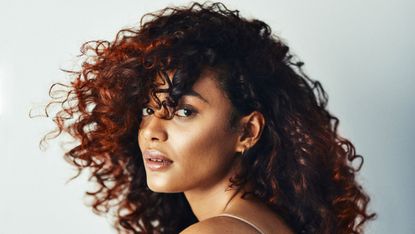 (Image credit: Delmaine Donson)
There are so many hair treatments out there that go beyond your favorite shampoo and conditioner, it's hard to keep up. Still, coconut oil in particular has gained a solid following, with users touting a myriad of benefits, from cooking to skincare to teeth whitening. Still, we must ask ourselves: Is coconut oil really all that it's cracked up to be? More specifically, can a few well-placed dabs of coconut oil really benefit our hair?
To answer these questions and more, we tapped hairstylist to the stars Cynthia Alvarez, master hairstylist and colorist at IGK salon Stephanie Brown, and Peter Young, M.D., a dermatologist and medical director for Facet. They confirmed that, yes, coconut oil can help hair health in a number of ways. While it's important to start small with this oil (as with all oils) and augment as needed, with the right balance, coconut oil is bound to bring your hair from sad to glad in no time. Read on for our guide on using coconut oil, the ways coconut oil can benefit your hair, and the coconut oil-infused hair products to add to your shopping cart ASAP.
Coconut Oil for Hair Growth
In short: Yes, coconut oil can support hair growth. "Coconut oil will definitely help your hair grow healthier, thicker, and longer," Brown confirms. "The vitamins and fatty acids in coconut oil help nourish your scalp and penetrates the cuticle of the hair. A treatment mask about once every week or two weeks for five to 10 minutes will do the trick." (Keep scrolling for Brown's go-to, and we've also selected our favorite hair growth shampoos and hair growth oils to help things along.)
Alvarez agrees, adding that incorporating coconut oil into your routine creates an optimal environment for hair growth. "The vitamins and essential fatty acids also help to remove sebum build-up from hair follicles, which speeds up growth," she explains.
Coconut Oil For Damaged Hair
It's no secret that chemicals, heat treatments, and pollution and dry out and damage your hair, in which case coconut oil can be just the ticket. Young says that coconut oil "does provide a barrier to protect your scalp and hair, and blocks irritants and bacteria from causing damage. One of the key ingredients of coconut oil is lauric acid, which helps moisturize the strands of your hair to reduce breakage."
"If your hair is feeling a little dry or damaged, coconut oil is a good pre-shampoo treatment to prevent shampoos from stripping all the oils from your hair," Brown adds, suggesting that users massage the oil into their strands from root to tip before proceeding with their shampoo routine.
And if you love spending time outdoors, Alvarez suggests applying coconut oil before spending time in the sun, noting that "coconut oil is a natural SPF and will protect your hair and skin from the harmful rays of the sun." In a similar vein, she says that you can protect your hair from bleach damage by incorporating it into your pre-dye routine. "I like to tell certain clients to put a little coconut oil in their hair before getting major highlights or going platinum," she says, "because it helps protect the hair from bleach."
And you don't just have to take their word for it—a study from the National Library of Medicine found that coconut oil is able to penetrate the shaft of hair strands and, ultimately, prevent hair damage.
Coconut Oil for Day-to-Day Maintenance
Coconut oil doesn't just belong on your bathroom shelf during a hair emergency—it's also a great addition to your daily routine. "Coconut oil provides great slip to the hair, making detangling feel like a breeze," Alvarez explains. She also says that it's a great oil to brush through your hair if you're headed out and looking for a bit of extra shine.
Trying to hide pesky split ends or unruly frizz until you're able to make it to the salon? Coconut oil can help with that, too. "Coconut oil will help smooth the cuticles on your split ends so your hair doesn't look frayed at the end," says Alvarez. "It also helps tame frizz due to split ends or humid weather," she adds, explaining that the oil prevents frizz in the first place by "replenishing moisture in your hair." Dr. Young also suggests coconut oil over other alternatives, commenting, "Since it absorbs quickly, coconut oil is more effective than other oils in repairing dry and 'frizzy' hair."
Looking to use coconut oil while you're in the shower? Dr. Young says, "Coconut oil is not as effective as shampoo to clean your hair and scalp, but it works very well as a pre-shampoo treatment to condition your hair. So start off your hair care routine with coconut oil, and then use your regular shampoo to wash it out."
Coconut Oil For Scalp Health
If you're dealing with dandruff, scalp irritation, or scalp dryness in general, coconut can help with that, too. Dr. Young says, "coconut oil provides relief from symptoms of scalp irritations, including scalp psoriasis and seborrheic dermatitis (dandruff)."
Unsure of how to apply it? Brown instructs, "If you want to combat dandruff, put coconut oil on your scalp for about five minutes, and then shampoo it out," Brown advises, explaining that users should proceed with this routine until dandruff begins to subside. Alvarez agrees, adding that massaging coconut oil into the scalp improves its overall health and, as a result, reduces flaking proactively.
And if you're struggling with a fungal infection coconut oil can help with that too. A recent study from the International Microbiology Research Journal found that virgin coconut oil can help fight and treat fungal infections.
Coconut Oil as a Leave-In Treatment
As a curly girl, I can't live without my leave-in conditioner, and Brown says that coconut oil is an excellent natural leave-in option to consider, particularly during the warmer months. "I love using coconut oil as a leave-in treatment in the summer," she says. "The heat from the sun opens up the cuticle so the oil will penetrate your hair even more. Its ingredients have natural protectants that save your hair from sun damage. Coconut oil also protects the hair from drying out or getting brittle from salt water and chlorine."
Coconut Oil for Lice
First and foremost, it's important to consult your doctor if you're dealing with a case of lice. If they agree that coconut oil is a good option in combatting the lice, then Alvarez recommends "mixing a few drops of tea tree oil in coconut oil [to] help kill the lice and neutralize their eggs." She explains that, by itself, "coconut oil can't completely kill the nits that lice lay in your hair."
After using this mixture, Brown recommends using "an apple cider rinse to kill all of the eggs or nits left behind."
Furthermore, Dr. Young clarifies, "Despite its antibacterial and antiviral properties, coconut oil will not kill lice. It will temporarily immobilize lice, make it more difficult for them to cling to hair and aid in helping to comb out the lice."
Coconut Oil on Different Hair Types
"Coconut oil works well for those with soft and fine, or medium to thick hair," Alvarez notes. "Its protein retention abilities will add body and volume to such hair types, and also minimize damage and breakage while combing and styling." But if your hair is in a dry, stiff, brittle, or coarse condition, Alvarez says to refrain from using it on a regular basis. "With repeated use, coconut oil may cause protein build-up, making your hair even more stiff, hard, and less elastic—less elasticity means more breakage when combing or styling." When you're worried about said build-up, or if you'd like to prevent it, incorporate a clarifying shampoo into your routine.
The Best Coconut Oil Products
The Best Raw Coconut Oils
The Best Coconut Oil Shampoos
The Best Coconut Oil Styling Products
The Best Coconut Oil Treatments