Editors handpick every product that we feature. We may earn commission from the links on this page.
The 15 Best Clarifying Shampoos to Beat Build-Up
A deep clean is just around the corner.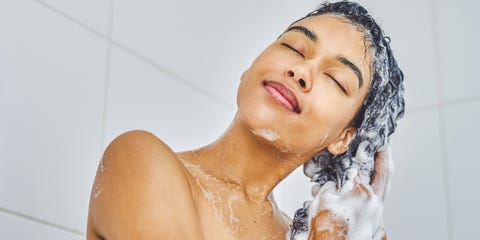 If you're anything like me, dry shampoos, hair oils, leave-in conditioners, and other hair products are saviors for keeping your hair style last longer. Hey, I didn't spend an hour blow-drying my hair only to have the style collapse on me a few days later. Here's the thing: there's nothing wrong with using these products–pry my dry shampoo out of my cold, dead hands, I dare you–but that's only if you're effectively cleaning those products out of your hair on wash days. If your shampoo isn't working super hard, then you might develop what's called "build-up."
How do you know if you have build-up in your hair? Let me introduce you to my nightmare of a symptom list: flakey scalp, excessive oiliness, dull-looking strands. Hair products aren't the only offenders. Sweat, pollution, products, and dirty water can all cause build-up overtime. If you're thinking, "Well then what the hell is my regular shampoo doing?", let me explain: It's not that your regular shampoo is terrible and should be thrown out. A standard shampoo is great...most of the time. However, if you start noticing build-up, a clarifying shampoo can be used once a week or once a month, depending on your individual hair type, as a deep-clean. If you're not sure which clarifying shampoo to reach for, don't worry, I did the work for you. From color-treated hair to excessively damaged ends, there's a clarifying shampoo that will suit your needs.
This content is created and maintained by a third party, and imported onto this page to help users provide their email addresses. You may be able to find more information about this and similar content at piano.io