What Is Co-Washing, and How Do You Do It? Experts Weigh In
Skip the shampoo.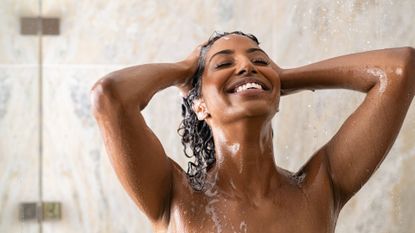 (Image credit: Getty)
Marie Claire Newsletter
Celebrity news, beauty, fashion advice, and fascinating features, delivered straight to your inbox!
Thank you for signing up to Marie Claire. You will receive a verification email shortly.
There was a problem. Please refresh the page and try again.
If there's anything I've learned on my own haircare journey, it's that there's no such thing as a one-size-fits-all hair routine. While there are a number of hair growth products, hair oils, and shampoos and conditioners that work across the spectrum of hair types, there are also specific practices that can (and, in many cases, should) be explored by people with low porosity, curly, and/or natural hair. One of these practices is co-washing.
"Co-washing is done when you only wash your hair with conditioner and skip the shampoo, or when you use an actual co-wash product," explains Bianca Renee Adkins, a DIY Curly Hair Expert for Sally Beauty.
Celebrity hairstylist Gregory Patterson adds, "Co-washing is essentially washing your hair with a 'conditioner/conditioning' like product that doesn't lather or use sulfates. Instead, you're cleansing your hair using beneficial hydrating oils, butters, and ingredients that attract any excess buildup/residue, and then remove them upon the rinse."
For this reason, many people with naturally dry hair—or those who need to wash their hair very frequently but don't want to dry it out—turn to co-wash as a moisturizing alternative. Indeed, if I'm working out and washing my hair daily, I often opt for a co-wash so that I don't dry out my curls, and turn to a clarifying shampoo once a week or once every two weeks to banish any residual sweat and build-up. Adkins agrees that this is a good method, pointing out that co-washing is a "gentle wash often more focused on hair moisture," and to be done "on the days where your hair doesn't need to be clarified."
Antoniette Bullock, a DIY Natural Hair Expert for Sally Beauty, confirms that co-washing "focuses more on adding moisture to the hair to prevent dryness or breakage, rather than cleansing the hair and scalp. A downside to this is that it could lead to an oily buildup or residue on the hair and scalp. But, what is great is that co-washes have evolved over the years, and you can now find so many great ones that can help with the ease of hair dryness, but also cleanse the scalp and hair very well."
Still on the fence? I was, too, until I found my strands significantly glossier and my curls much more defined once I strategically incorporated co-wash into my haircare regimen. Patterson experienced similar results as me, confiding that he started co-washing about six years ago and hasn't looked back since.
"To say it's changed my hair, and scalp dramatically would be a major understatement!" he gushes. "I'm a huge fan over here."
Ready to get started? Read on to learn everything you need to know about co-wash, from how to get started to which products you should stock up on stat.
How To Use Co-Wash
If you're worried that co-washing involved reimagining your entire hair routine, rest assured that the nitty-gritty of it is truly not that different from shampooing.
"The process for co-washing and shampooing are not different at all," Bullock reassures. "All you do is add the co-wash to your scalp and hair and use your fingertips to gently scrub the scalp and hair, rinse, and repeat if needed."
Meanwhile, Patterson tells us what to expect while in the shower with our go-to co-wash product. He points out that, unlike traditional shampoos, co-washes don't yield any lather (a.k.a. what he calls "big foamy hair"). When co-washing, he explains, "You're looking to use 'like attracts like' ingredients to cleanse. Think about the old water and oil combo (i.e., they repel one another). Oil and oil, on the other hand, are of the same family. So, when you co-wash, make sure to splash water onto your hair little by little to create an almost "soupy", creamy texture, which you then massage throughout your strands and scalp. Detangling combs and brushes in the shower are great to use here as well."
Furthermore, he says that if co-washing is making your hair too oily, you can double cleanse—just like you might with skincare. "Think of co-washing as your 'double cleansing' skin routine, but for your hair," he says. "You may notice the hair becoming more oily initially, or feeling not clean, but trust me, I went through this, and after my scalp normalized (a.k.a. had a chance to breathe and reset), there was no turning back."
"You need more product initially, but once you stabilize and begin to use less product, and cleanse less frequently, I think you'll be left wondering why you haven't gone this route years ago," he adds. "Also, it's really important to be mindful of rinsing super well after your co-wash. I find most people that circle back to me after I set them up with a system of co-washing saying, 'My hair feels so greasy.' In that case, they probably didn't use enough product and it's not soupy enough, or they didn't rinse it out thoroughly."
And how often should you co-wash? Bullock says that this depends on the specific needs of your hair, your scalp, and your lifestyle.
"What is important to remember about co-washes is that you can use them more often than shampoo," she writes. "For example, if you shampoo once a week, then you can easily use co-washes two to three times a week. It all depends on your hair and your lifestyle. Maybe you work out daily—in that case, you may want to co-wash more often to remove any excess sweat or impurities. "
What To Look for In a Co-Wash
Bullock is a wealth of knowledge on what to look for when you're in the co-wash aisle, and she demystifies the confusing list of unpronounceable ingredients so that users like us can do less head-scratching and more head-washing.
"To find an effective co-wash that has a perfect balance of moisture and cleansings benefits, I would recommend looking for some key words on the bottles, such as cleansing wash and cleansing conditioner," she advises. "I would also look to see if the ingredient list contains some cleansing agents and some moisturizing ingredients. For example, some mild cleansers such as cocamidopropyl betaine, cocoamphoacetate, and lauryl glucoside are a few I would look for to ensure my co-wash is actually removing some buildup off my scalp and hair."
Furthermore, she adds that if moisture is your main priority, there are also a number ingredients to hunt for in your search. "Some moisturizing ingredients I would look for are oils or butters—even humectants such as honey or glycerin," she says.
And what should you avoid? Adkins says, "I prefer co-washes that are sulfate, paraben, and silicone free."
In that vein, Patterson adds, "I would say to avoid any products that ask you to 'clarify' or 'pre-cleanse' before your co-wash."
He also reminds clients that there's no such thing as a perfect co-wash that's suited for everybody's hair. Instead, the ideal product for you "depends on the current needs of your hair and chemical services you've done to your hair. There are co-wash solutions for all hair types, textures, and problems you may be looking to address."
In sum, your best bet is to look for high-quality, moisturizing ingredients while avoiding harsh chemicals that could damage your hair in the long run. And if you're still not sure whether the bottle in your hand is the best bet for you, try a few products out!
"I do recommend trying a few co-washes out and see which ones you like best," Bullock agrees. "You may like a co-wash that is more cleansing than moisturizing, or a co-wash that is more moisturizing and has no cleansing agents at all. It all depends on what you prefer for your hair needs."
Best Co-Washes
Best Co-Wash Overall
Bullock love this co-wash from refugee-owned brand As I Am. "I recommend As I Am Coconut Cowash because it is a light, no-suds conditioning cream that spreads easily across the hair and scalp and removes product residue effectively," she writes.
Pros: charitable brand; large container; made with curls in mind; stylist-approved
Cons: smells like coconut, and some users may prefer an unscented option
Paul Mitchell Lavender Mint Moisturizing Cowash
I love the gentle scent and soothing effect on the scalp that Paul Mitchell's Lavender Mint line has. This co-wash does a fantastic job of minimizing frizz while managing to make my hair feel clean and free of build-up.
Pros: editor-approved; gentle scent; softening; gentle
Cons: some users may prefer an unscented option
Best Repairing Co-Wash
Ion Luminous Solutions Renewal Conditioner
Bullock also recommends haircare brand Ion for those in need of a good conditioning co-wash treatment. She calls their conditioners "ultra-gentle," writing that they "cleanse the hair while also repairing it."
Pros: free of gluten and parabens; vegan; cruelty-free; stylist-approved
Cons: contains silicones
Best Co-Wash for All Curl Patterns
BREAD BEAUTY SUPPLY Hair Wash Gentle Milky Hair Cleanser
This popular hair wash from Bread Beauty Supply is beloved among people with curly or coily hair for its ability to gently wash users' strands without stripping hair of natural oils. Users report better curl definition, bounce, and hydration after just one use.
Pros: made with natural hair in mind; gentle; clean; free of suflates, SLS/SLES, and silicones; vegan
Cons: small container; strong scent
Best Co-Wash for Natural Hair
Keracare Curl Essence Moisturizing Co-Wash Shampoo
"This product is sulfate free, cleanses the hair and scalp without stripping all your natural oils, gives shine to the driest of hair, and adds great moisture," lauds Bullock. "I also love that this product is great at detangling the hair."
Pros: stylist-approved; cleansing; shine-enhancing; detangling; sulfate-free; curl-defining; contains ingredients like coconut oil and castor oil; affordable
Cons: contains fragrance, which not all customers like
Best Co-Wash for Dry Hair
Matrix A Curl Can Dream Co-Wash
Adkins recommends this co-wash as her go-to. Described by the brand as the perfect wash for curl revitalization between wash-days, this ultra-moisturizing formula is made for hair in need of a hydrating pick-me-up. However, reviewers warn that if you have fine or straight hair, it may be too heavy.
Pros: made with curls in mind; stylist-approved; moisturizing; free of sulfates, parabens, and silicones
Cons: may be too heavy for thin hair
Best Lightweight Co-Wash
Flawless by Gabrielle Union Hydrating Co-Wash Cleansing Conditioner
Patterson swears by this co-wash from Gabrielle Union's haircare line, Flawless. Indeed, reviewers with all hair types—from thin, straight-haired customers to customers with natural, type 3/4 hair—rave about this co-wash's ability to moisturize hair without weighing it down.
Pros: free of silicones, sulfates, and parabens; affordable; stylist-approved; cruelty-free
Cons: for customers with very dry hair, it may not be hydrating enough
Best ACV Co-Wash
dpHUE Apple Cider Vinegar Hair Rinse LITE
Customers love this rinse for its ability to their clean hair and scalp without drying their hair out. This product is great for users with natural hair of all levels of thickness.
Pros: lightweight; clarifying; gentle; vegan; cruelty-free; clean; helps with dandruff and dry scalp
Cons: expensive
Best No-Lather Co-Wash
TPH by Taraji Hustle & Co Conditioning Wash with No Lather
Patterson also recommends this no-lather co-wash from Taraji P. Henson's haircare brand, TPH by Taraji. Reviewers rave that it makes their curly and natural hair softer and more manageable without leaving any residue or nasty build-up.
Pros: vegan; cruelty-free; stylist-approved; made with natural hair in mind; free of SLS/SLES, parabens, and phthalates; affordable
Cons: contains silicones
Best Scented Co-Wash
SheaMoisture Coconut & Hibiscus Co-Wash Conditioning Cleanser
I'm a SheaMoisture devotee, and love their Coconut & Hibiscus line in particular. Reviewers agree, writing that this product effectively removes buildup and soothes the scalp. Plus, it leaves hair looking (and feeling!) bouncy, hydrated, and defined.
Pros: free of parabens, sulfates, and phthalates; vegan; cruelty-free; clean; Black-owned brand; made with natural hair in mind
Cons: strong smell
Meet the Experts
Antoinette Bullock is a hair expert devoted to educating people about how to care for their natural hair. In addition to being a haircare expert for Sally Beauty, she is also a prolific content creator on Instagram, Tik Tok, and Youtube.
Gregory Patterson is a celebrity hairstylist and DIY Expert for Sally Beauty. He is currently based in New York City.
Bianca Renee Adkins is a hair stylist and content creator who specializes in the care and keeping of curls and coils. Currently, she works as a DIY Curly Hair Expert for Sally Beauty.
Celebrity news, beauty, fashion advice, and fascinating features, delivered straight to your inbox!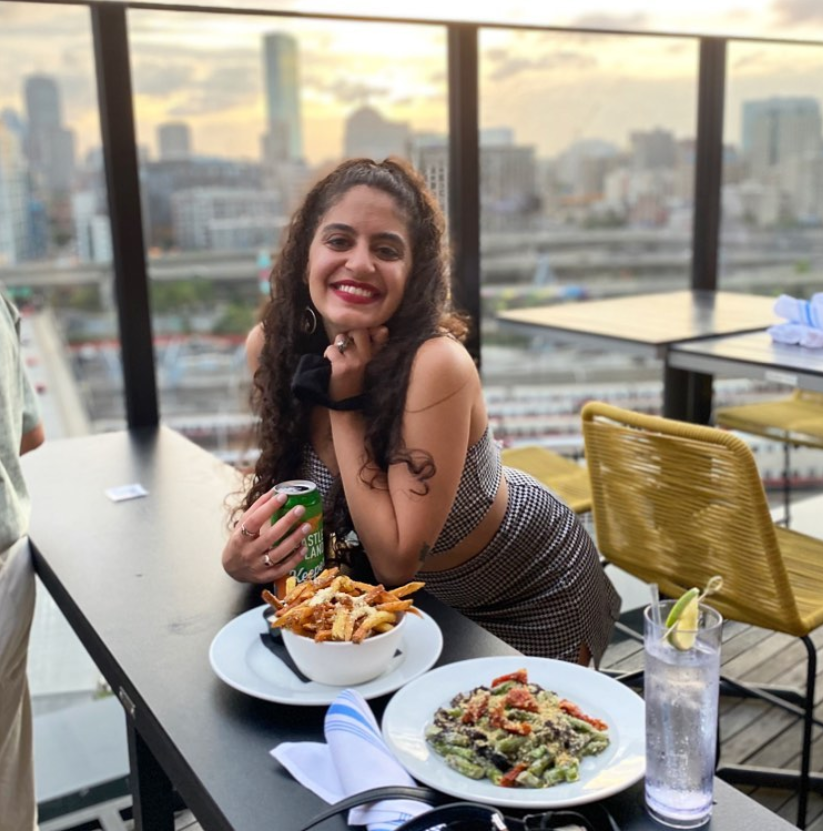 Gabrielle Ulubay is an E-Commerce Writer at Marie Claire and writes about all things beauty, sexual wellness, and fashion. She's also written about sex, gender, and politics for publications like The New York Times, Bustle, and HuffPost Personal since 2018. She has worked extensively in the e-commerce and sales spaces since 2020, including two years at Drizly, where she developed an expertise in finding the best, highest quality goods and experiences money can buy. As a film school graduate, she loves all things media and can be found making art when she's not busy writing.