The 18 Best Hair Growth Products, According to Experts
Kiss that bad haircut goodbye.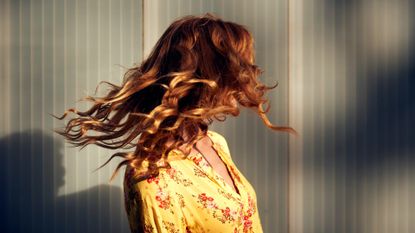 (Image credit: Getty)
For better or worse, the journey toward envy-inducing, waist-length mermaid hair takes much more than regular washing with your go-to shampoo and conditioner. Growing thick, healthy hair that lasts also involves treating your hair gently, taking care of your scalp, hydrating, and eating healthily. However, if the locks of your dreams still aren't coming to fruition, you may be in the market for hair growth products such as hair growth shampoos, hair growth oils, hair vitamins, collagen powders, and more.
However, the world of hair growth products is daunting and unexpectedly large, filled with scientific-sounding ingredients you may never have seen or heard of before. For that reason, we've tapped dermatologists, trichologists, and hairstylists to simplify the world of hair growth and recommend the best products, hands down, for overall hair growth. Your dream mane is no more than a tap away.
Best Hair Growth Shampoos
It can be difficult to incorporate a new step into your haircare routine when it isn't already a habit. But no matter how simple or elaborate your regimen, you'll always need to wash your hair, so why not turn your normal rinse into an opportunity for hair growth? Scroll on for some of our experts' favorite hair growth shampoos.
Best Hair Growth Conditioners
Having soft, hydrated hair not only makes for smoother-looking hair, but it also reduces breakage, helping you retain length. Below, some of the very best hair growth conditioners money can buy.
Best Hair Growth Oils
Hair growth oils, which are most often applied directly to the scalp, can be a game-changer when introduced to your normal haircare routine. Check below for a few dermatologist recommended favorites.
Best Overall Hair Growth Oil
Natucain Hair Growth Serum
Dr. Mona Gohara is a dermatologist who serves as Vice President of the Women's Dermatologic Society at Yale University. She's also an active member of The American Academy of Dermatology and The American Society For Dermatologic Surgery. And, being that she's equipped with these impressive credentials, I find her product recommendations particularly noteworthy—including her love for this formula by Natucain. "The Natucain Hair Activator is my go-to hair serum," she gushes. Specifically, she praises the formula's "patented MKMS24 plant-based technology that supports the appearance of stronger and fuller-looking hair."
Pros: plant-based; clinically tested
Cons: expensive
Customer Review: "Hair loss is an emotional subject and despite the cost this worked for me. I started using it in March, 60 percent of the protocol was followed, but I also went days and weeks without using it and the hair growth held." -Victoria Health
Best DHT-Fighting Hair Growth Oil
EssyNaturals Hair Growth Oil with Caffeine and Biotin
Dr. Jerry Shapiro, a dermatologist at the New York University School of Medicine who specializes in hair loss, highly recommends formulas like this one that utilize caffeine. He explains, "Caffeine reverses the effects of dihydrotestosterone (DHT), the main hormone involved in hair loss." The formula also utilizes castor oil, a natural ingredient that aids in healthy hair growth; biotin, which improves the strength of hair follicles; and rosemary oil, which has also gained popularity in recent months for its ability to support hair growth and retention.
Pros: contains natural ingredients; contains caffeine; contains castor oil
Cons: thick, so users with thin hair may find it greasy
Best Online-Rated Hair Growth Oil
Évolis Professional Promote Activator
Dr. Gohara also recommends "hair oils that contain citrus oils [and] rosemary oil," and this formula features both. It also promises to lengthen hair by a whopping 20 percent.
Pros: developed by hair biologists; top-rated on Amazon; clinically tested
Cons: expensive for a relatively small bottle; requires consistent, long-term use
Customer Review: "I notice after a good 30 days of using the serum with the shampoo and conditioner, my hair grew back even thicker than before. I do notice though if I stop using the products, my hair start