The 16 Best Hair Growth Products, According to Experts
Kiss that bad haircut goodbye.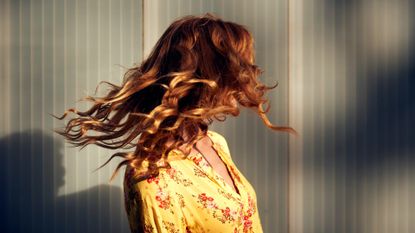 (Image credit: Getty)
For better or worse, the journey toward envy-inducing, waist-length mermaid hair takes much more than regular washing with your go-to shampoo and conditioner. Growing thick, healthy hair that lasts also involves treating your hair gently, taking care of your scalp, hydrating, and eating healthy. However, if the locks of your dreams still aren't coming to fruition, you may be in the market for hair growth products such as hair growth shampoos, hair growth oils, hair vitamins, and more.
However, the world of hair growth products is daunting and unexpectedly large, filled with scientific-sounding ingredients you may never have seen or heard of before. For that reason, we've tapped dermatologists, trichologists, and hairstylists to simplify the world of hair growth and recommend the best products, hands down, for overall hair growth. Your dream mane is no more than a tap away.
Best Hair Growth Shampoos
It can be difficult to incorporate a new step into your haircare routine when it isn't already a habit. But no matter how simple or elaborate regimen, you'll always need to wash your hair, so why not turn your normal rinse into a an opportunity for hair growth? Scroll on for some of our experts' favorite hair growth shampoos.
Best Hair Growth Conditioners
Having soft, hydrated hair not only makes for smoother-looking hair, but it also reduces breakage, helping you retain length. Below, some of the very best hair growth conditioners money can buy.
Best Hair Growth Conditioner with Castor Oil
As I Am Jamaican Black Castor Oil Conditioner
Board-certified dermatologist and MaeiMD founder Dr. Rebecca Marcus says that the prostaglandin PGD2 "has been shown to be increased in those with hair loss, and castor oil is known to inhibit PGD2. While we are still unsure whether or not these actions cause hair to grow faster, at the very least it may help prevent breakage, contributing to overall length of the hair."
Pros: affordable; great for curly hair (works on all curl patterns); made with natural hair in mind; refugee-owned brand; charitable brand
Cons: not as suited for straight hair; thick, so may not be as suitable for thin or oily hair
Best Strand Strengthening Hair Growth Conditioner
(opens in new tab)
Vegamour GRO Revitalizing Conditioner
Board-certified dermatologist Dr. Peter Young (opens in new tab) recommends using protein-infused formulas when looking for the best hair growth products, saying that this ingredient has the power to "strengthen and thicken each hair strand." This conditioner from Vegamour is a favorite among verified customers, and has been subject to rigorous clinical testing.
Pros: silicone-free; protein-infused; clinically tested
Cons: expensive
Best Hair Growth Conditioner for Temporary Hair Loss
(opens in new tab)
Nioxin System 2 Scalp Therapy Conditioner
"Nioxin is fantastic for slowing temporary hair loss due to stress, environmental factors, and certain health issues," raves hairstylist Michael Dueñas (opens in new tab). This conditioner is part of Nioxin's two-step hair growth regimen and is preceded by the brand's signature shampoo (opens in new tab).
Pros: supports scalp health; increases volume; relatively quick results
Cons: some reviewers find the peppermint smell off-putting
Best Hair Growth Conditioner with Vegan Protein
(opens in new tab)
Nutrafol Strand Defender Lightweight Protective Conditioner 8.1 oz
Dr. Kim Nichols, a board-certified dermatologist and expert for Nutrafol (opens in new tab), stands by the brand because its product reinforce the production of natural proteins, such as keratin, in users' hair. This conditioner is formulated with 100 percent vegan proteins. I've also used it, and have noticed a decrease post-wash shedding and breakage.
Pros: clinically-tested; editor approved; vegan; protein-infused
Cons: small bottle
Best Hair Growth Oils
Hair growth oils, which are most often applied directly to the scalp, can be a game-changer when introduced to your normal haircare routine. Check below for a few dermatologist recommended favorites.
Best Hair Growth Supplements
Sometimes, hydration and a healthy diet simply don't get you all the nutrients you need for the hair growth you desire. Be sure to check with your doctor before taking any supplements, and if you get the OK, consider these options that use nutrition to get you glowing hair, starting from within.
Best Hair Growth Vitamin
(opens in new tab)
Nutrafol Women Hair Growth Supplement for Thicker, Stronger Hair
I swear by these vitamins, and so does Dr. Nichols. "Nutrafol supplements target key factors of thinning hair such as nutrition, stress and lifestyle with natural, medical grade ingredients," she explains. "This clinically effective supplement improves hair growth and visible thickness."
Pros: clinically-tested; editor-approved; no aftertaste
Cons: expensive; only comes with a 30-day supply; some users may not like the four-pills-per-day regimen
Best Collagen Powder for Hair Growth
(opens in new tab)
Vital Proteins Collagen Peptides Powder Supplement
Celebrity hairstylist and founder/CEO of VIP Luxury Hair Care Ashanti Lation says, "My go-to collagen powder is from a company called Vital Proteins. It's a collagen peptide formula, so the ingredients have been hydrolyzed for better absorption. It's completely unflavored and doesn't clump up in liquid, so it's super easy to mix." She recommends mixing the formula in coffee or in smoothies as an easy way of incorporating it into your daily routine.
Pros: no aftertaste; dissolves well; gentle on stomach; affordable
Cons: has a noticeable smell
Best Scalp Treatments for Hair Growth
Your hair can't grow if your scalp isn't healthy! See below for treatments that will soothe your scalp and foster hair growth from the root.
Best Organic Hair Growth Scalp Treatment
(opens in new tab)
Reverie CAKE Restorative Scalp Tonic
"This is a restorative serum powered by active ingredients, like apple stem cells and hydrolyzed protein from the plant sweet white lupine," attests hairstylist Cortney Crace. "You can use this daily or as often as you shampoo."
Pros: natural; certified organic; cruelty-free; color-safe
Cons: some find it to be costly
Best Medicated Hair Growth Scalp Treatment
(opens in new tab)
Women's Rogaine 5% Minoxidil Foam for Hair Thinning and Loss
Dr. Young reminds us that the only FDA-approved treatment for both male and female pattern hair loss is minoxidil. "Minoxidil is an over-the-counter topical medication that comes in 2 percent and 5 percent concentrations," he says, adding that it comes in either foam- or solution-form.
Pros: FDA-approved; clinically tested; lightweight
Cons: some users find it sticky
Meet the Experts