Olive Oil for Hair: How to Use It, According to Experts
The good, the bad, and the greasy.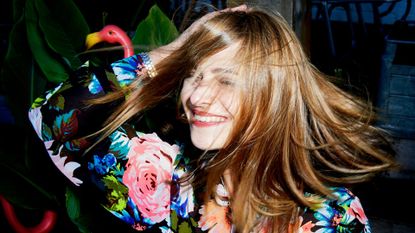 (Image credit: Getty)
Marie Claire Newsletter
Celebrity news, beauty, fashion advice, and fascinating features, delivered straight to your inbox!
Thank you for signing up to Marie Claire. You will receive a verification email shortly.
There was a problem. Please refresh the page and try again.
Yes, you read that right: Your go-to culinary ingredient may have a home not only in your kitchen cabinet, but also in your beauty closet. Along with other hair oils, like castor oil, coconut oil, and argan oil, olive oil has been lauded by people everywhere for its purported abilities to soften and grow hair. But is there any truth to this, or is it simply another fleeting beauty trend?
Celebrity hair stylist Dominick Pucciarello sets the records straight: "Olive oil reduces damage and breakage and increases moisture, shine, softness, and hair growth," he says, adding that it can also strengthen the hair shaft, fight split ends, and decrease dandruff. Some skincare products also contain olive oil.
But before you start seasoning your hair the way you season your salad, read on for dermatologist- and stylist-approved advice on all things olive oil haircare.
The Benefits of Olive Oil for Hair
On the science of olive oil haircare, board-certified dermatologist and founder of Maei MD Dr. Rebecca Marcus writes, "Olive oil is composed of mostly oleic acid, but also contains arachin, linolein, and palmatin. Virgin olive oil is rich in antioxidants as well." In terms of moisture, this means that the oil "works as an emollient by sealing the hair cuticle and allowing it to retain moisture."
Plus, olive oil can help defend your hair from environmental hazards. "Its antioxidant properties account for its ability to protect hair from UVB and UVA-induced cell damage," Dr. Marcus says. "Olive oil has been shown to have anti-fungal properties, which may be a result of it functioning as a mechanical barrier between the scalp/hair and the environment."
Drawbacks of Olive Oil for Hair
Pucciarello, Dr. Marcus, and board-certified dermatologist Dr. Marisa Garshick all agree that olive oil may not be best for those with thin or straight hair, because it may weigh strands down and make hair look and feel greasy. Dr. Marcus also says, "If one has oily hair already, olive oil should not be applied to the hair."
Dr. Garshick adds that if you have thin hair and remain intent on trying olive oil haircare, "it is best to apply to the ends to avoid weighing the hair down."
Secondly, Dr. Garshick warns, "Olive oil can potentially encourage the growth of yeast that lives on the scalp, so it is best to avoid applying directly to the scalp, especially if you're dealing with seborrheic dermatitis."
Pucciarello also advises against applying olive oil directly to the scalp, adding that the overgrowth of yeast may also cause one to break into a skin rash or develop blackheads and acne.
Finally, on the topic of acne, Dr. Garshick says that those already suffering from acne of the face or back may also want to steer clear of using olive oil in their hair.
"If you are acne-prone, it is best to avoid a leave-in product which can contribute to worsening breakouts if the oil comes into contact with the skin on the forehead or back," she says. "This can contribute to clogged pores and breakouts."
Who Should Use Olive Oil for Hair?
These potential drawbacks beg the question: Who is suited to use olive oil in their hair?
"I use olive oil for thick, curly hair," answers Pucciarello, "especially if your hair is dry and coarse. This is great for processed hair (like hair that has been treated with relaxers, perms or bleach) and also split ends as it can help to smooth broken or burned ends."
Dr. Garshick also says that olive oil is great for those who feel that their hair "looks dry or dull, as olive oil can help to nourish the hair."
Olive oil may be of particular use for those whose hair has suffered as a result of their environment. Dr. Marcus explains, "Olive oil could be beneficial to those with dry hair that is frequently exposed to environmental toxins and especially UV radiation. So, for example, for those who spend a lot of time outdoors in the sun, and for swimmers."
Finally, Dr. Marcus says, "Olive oil combines well with honey and beeswax, and has even been shown to improve the redness, scaling, and itching of the scalp frequently encountered in psoriasis when applied in this combination."
Still, if you are thinking of trying olive oil as a hair or scalp treatment, check with your dermatologist or trichologist first—particularly if you have a condition like psoriasis.
What to Look For—and Avoid
While it's tempting to opt for cheaper products, Dr. Marcus advises against skimping on quality when it comes to your hair products—especially when they contain olive oil.
"Look for a high-quality product from a reputable brand," she says. "Oils have a tendency to turn rancid, so the formulation must be solid. Products made by reputable, trusted brands will have gone through stability testing to ensure that their products will not spoil faster than expected."
Best Olive Oil Shampoos and Conditioners
Not quite ready to reach into your pantry next time you style your hair? In that case, check out these dermatologist-recommended shampoos and conditioners, each of which incorporates olive oil in its formula.
CHI Naturals with Olive Oil Hair Shampoo and Body Wash
"Helping to nourish the scalp and the body, this multitasking product can be applied to the palms and then applied into the hair prior to rinsing," says Dr. Garshick. For the full experience, check out the conditioner that goes with it.
Pros: works well on all hair types; dermatologist-approved
Cons: contains silicones
Customer Review: "It has a rich lather, smells fresh and clean, and my hair felt like it was professionally washed for sure!" -Beauty Care Choices
Kiehl's Nourishing Olive Fruit Oil Conditioner
"Containing avocado oil and and olive oil, this is formulated for those with dry or dehydrated hair and works to condition the hair," says Dr. Garshick. "It can be left on for two minutes and leaves the hair looking and feeling softer and smoother." Plus, you can complete the regimen with the brand's olive oil shampoo.
Pros: lightweight; dermatologist-approved; detangling
Cons: contains silicones
Customer Review: "Super conditioning for my color-treated hair. Doesn't weigh my hair down but leaves it feeling very soft." -Kiehl's
Best Olive Oil Hair Treatments
Being that olive oil can help protect your hair from environmental damage, you may want to try it as a leave-in treatment. Check out these olive oil-based leave-ins, each of which provides all the benefits and moisture of olive oil without quite the same level of thickness.
Olive Miracle by African Pride Olive Miracle Growth Oil
This olive oil treatment doubles as a hair growth oil, and can be (sparingly!) applied to the scalp without resulting in greasiness or weighted down curls. Plus, it has a subtle scent that reviewers love.
Pros: Black-owned hair care brand; protein-infused; supports healthy scalp; affordable; gentle scent; lightweight
Cons: contains silicones
Customer Review: "I love the smell and it really helps with the dryness of my hair. I use it as everyday treatment." -Sally Beauty
Proclaim Olive Moisturizing Leave-In Creme
Reviewers of all hair types and curl patterns love this leave-in treatment, writing that it doesn't weigh down their hair or change their curl pattern, no matter the length of their locks.
Pros: lightweight; free of parabens and sulfates; enhances shine
Cons: contains silicones
Customer Review: "This is hands down the best leave in conditioner ever...My hair drinks this up! It is so moisturizing!" -Sally Beauty
Best Pure Olive Oils For Hair
While there are a number of fabulous olive oil-infused products on the market, Puccariello recommends going straight to the source and using pure olive oil by itself.
Nervous about how to apply it? Dr. Marcus says, "A small amount of extra virgin olive oil can be used directly on the hair and does not need to be incorporated into a product." Remember: Less is more!
365 by Whole Foods Market Extra Virgin Mediterranean Organic Olive Oil
"Choose virgin or extra virgin to benefit from olive oil's potent antioxidants," Dr. Marcus advises. In addition, Dr. Garshick says to "look for extra virgin organic olive oil as it is the least processed and contains more hair helping nutrients." This extra virgin olive checks all the boxes—and it's affordable, too.
Pros: organic; extra virgin
Cons: thick, so should be used sparingly
Customer Reviews: N/A
Allpa Botanicals Olive Hair Oil
"If you really want to use an olive oil product, find a pure oil," Pucciarello advises. "I like Olive Oil Pure and Organic by Allpa Botanicals."
Pros: organic; stylist-approved; non-GMO; paraben-free
Cons: expensive; small bottle
Customer Review: "I noticed a difference in my hair almost instantly! Very little goes a long way!" -Allpa Botanicals
Meet the Experts
Dr. Rebecca Marcus is a board-certified dermatologist who specializes in medical, surgical, and cosmetic dermatology. She has nearly two decades of experience and completed her residency along with a clinical research fellowship at Columbia University. Since then, in addition to practicing dermatology, she has founded her own skincare line, Maei MD.
Marisa Garshick, MD, FAAD is a leading board-certified dermatologist serving patients throughout Manhattan, New York at MDCS Dermatology: Medical Dermatology & Cosmetic Surgery, as well as an assistant clinical professor of dermatology at Cornell - New York Presbyterian Medical Center. Dr. Garshick provides a wide variety of cosmetic and medical procedures and services including treatments for acne, eczema, hyperhidrosis, moles, psoriasis, rosacea, signs of aging, skin cancer, skin tags, vitiligo, and wrinkles.
She completed her undergraduate education at Emory University and attended medical school at Tufts University School of Medicine, where she graduated with Research Honors and Alpha Omega Alpha. As a medical student, Dr. Garshick was awarded the prestigious Doris Duke Clinical Research Fellowship at Harvard Medical School, during which she performed dermatology clinical trials and research at Massachusetts General Hospital. She was also awarded the American Medical Women's Association Glasgow-Rubin Academic Achievement Award for graduating in the top of her class and the William Dameshek Award for Research Excellence. Dr. Garshick's post-graduate training in dermatology began with an internship at Memorial Sloan Kettering Cancer Center. She completed her dermatology residency at Cornell's New York Presbyterian Hospital, where she served as Chief Resident in Dermatology.
Dominick Pucciarello is a New York-based hairstylist. He trained under top hairstylists Italo Gregorio and Serge Normant, and has since accumulated an impressive portfolio of celebrity clients. They include Olivia Culpo, Katharine McPhee Foster, and Alessandra Ambrosio.
Celebrity news, beauty, fashion advice, and fascinating features, delivered straight to your inbox!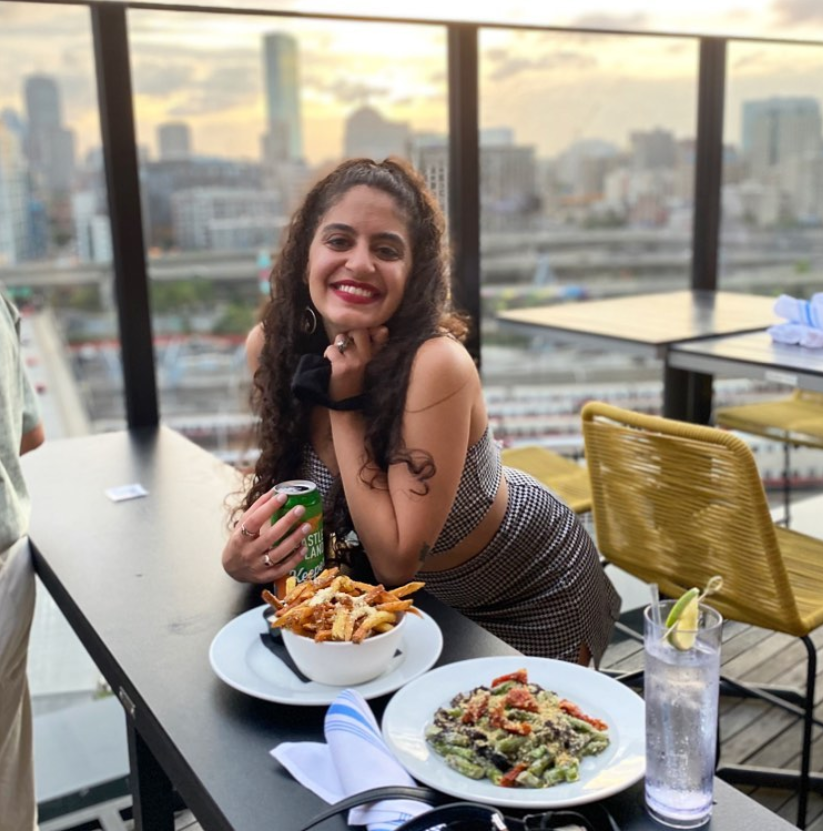 Gabrielle Ulubay is an E-Commerce Writer at Marie Claire and writes about all things beauty, sexual wellness, and fashion. She's also written about sex, gender, and politics for publications like The New York Times, Bustle, and HuffPost Personal since 2018. She has worked extensively in the e-commerce and sales spaces since 2020, including two years at Drizly, where she developed an expertise in finding the best, highest quality goods and experiences money can buy. As a film school graduate, she loves all things media and can be found making art when she's not busy writing.