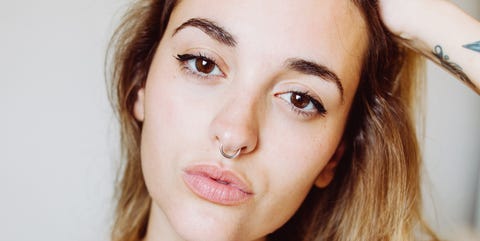 "Blah, blah, blah, I don't know what to do with my skin, blah, blah, it's all so confusing, blah, blah, what even is a toner, blaaaaah." That's essentially the stream of questioning/complaints that I get from my friends (love you, Liz) on a weekly basis. And hey—I get it; skincare is confusing, and the last toner you tried was probably some crappy, alcohol-loaded formula in high school that dried the hell out of your skin and forever turned you off of them.
But come back toward the light! Come back! Because today's toners are essentially magic water, filled with a powerful mix of hydrating, acne-fighting, and line-plumping ingredients that, when layered over your clean skin before your moisturizer, seep into your skin barrier to make everything you apply on top of it a billion times more effective.
Of course, knowing which formula to choose for your face can be the second struggle. So to make the hunt easier, we straight-up did the work for you, and present to you the best toners for your exact skin type, below.
1
For oily, acne-prone skin…
SheaMoisture African Black Soap Problem Skin Toner, $10
First of all, there's no such thing as "problem" skin, because your face is a beautiful little pearl. But there is such thing as annoying skin. And if your skin is on the oilier side and loves to break out, try this mattifying toner, which is filled with zit-killing tea tree oil and salicylic acid, plus African black soap extract, which is naturally antibacterial.
2
For super-sensitive skin…
Mario Badescu Facial Spray with Aloe, Herbs, and Rosewater, $7
If your face breaks out into hives and stingy patches at the mere whisper of, uh, literally anything, then this rose-water and aloe-infused spray is your new bestie. Mist it over your dry skin before slathering on your moisturizer, and let the anti-inflammatory rose water and redness-reducing aloe calm the hell out of your face.
PCA Nutrient Skin Toner, $33
This skin-brightening toner contains two super-potent ingredients (pumpkin wine, which is filled with vitamin A and C, and lactic acid, which softens rough patches and boosts cell turnover) that work to revamp your skin tone each time you use it. And no, potent does not mean super-harsh or drying, so don't freak.
4
For ultra-dry, dying-of-thirst skin…
Monastery Hydra Botanical Face Hydrosol
This un-fragranced mist is filled with just five ingredients, and all of them are geared toward plumping up your skin with a layer of soothing hydration, including anti-inflammatory aloe vera, distilled water, and the moisture-pulling eucalyptus leave extracts. Mist it over damp skin, then immediately apply your moisturizer to lock in hydration.
5
For skin that could use a bit of everything…
Whal Myung Skin Elixir, $58
If your skin is maybe dry, but also maybe oily, or maybe it's a bit acne-prone, but also kinda dull, and also, you have no idea, then this is the toner for you. This medicinal-level liquid uses a mix of 11 herbs, like ginger, clove, and nutmeg extracts, that dates back to the Joseon dynasty in 1897 Korea, all of which work to brighten, soften, and hydrate your skin. Basically, this is living proof of the old adage, "if it ain't broke, don't fix it."