Editors handpick every product that we feature. We may earn commission from the links on this page.
I Tried Sephora Collection's Under $20 Skincare Line for a Month
Here are my honest thoughts.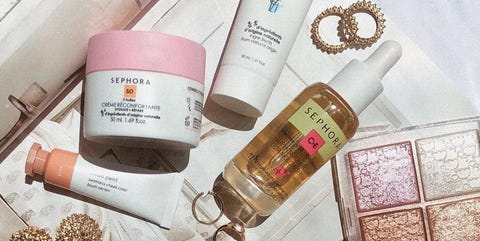 It's time to clear out those crowded cabinets and make room for the new Sephora Collection Skincare. In case you haven't heard, the brand has expanded its line beyond the cleansing wipes and sheet masks you've been using forever. And all-natural beauty enthusiasts are going to be very happy.
The line is 100-percent clean with recyclable packaging only and vegan ingredients free of harmful sulfates, parabens, mineral oil, and more. And—drum roll please—all products are under $20.
Can something so inexpensive actually work? I put the line—complete with the essentials (cleanser, exfoliating pads, serums, moisturizers, face masks, and eye cream)—to the ultimate test for an entire month. For context, I'm convinced I have the most sensitive skin ever that breaks out if any little thing throws it off. So, you're getting my real review.
Here's what I thought of each item in the collection...
This content is created and maintained by a third party, and imported onto this page to help users provide their email addresses. You may be able to find more information about this and similar content at piano.io