I Tried Sephora Collection's Under $20 Skincare Line for a Month
Here are my honest thoughts.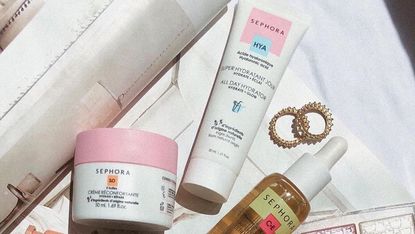 (Image credit: Instagram/@SC)
It's time to clear out those crowded cabinets and make room for the new Sephora Collection Skincare. In case you haven't heard, the brand has expanded its line beyond the cleansing wipes and sheet masks you've been using forever. And all-natural beauty enthusiasts are going to be very happy.
The line is 100-percent clean with recyclable packaging only and vegan ingredients free of harmful sulfates, parabens, mineral oil, and more. And—drum roll please—all products are under $20.
Can something so inexpensive actually work? I put the line—complete with the essentials (cleanser, exfoliating pads, serums, moisturizers, face masks, and eye cream)—to the ultimate test for an entire month. For context, I'm convinced I have the most sensitive skin ever that breaks out if any little thing throws it off. So, you're getting my real review.
Here's what I thought of each item in the collection...
This Glow-Boosting Mask
Sephora Collection Water Gel Mask Hydrate + Refresh, $15
SHOP IT (opens in new tab)
Dry-as-hell is my skin's permanent state of being. I could be swimming in the pristine waters of a glacial pool and my skin will still feel as dry as the Sahara Desert. But this mask, my friends, is my newfound love. After hours of cross-country travel, this was the first thing I picked up because I was intrigued by its impressive ingredient list: amino acids and marine algae. It also claimed to have a cooling effect, and it's no-rinse, so washing your face post-application isn't necessary. After 30 seconds, my tight skin felt relaxed and soothed. I applied a heftier layer to wear overnight. And in the morning, after cleansing my skin, I applied a second layer to prime my face before makeup. I glowed like crazy (opens in new tab) that day.
These Ultra-Smoothing Pads
Sephora Collection Glow Peel Pads, $15
SHOP IT (opens in new tab)
Usually, exfoliating peel pads are full of super-strong ingredients—frightening when you have sensitive skin. I wish my shy pores could handle big and mighty ingredients, but I always wind up with unwanted breakouts days later. Yet, I was attracted to this clean formulation of peptides, algae, aloe vera, and glycolic acid. To my surprise, my skin didn't sting after I patted these on my face. The pads felt quite pleasant, and a lot gentler than usual. Now, I use these three times a week when my pores need a deep clean-out, and I'm trying to smooth over dry patches.
This Radiance-Enhancing Serum
Sephora Collection Ultra Glow Serum: Glow + Strengthen Vitamin C Serum, $20
SHOP IT (opens in new tab)
I've been dealing with dark spots—my worst skin ailment—for years. So anything that promises to fade hyperpigmentation and dark spots has gotten a spot in my medicine cabinet—you name it, I've tried it. It wasn't my first time using a serum like this one, which is packed with vitamin C and E to even out complexions. With skeptical eyes, I squeezed out a dollop. I was pretty pleased by the silky texture. I patted this all over my skin, and doubled-up on my dark spots. In less than two weeks, my dark spots looked noticeably less prominent, and my skin had a lustrous glow. Now that I'm a month in, some spots have completely faded—hallelujah!
This Gel-Based Cleanser
Sephora Collection Clean Skin Gel - Cleanse + Tone, $10
SHOP IT (opens in new tab)
Honesty moment: I used to turn my nose up at $10 cleansers, thinking they wouldn't do anything for my skin. But this thoughtful blend of natural amino acids, glycerin, and aloe vera proved to me that price tags don't mean a thing. This collection confirms how much clean ingredients can do for your skin, for less. This gel-based cleanser, which has a lightweight feel ideal for warm weather, washes away impurities, makeup, and excess oil. I've made this step one in a double-cleanse routine. I use it to take away the day without stripping my skin of its natural oils, then follow it up with my go-to acne cleanser.
This Pimple-Zapping Mud Mask
Sephora Collection Purifying Mud Mask: Clear & Mattify, $15
SHOP IT (opens in new tab)
I'm really not into mud masks that hurt and suck everything out of your skin. However, with the help of zinc and white clay derived from natural minerals, this mask is less aggressive but works just as well. It unclogs my pores and clarifies my skin without feeling like I just put my face through hell. A few weeks ago, there was a giant planet of a pimple growing on my forehead, so I spot-treated with this mask. A few hours later, it had sunken down tremendously. This stuff definitely has my vote.
This Hydrating Moisturizer
Sephora Collection Nourishing Moisturizer - Hydrate & Repair, $16
SHOP IT (opens in new tab)
My dehydrated skin we discussed earlier absorbs products at lightning speed. After I applied this rich and creamy version, my pores felt like they were bathing in hydration. A trifecta of natural oils—avocado, marula, and rosehip seed—are swimming around in this lather, so a little goes a long way. The tiniest amount will cure dry skin in no time.
This Brightening Eye Cream
Sephora Collection Brightening Eye Cream – Hydrate & Depuff, $16
SHOP IT (opens in new tab)
I have to be careful with eye cream because I have such a thin layer of skin in that area, and my pores are prone to milia (opens in new tab), which is a cyst caused by trapped skin. But what to do when I wake up with golf balls underneath my eyes from pure exhaustion? After a long night, I placed three dots of this underneath my eye and on my lids, and gently patted it in. In less than a minute, its mix of caffeine and hyaluronic acid significantly reduced the puffiness of my tired eyes. It also contains mudar plant bark extract, which is proven to smooth fine lines and wrinkles to prevent signs of aging.
This Light-As-Air Moisturizer
Sephora Collection All Day Hydrator - Hydrate & Glow, $16
SHOP IT (opens in new tab)
If lightweight moisturizers are your vibe, you'll dig this all-day hydrator. It gives you "weightless" hydration and does everything a good moisturizer should: nourishes, provides protection from the elements, and amps up the glow. This recyclable packaging feels like it weighs nothing—so, I throw this in my bag for whenever I need a re-up.
...
For more stories like this, including celebrity news, beauty and fashion advice, savvy political commentary, and fascinating features, sign up for the Marie Claire newsletter.
subscribe here (opens in new tab)
Maya Allen is the former Digital Beauty Editor at MarieClaire.com where she covered makeup, skincare, haircare, wellness, you name it! She has a 15-step skincare routine, owns over 200 red lipsticks, and enjoys testing the latest and greatest in beauty. On most weekends, you can find her at her happy place, which is her makeup vanity. There, she's usually blasting her speakers while singing along to lyrics at the top of her lungs, and making sure her highlighter is on point.