Supergoop Sunscreen Is On Sale and Now It Feels Like Summer
If you want to give your skin the TLC it deserves, now's the time.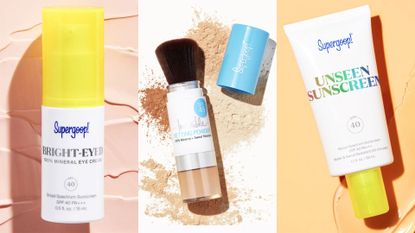 (Image credit: Supergoop!)
Despite how much time we're spending inside, dermatologists recommend applying sunscreen daily, so you should always have a bottle (or three) saved underneath your bathroom sink. Fortunately, Supergoop is taking 20 percent off sitewide with the promo code "SUNSALE" right now, which is pretty rare. If you haven't tried Supergoop yet, the brand offers lightweight, silky formulas with a subtle scent—a.k.a. not thick, greasy sunblock that smells like a piña colada—that you won't hate applying before you put on makeup. Shop Supergoop's bestsellers, below.
1. Supergoop! Unseen Sunscreen SPF 40
$17-$34 $13.60-$27.20 There's a reason why Supergoop's Unseen Sunscreen is beloved by dermatologists and shoppers alike. Thanks to its lightweight, scentless, and colorless formula, this option is designed to make you forget you're actually wearing sunscreen.
2. Supergoop! 100% Mineral Invincible Setting Powder
$30 $24 Consider this brush-on option the unsung hero of your cosmetics bag. This mineral formula mattifies shines, sets your makeup, and protects your face from the sun's harsh rays.
3. Supergoop! PLAY Antioxidant Body Mist SPF 50 with Vitamin C
$15-$21 $12-$16.80 Supergoop reimagined the traditional sport sunscreen with this aerosol-free, sweat-resistant option.
4. Supergoop! Superscreen Daily Moisturizer
$38 $30.40 Streamline your morning skincare routine by rolling two steps into one thanks to Supergoop's daily moisturizer featuring SPF 40.
5. Supergoop! Glow Stick SPF 50
$25 $20 Made with a lightweight dry oil, this roll-on stick offers a mess-free, travel-friendly way to apply sunscreen.
6. Supergoop! Bright-Eyed 100% Mineral Eye Cream SPF 40
$36 $28.80 Not only will this cream protect the area around your eyes from sun damage, but it's also designed to revive tired eyes and act as a shadow primer.
7. Supergoop! Shimmershade
$24 $19.20 Yes, Supergoop even sells eyeshadow with SPF. Available in four sunset shades, this option will protect your eyelids and give you a fresh, sun-kissed glow.
8. Supergoop! Handscreen SPF 40
$14-$38 $11.20-$30.40 If your hands feel as dry as the Sahara these days, Supergoop's handscreen will hydrate and protect them from sun damage.
9. Supergoop! Daily Correct CC Cream
$36 $28.80 Since slathering on a thick foundation in the middle of heat wave is out of the question, pick up a bottle of Supergoop's Daily Correct CC Cream.
10. Supergoop! Sunnyscreen 100% Mineral Stick
$24 $19.20 If you want to give your skin some extra love, try this mineral stick. Not only are mineral-based formulas great for your skin, but this stick application won't explode all over your beach tote. (Let's be real, it's happened to all of us.)
•••
For more stories like this, including celebrity news, beauty and fashion advice, savvy political commentary, and fascinating features, sign up for the Marie Claire newsletter.
Kelsey Mulvey is a freelance lifestyle journalist, who covers shopping and deals for Marie Claire, Women's Health, and Men's Health, among others. Her hobbies include themed spinning classes, Netflix, and nachos.