Editors handpick every product that we feature. We may earn commission from the links on this page.
The 25 Best Cellulite Creams, According to Dermatologists
The best firming, skin-smoothing products at every price point.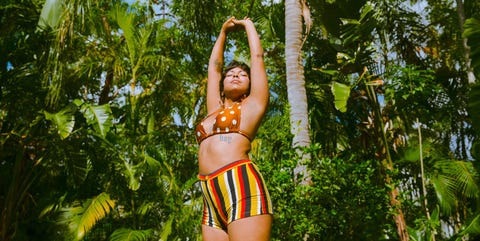 Before we start, two facts: 1) Ninety percent of women have cellulite, and 2) Every aspect of our bodies, cellulite included, deserves to be celebrated. That said, it's completely okay if you like to use products to feel your best. The world of beauty gives us choices galore, and there are a multitude of anti-cellulite creams, diets, exercises, and gadgets out there that promise to prevent and permanently remove cellulite.
What causes cellulite?
But first, it's important to understand what cellulite actually is: "The causes of cellulite are not well understood, but there are several theories that have been put forth as explanations such as hormonal factors, genetics, a diet high in fat and carbohydrates, and other lifestyle factors," explains New York City dermatologist Dendy Engelman.
How can you get rid of cellulite?
While there are costly in-office laser procedures that can rapidly reduce the appearance of cellulite, there's no cure-all for banishing cellulite completely. "Thankfully, in recent years, there have been many exciting new advances in the treatment of cellulite," explains Dr. Tiffany Libby, assistant professor of dermatology at Brown University. "There are some creams that help to improve the appearance of cellulite but all require consistent use for an extended period before results can be realized."
What should you look for in a cellulite cream?
"Most of the products used to treat cellulite contain ingredients such as caffeine, retinol, vitamin C, gluthahione, peptides, and l-carnitine, which have all been proven to assist with cellulite reduction appearance," adds Dr. Marina Peredo, board-certified dermatologist and founder of Skinfluence. To get your hands on the best of the best, read on for expert-recommended cellulite creams for firm, smooth and happy skin.

This content is created and maintained by a third party, and imported onto this page to help users provide their email addresses. You may be able to find more information about this and similar content at piano.io