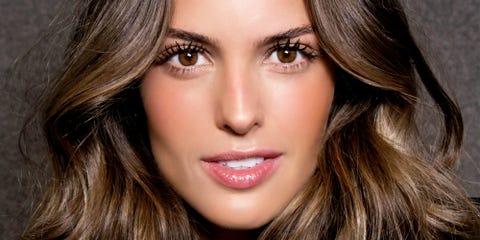 If you're anything like me, your first experience with bronzer was in middle school, when you covered your entire face with a layer of sparkly, too-dark bronzer that left you looking like a weathered Oompa Loompa. And if that experience forever turned you off of a life of glow, I'm here to lead you back to the fold, because trust me—bronzing your face is really, truly simple, as long as you know where to apply it.
Below, a nifty five-step guide that'll take you approximately 60 seconds or less to complete. Keep reading to get the glowiest face of your life.

I promise that contouring your cheekbones is way easier than you've been led to believe. Just reload your brush in bronzer, swipe a line of powder from your ear to the apple of your cheek, then gently blend it out using tiny circular brush strokes, rather than a back-and-forth wiper motion.
The key to a natural-looking bronze is to frame your face in a warm glow. After dusting your hairline and cheekbones, finish off the frame by blending more bronzer along the edge of your jawline, swirling from the base of your jaw to the chin.
Make sure to straddle the edge of your jawbone—rather than apply all the bronzer to the side of your face—then continue blending under your chin and down your neck.
Don't worry—powder bronzers (rather than cream bronzers) are so sheer, they won't leave you with an ulta-skinny, obvious-looking lines. Sweep a bit of bronzer down each side of your nose (make sure to tap off the excess from your brush, first) for a subtle contour.
(Please make sure to make this exact pose, too.)
Pose for the mirror, like our model here, and then take at least one-billion selfies. You've officially mastered the art of bronzing.