The 10 Best Bronzer Brushes in 2023
Perfectly blended makeup looks only.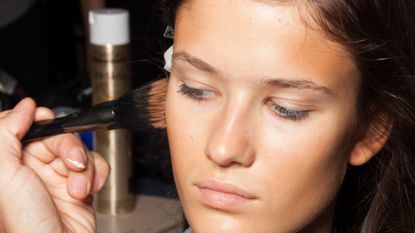 (Image credit: Rosdiana Ciaravolo/Getty Images)
There are few looks more timeless than glowing, sun-kissed skin. But to achieve it, you need two things: the best bronzer, and the best bronzer brush. The wrong brush can leave your makeup looking patchy and uneven, so finding the appropriate tool for the kind of bronzer you like to use is vital. So we turned to the experts (and searched through our own collections) to find the very best brushes for bronzer on the market in 2023. Here's the really good news: Some of the best bronzer brushes on this list retail for less than $5.
What to Look For in a Bronzer Brush
Before we dive into the products, let's start out with the basics. First, as with a drugstore bronzer, know that a higher price tag doesn't necessarily warrant a better-quality bronzer brush. Next, you'll need to figure out what type of bronzer brush you need, based on the formula that you choose to use. Odds are, if you're a powder bronzer fan, you'll have something that you can use to apply bronzer in your collection already.
"A powder bronzer brush should be similar to a loose powder brush," says Nick Lujan, Director of Artistry and Education at Kevyn Aucoin. "This is so that the product can be diffused over a large surface with a sheer veil application." However, Lujan notes that cream bronzers require a different type of brush—one that's "a bit firmer and tighter bristled," in order to "best place and diffuse creamy product."
Ahead, shop the best brushes for bronzer that money can buy in 2023, including a few of Lujan's favorites.
Shop the Best Bronzer Brushes
Best Bronzer Brush for Cheekbones
Fenty Beauty Cheek Hugging Bronzer Brush
The shark-tooth design on this brush from Fenty Beauty is specifically designed to hug the cheekbone for accurate application. "Love this brush,' wrote one reviewer. "Bristles are soft and gentle so you don't over apply. Gets bronzer in just the right spot similar to a contour but less severe."
Best Affordable Bronzer Brush
E.l.f Cosmetics Putty Bronzer Brush
If the name of this bronzer brush sounds familiar, it's because the editors at Marie Claire have raved about e.l.f Cosmetics' Putty Bronzer before. This under-$5 brush is designed to work perfectly with it, but it's also great for applying any cream bronzer. Reviewers note that it's smaller than most other brushes, so it's great for targeted application.
The Beauty Editor's Best Bronzer Brush
Chantecaille Buff and Blur Brush
"I typically apply my bronzer with my fingers in fear of being left with splotches, but this brush has been a game changer. It distributes the product evenly, feels natural in my fingers, and makes blending a breeze." — Samantha Holender, Beauty Editor
Best Oversized Bronzer Brush
Saie The Big Buffing Bronzer Brush
Want your bronzer blend out in seconds? Do you love an all-over bronzed look over a chiseled, contoured look? Try this brush from Saie (pronounced "say"). This dense brush is great for cream or liquid formulas because it blends like a dream while delivering a high color payoff.
Best Cream Bronzer Brush for Beginners
Real Techniques Sculpting Brush
"I swear by this brush to handle all of my cream bronzer and cream blush needs. While it's designed for contouring the skin, it works great to diffuse bronzer across the skin in seconds. It's my perfect in-a-rush bronzer brush!" — Julia Marzovilla, E-Commerce Writer
Best Travel Bronzer Brush
Charlotte Tilbury Retractable Bronzer Brush
Are you someone who lives and dies by their makeup bag? Then you need this cult-favorite bronzer brush from Charlotte Tilbury. Great for last-minute touchups, it retracts back into its pretty rose-gold container for easy access.
Best Bronzer Brush That Lasts
Bobbi Brown Bronzer Brush
"I've had this bronzer brush for as long as I've worn makeup. Yes, it's an investment, but it has seriously lasted me through years of use and washings. It has a classic tapered shape and super-soft bristles, making it one of my favorites if I just need to apply my makeup and run out the door without too much thought." — Julia Marzovilla, E-Commerce Writer
Nick Lujan's Favorite Bronzer Brushes
Nick Lujan's Favorite Cream Bronzer Brush
Omnia Professional BOM 251 Brush
Apply your favorite cream bronzer into light layers with this duo-fiber brush from Omnia. The bristles on this pick are made from vegan synthetic hair.
Nick Lujan's Favorite Powder Bronzer Brush
Kevyn Aucoin Neo Powder Brush
This bronzer, blush, and powder brush picks up product and then diffuses to perfection courtesy of its double-layer design. Plus, the slanted design lets you sculpt your cheekbones for a precise, even application.
Nick Lujan's Favorite Powder Bronzer Brush
Cozzette Beauty S125 Oval Powder Brush
This rounded brush from Cozzette Beauty, another top pick from Nick Lujan, is a great all-around brush for powder application thanks to its classic, fluffy shape.
Can You Use a Sponge to Apply Bronzer?
"I typically avoid sponges for applying product," says Lujan. "I will use them to bounce and soften edges, after I use a brush to apply. Sponges tend to absorb product and can also lift off foundation. After you apply with a brush, use a sponge with a soft bouncing motion to soften edges of the makeup and to diffuse any visible brush strokes."
Can You Use a Blush Brush to Apply Bronzer?
You can "absolutely" use a blush brush to apply bronzer, says Lujan. "Blush brushes are usually my standard for applying setting powder, and powder bronze, sculpt, and blush products. They are the perfect density and diameter for applying bronzer."
Meet The Expert
Nick Lujan is a New York based professional makeup artist, team leader, trainer and educator with over 15 years of experience in the industry. Nick is widely recognized for a unique approach to coaching & developing artistry in others, and an artistic ability to flex and blend styles within the beauty, editorial, creative and fx worlds.
As a trained makeup artist and educator, Nick has worked with major cosmetics brands, providing insight encompassing team development, artistry, product development, artist relations and creation and facilitation of educational programs.
Over the years, Nick has worked with incredible photographers, performers, and influencer talents. Some of Nick's work has been shot by Photographers, Mike Ruiz, Ellen von Unwerth, Miguel Herrera, Warren Giddarie & Ylva Erevall.
Julia Marzovilla is the E-Commerce Editor at Marie Claire, where she covers everything from the latest beauty and fashion launches and sales to celebrity outfits and news. She also creates shopping guides that span every vertical on the site. Prior to joining the Marie Claire team, she contributed similar shopping stories to sites such as Bustle, InStyle, The Zoe Report, Who What Wear, and STYLECASTER. In her spare time, Julia can be found creating shopping guides for all of her friends, spending too much money on yet another pair of black boots, and cooking in her far-too-small kitchen.