The 11 Best Bronzers Ever, According to Makeup Artists and Editors
Keep those cheekbones lookin' sharp.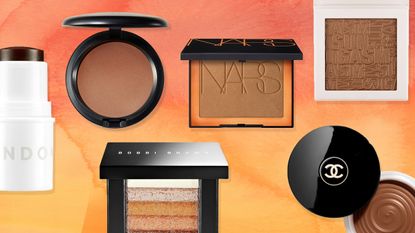 (Image credit: Future)
Let's talk about bronzer. Once upon a time, you'd worry about appearing orange after even the lightest application—but in recent years, the humble bronzer has seen a renaissance. Bronzers are now available in creams, liquids, and powder form, and are easier to apply than ever before. Plus, shades run abound, so you can find the best one for your specific skin tone and the best formula for your skin type. Because there are more options on the market than ever before, I chatted with experts in the beauty industry—celebrity makeup artists, brand founders, beauty content creators, and Marie Claire editors—to find the very best bronzers on the market for 2022.
If you're just beginning your bronzer journey, it's easier to start with your preferred formula and work backwards. Do you have dryer skin or just want a bronzer that looks super seamless? Then a cream bronzer may be the answer. Do you want an all-over glow that sits under your foundation? Try out a liquid bronzer, or an all-over illuminator. Or, if you have oilier skin or want something that will go on with a few swipes, check out a powder bronzer. And, because not all the best beauty products come with a high price tag, check out Marie Claire's guide to the best drugstore bronzers (which all retail for under $20!).
Bronzer should warm up the skin without looking unnatural. That means that it shouldn't make you look too orange or, on the other side of the spectrum, too ashy. It should go on smoothly without patches of color, and the formula shouldn't break up over the course of your day. Also, depending on if you like your bronzer to have a shimmer, it should look luminous, not overly glittery (unless, of course, that's the look you're going for). Especially now that summer is ending and our tans are fading, finding a great bronzer to keep your summer glow going has never been more important.
How To Find the Best Bronzer Formula for Your Skin Type
Equally important to finding the right shade of bronzer is finding the right bronzer formula for your specific skin type. The best cream bronzer in the world may break apart on someone that has an oilier skin type, while a powder bronzer might flake off on someone who has dry skin.
While no two people's skin types are the same, celebrity makeup artist Lilly Keys (who has worked with Olivia Rodrigo, Charli XCX, and Emma Chamberlain), broke down some general rules. If you have oily skin, Keys recommends that you "stick to the classic powder bronzer if you have oily skin." More specifically, she says that "the best choice would be matte powder bronzer, rather than illuminating and shimmery."
For those with dry skin, Keys says that you should look for "cream and liquid bronzers." In terms of applying them, she says to "make sure your skin is well hydrated and moisturized before applying," and to apply sparingly because they "definitely give more of a dewy & balm -like finish."
If you're somewhere in the middle with normal skin, congratulations: you have the "best of both worlds," says Keys. Feel free to opt for "either a cream or a powder bronzer!" The deciding factor comes down to finish—cream bronzer "provides a more natural looking finish," she says, noting that a powder bronzer will give you a more "matte" and "velvety" finish.
How to Find the Right Shade of Bronzer
You want to find a shade that's darker than your actual skin tone, of course, but not too dark. The goal is to create a soft, natural sense of definition, and that looks different for everyone.
"To pick the perfect shade of bronzer, I recommend picking one shade deeper than your skin tone," says makeup artist Hailey Hoff, who has worked with Noah Cyrus and Remi Bader. "If you like to be super contoured, I would mix a darker shade with the one shade deeper than your skin tone," she says over email. Better yet, she says that Benefit Cosmetics Hoola Bronzer and NARS' Bronzer Powder in Laguna as two of her favorites, both of which appear on the list below.
Keep in mind that there's no such thing as a one-size-fits-all bronzer—but many brands have a variety of shades and undertones available. If you're on the hunt for the best bronzer for dark skin specifically, Marie Claire already has a handy guide. Ahead, shop the best editor and makeup artist-approved bronzers.
Shop The Best Bronzers, According to the Experts
Best Bronzer for Blending
Benefit Cosmetics Hoola Bronzer
"This is my all-time favorite bronzer, in part because it's what convinced me to make bronzer an integral part of my makeup routine. It blends in with my skin perfectly for a subtle, buildable look, and it never dries out my skin." — Gabrielle Ulubay, E-Commerce Writer
Best Bronzer for Cheeks and Eyes
"This was the very first bronzer I ever invested in after being convinced to buy thanks to the beauty community on YouTube. It's warm and golden-toned with a hint of shimmer, which looks basically matte on the skin. This is also the perfect bronzer to use on both your cheeks and your eyes for a chic monochromatic makeup look like the ones seen on the runways at New York Fashion Week. All in all, it's an essential item in my collection." — Julia Marzovilla, E-Commerce Writer
Best Bronzer for Vacation Vibes
MAC Cosmetics Bronzing Powder
"[This bronzer is] a tropical vacation in a compact. This is my go-to shade choice for nearly every skin tone, adding the perfect fusion of both golden and warm sun kissed hues to heat up the complexion for a sexy summer sizzle any time of year. This silky smooth- bronze bronzer glides on evenly and effortlessly- depositing the perfect touch of healthy, radiant beachy-glow." — Victor Cembellin, Senior National Artist for MAC Cosmetics
Best Bronzer for Fair Skin
Physicians Formula Murumuru Butter Bronzer
"This may have a drugstore price point, but the formula feels as luxe as it gets. It applies seamless onto the skin—there's never any patches or clumping. When it comes to the color of it all, I can confirm that it gives the most gorgeous, bronzed glow. I have super fair skin that runs on the red side, and this bronzer makes me look tan, not ruddy. To top it all off, it smells absolutely amazing. Think: sweet and tropical." — Samantha Holender, Beauty Editor
Best Bronzer for Beginners
Bobbi Brown Shimmer Brick Highlighter in Bronze
"This is the bronzer for people like me, aka people who don't understand how to use bronzer. It's foolproof—you can't risk looking like an Oompa-Loompa with this magical highlighter-slash-bronzer, which can even double as eyeshadow if you're in a pinch. Like blush, it lights up your face in a subtle, glowy way; unlike blush, you can't apply too much if you're in bad lighting or applying on the go. Win-win." — Jenny Hollander, Director of Content Strategy
Best Bronzer for Minimalists
Undone Beauty Water Bronzer
"Bronzers can very easily veer into orange territory on my fair, cool-toned skin, but Undone Beauty's Water Bronzer is the most user-friendly by a mile. This barely-there, water-light formula is fantastic for beginners and minimal makeup lovers alike because you can't overdo it - it's incredibly subtle and sheer, and blends easily with your fingertips or a brush." — Matilda on Video, Beauty Content Creator
Best Bronzer for Shimmer
Catrice Cosmetics Sungasm Luminizing Bronzer
"One of my favorite bronzers is Catrice Cosmetics Sungasm Luminizing Bronzer. Not only is the packaging to die for, I'm obsessed with how it creates that gorgeous, shimmery sun kissed glow." — Lilly Keys, Celebrity Makeup Artist
Best Bronzer for All Skin Tones
Mary Kay Chromafusion Contour
"I've tried countless bronzers and the ones that translate the best are finely milled, not too warm, and can translate to all skin tones. Mary Kay Chromafusion Contour works perfectly as a bronzer as the shades have the perfect balance of warmth that helps sculpt the face while still adding dimension. This contour powder blends so seamlessly that I also use it to contour the crease of the eyes and nose as well." — Jalessa Jaikaran, Celebrity Makeup Artist
Best Luxury Bronzer
Chanel LES BEIGES Healthy Glow Bronzing Cream
"I swear, there is truly nothing (and I mean nothing) better than this cream bronzer. Every little ounce of hype it's received, is well deserved. It gives the perfect glow, sculpt and defines without looking ruddy, and blends like a dream. It's one of the only formulas I've found that stays on all day, doesn't pill, and looks good on just about every skin tone." — Samantha Holender, Beauty Editor
Best Powder Bronzer
Chantecaille Sunbeam Cheek and Eye Shade
"I've waxed poetic about my love for this bronzer in depth, and I'll happily do so once again. This is quite frankly the only powder bronzer I'll use—I'm a cream girl through and through. But with a subtle shimmer and the perfect bronze tone, I can't help but be obsessed with this formula. It doesn't fall flat or look chalky (trust me, I'm a tough critic) and makes me look like I just spent a week on a tropical vacation. Add it to your cart before it's too late—trust me!" — Samantha Holender, Beauty Editor
Best Bronzer for On-the-Go
NUDESTIX Nudies Matte Cream Bronzer
"Simply put, I love this cream bronzer. It glides on and blends into the skin beautifully, can be applied with the fingers, a beauty sponge, or a bronzer brush, and lasts all day. It's matte, which means it's great for giving a natural finish to your bronzed look, and it comes in a handy tube for easy swipe-and-go-application." — Julia Marzovilla, E-Commerce Writer
How to Apply Bronzer
Whether you're looking for a sharp contour or some subtle definition, we recommend that you apply your bronzer in an E-shape, starting at the center of your forehead and skimming your hairline until you reach your ear. Once you get there, apply in a line down your cheek, just below your cheekbone, then double back to your ear and continue outlining the outside of your face.
If you're looking to apply more definition to your jawline, feel free to apply the bronzer down to your chin. If, however, you're like me and have a cleft chin, you can stop once you get to the base of your ear. For a step-by-step visual guide, consult our article about how to apply bronzer.
Meet The Experts
Lilly Keys is a Los Angeles based makeup artist. A native of Cape Town, Lilly moved to London in 1997 and became influenced by the city's multicultural fashion, music and visual art scenes. She graduated from the London College of Fashion and began pursuing makeup professionally in 2007. Lilly refined her editorial skills while working on runway shows for Gucci, Balenciaga, Antonia Berardi, Topshop, Jaeger and Maison Martin Margiela. Lilly's celebrity clients include Dua Lipa, Anya Taylor Joy, Alessandra Ambrosio, Charli XCX, Kali Uchis, Ella Mai, Melissa Barrera, David Beckham and Joanne Froggatt. Her work has appeared in publications such as Hunger, Esquire, King Kong, Grazia, Vogue Italia, Teen Vogue and Galore and she has collaborated on major advertising campaigns for Swarovski, Adidas, Converse and Olivia Von Halle.
Matilda on Video is an Australian digital content creator sharing flat lay beauty reviews on YouTube and Instagram. Her content puts the focus on the products, like a magazine spread with movement.
Based in San Francisco, Victor has worked as an Editorial, Runway, Special Effects and Beauty makeup artist for over 25 years. As a Senior National Artist for M.A.C. Cosmetics he has traveled the world working with top runway designers, elite fashion publications and entertainment's Who's Who. On his craft, Victor simply states: "Make up has the unique ability to straighten one's emotional posture"!
Jaleesa Jaikaran is a Trinidadian makeup artist based in New York City. She works behind the camera on beauty & fashion campaigns with brands including Kith, Nike, Pyer Moss, Lancome & MAC, to name a few. In front of the camera, Jaleesa creates content driven by beauty education and has collaborated with various brands including Mary Kay, Ulta Beauty, and Pinterest. She hosts The Life of a Makeup Artist podcast, which focuses on rising and defining voices in beauty, breaking into the industry, and why it's critical to create an inclusive future.
Professional makeup artist Hailey Hoff has been in the beauty industry for 10 years. Along with a celebrity clientele, Hailey also holds experience in working many notable events including The Grammys, Oscars, Golden Globes, Billboard Awards, and more.
Julia Marzovilla is the E-Commerce Editor at Marie Claire, where she covers everything from the latest beauty and fashion launches and sales to celebrity outfits and news. She also creates shopping guides that span every vertical on the site. Prior to joining the Marie Claire team, she contributed similar shopping stories to sites such as Bustle, InStyle, The Zoe Report, Who What Wear, and STYLECASTER. In her spare time, Julia can be found creating shopping guides for all of her friends, spending too much money on yet another pair of black boots, and cooking in her far-too-small kitchen.