The 7 Best Tweezers for All Your Plucking, Pulling, and Picking Needs
That was easy.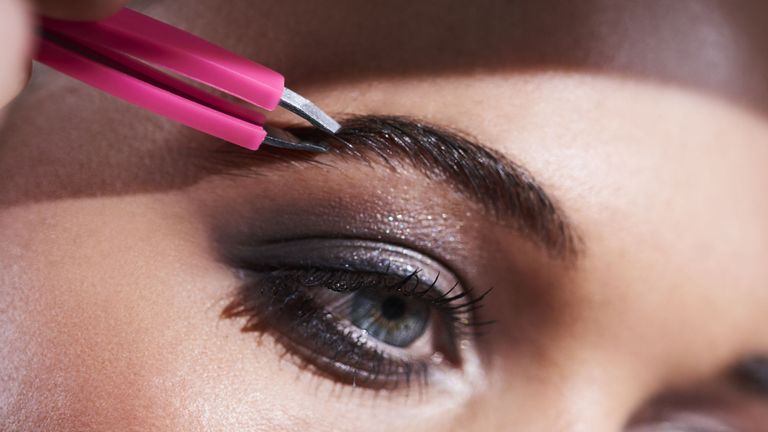 (Image credit: Jonathan Storey)
A few months ago, I found an old picture of myself with the thinnest, most horrifying eyebrows you could ever imagine. But if you thought that that image would make me toss out my tweezers, you would be so wrong. Tweezers are truly one of the most important and versatile beauty tools in my arsenal, and I'd like to think that I'm a connoisseur at this point. Though I no longer pluck my brows into nothingness, I still find uses for them. Is my beauty mark sprouting a weirdly thick, dark hair? Is my mustache growing in? Ingrown hairs? Stray brow hairs? Hell, a splinter? Tweezers are a solution to all those woes. Of course, any kind of body hair removal is a personal choice, and you shouldn't feel any pressure to pluck a hair that you'd rather keep. But if you are on the hunt for a new pair of tweezers, the options below will allow you to easily remove hairs, apply fake lashes, or deal with ingrown hairs.
1/7
Tweezerman Slant Tweezer
The Classic Pick
For everyday use, Tweezerman is the ideal choice. This tool has been loved for decades because it's so efficient, not to mention classic, budget-friendly, and stylish.
2/7
REVLON Expert Slant Tip Tweezer
Best Budget Tool
For an easy tool to throw in your purse or keep on your nightstand, this low-cost tool from Revlon is the perfect choice. With a slightly slanted edge, errant hairs can be easily plucked away.
3/7
Benefit Cosmetics Grooming Tweezer & Brush
The Double Sided Brush
For the brow expert, this tool is an ideal pick. On one end, there's a tweezer to remove stray brow hairs. On the other side, a brush allows you to come through the brows for a quick, easy style in just one tool.
4/7
Anastasia Beverly Hills Tweezers
For Tiny Hairs
Anastasia Beverly Hills is known for their top-notch brow products, so it shouldn't come as a surprise that their tweezers are equally amazing. This tool is designed to pluck even the smallest, most delicate unwanted hairs.
5/7
Majestic Bombay Surgical Tweezers
The Ingrown Hair Remover
For anyone suffering from irritating ingrown hairs, these tweezers are pointy and sharp enough to dig them out and remove them. They're also great for any other precision plucking that needs to take place.
6/7
Lilly Lashes Lash Applicator
The Dual Lash Tool
For the faux lash queen, this tool will make applying lashes a breeze. On one end there's a thing tweezer that can be used to pluck hairs or apply lashes. On the other side, a brush can be used to comb through brows or smooth out lashes.
7/7
RevitaLash Cosmetics Precision Tweezers
The Ultimate Plucker
This rust-resistant is easy to wield around the brows for efficient styling. With professional-grade stainless steel, this tool is perfect for the at-home brow styler among us.
Tatjana Freund is a Beauty Commerce Writer, covering makeup, skincare, and haircare products and trends. She's a fan of vodka tonics and creepy Wikipedia pages.