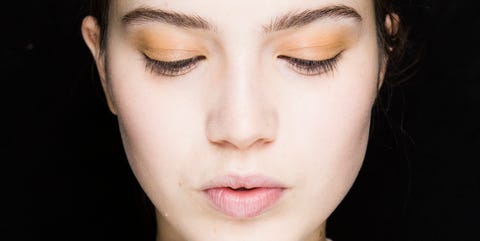 Not to exaggerate, but I would die without my eyebrow pencil. You know how Abbi Jacobsen says in Broad City, "I finally figured out my eyebrows. They're sisters, not twins"? Well, my eyebrows are distant cousins with nothing in common who struggle to make conversation at Thanksgiving.
Without my eyebrow pencil, my right brow is missing a chunk of its arch and I can't stop staring at it in every mirror I pass. I've labored and fought and wasted time with pencils that are too brittle, too soft, too harsh, or too liable to smear. But the perfect pencil does exist, and, for you, I will share my hard-earned wisdom. May I present, below: The very best eye pencils.
1
The One-Size-Fits-All Pencil
Anastasia Beverly Hills
Sephora
$21.00
If you're not sure what you're looking for in a brow pencil, start with Anastasia Beverly Hills' Brow Wiz. It comes in a dozen shades, can provide light or heavy coverage (depending on how much you use), and looks super natural—like your existing brows, but better.
I often fall asleep in my eyebrow makeup (I know, I know, don't yell at me), and few things are worse than finding pencil stains on your pillowcase the next morning. Enter Benefit's Precisely, My Brow Pencil, which is waterproof and super durable, so you won't accidentally smear it while touching your (newly gorgeous!) eyebrows.
Yes, that price is actually less than $2. A latte costs more than this cheap, cheerful, and shockingly effective eyebrow pencil. The Essence Eyebrow Designer is a great option if you don't want to do too much to your eyebrows—just a little touching up here and there. It'll take you literally 15 seconds to apply, and did I mention it's $2?
Wander Beauty
Sephora
$21.00
A waxy eyebrow pencil plus oily skin can spell disaster. Fortunately, Wander Beauty's Frame Your Face Micro Brow Pencil won't slip or blur throughout the day. Plus, it's sturdy, easy to apply, and blends in well with your natural brows.
5
If You Love Drugstore Brands
The Wet n Wild Color Icon line is a drugstore favorite—its eyeshadow palette sold out within days—and its Brow Pencil, which provides buildable, natural coverage, is a steal at $10 for a 3-pack. Keep one at home, one at work, and one in your purse, just in case you need to touch up on the go.
6
If You're Not Very Good With Eyebrow Pencils
Look, we all have our strengths, and some of us just aren't that good at applying eye makeup. (I love liquid eyeliner, for example, but I hardly use it because the potential for disaster is too high.) Benefit's Goof Proof Brow Pencil (fun fact: Benefit is the only brand with two eyebrow pencils so excellent they both made this list) is just that: hard to mess up, and easy to fix when you do.
7
The Dupe of a Luxury Eyebrow Pencil
NYX's Micro Brow Pencil is often referred to as a facsimile of Anastasia Beverly Hills' Brow Wiz—it does much of the same work, but at one-third of the price. And you can get it just about anywhere. What's not to love?
8
For a Smooth, Waxy Finish
Hourglass' super-luxe Arch Brow Sculpting Pencil is made from a combination of powder and wax, so you don't need a lot of it—one sweep and you're good. It's more expensive than its competitors, but it does so much that you don't have to use as much of it, so really, it's a cost-saver in the end.
9
If Your Eyebrows Are Naturally Thin
Kevyn Aucoin
Sephora
$26.00
Kevyn Aucoin The Precision Brow Pencil, $26
The super-super-slim Kevyn Aucoin The Precision pencil is so called for a reason. If you have sparse eyebrows, or close to no eyebrows at all, this tool will help you create natural-looking eyebrows, one teeny-tiny brushstroke at a time.