The 12 Best Black Eyeliners Ever
The backbone of your favorite makeup looks.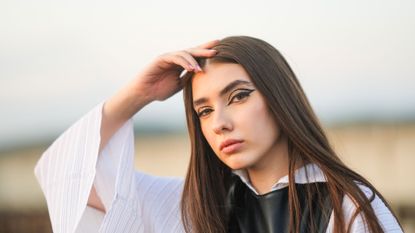 (Image credit: Edward Berthelot)
Marie Claire Newsletter
Celebrity news, beauty, fashion advice, and fascinating features, delivered straight to your inbox!
Thank you for signing up to Marie Claire. You will receive a verification email shortly.
There was a problem. Please refresh the page and try again.
Have you done a makeup audit lately? If you can't remember the last time it happened, now's probably the time. We've been known to hoard, too, but there's a chance some of your makeup is dry, almost empty, or just plain expired. But when we do clean house, there's one makeup product we always end up needing a restock for: a solid black eyeliner. It's the backbone of most of our favorite looks, and we run through them like crazy. In fact, it's the one product that tends to *disappear* from the Marie Claire beauty closet most often.
It should come as no surprise that black eyeliners are a staple among the pros, too. "Black eyeliner is a classic," says pro makeup artist Lauren O'Leary. She explains that you can use a black eyeliner pencil to create an easy smokey eye or a liquid liner for an extra crisp cateye. Need further proof of the magic of a good black eyeliner? "It instantly brings out the eyes, and can create the illusion of thicker fuller eyelashes if applied precisely at the lash line," O'Leary adds.
With all that said, we can be a little picky when it comes to finding a formula that really gets the job done. After testing so many, we know a good liner when we see one: it's got to be inky, pigmented, and last as long as the rest of our look does. There are a ton of options, and all of them are best suited for specific purposes. So, in an effort to streamline your audit, we've got the lowdown on how to choose the best liner for you and curated this list of the best of the best. Read on for your perfect fit.
What to Look For
A quick glance down the aisles of Sephora will show you that there is an insane amount of black eyeliner on the market. We'd wager that just about every makeup brand offers one. So how do you land on the perfect one for you?
You'll first want to decide which eyeliner formula is best for your needs. For example, O'Leary prefers to use a black pencil liner because they are typically easier to control. "You can use a light touch and apply a pencil directly to skin or you can use a little angled brush and smudge or soften out the line with the brush," she says. But if crisp clean lines are your goal, opt for a water-resistant gel liner. "I can get a very crisp line that way, and it's easy to create a winged liner look and stays on all day," O'Leary says. As for liquid formulas, O'Leary explains that they are great for "on the go or creating a quick liner look," but she warns they take more skill and precision.
Additionally, O'Leary recommends looking for a liner with rich pigment and a creamy texture so it's easier to apply. "I look for one that also dries down fast and doesn't transfer easily, so look for waterproof or water-resistant, especially if you have smaller eyes and are concerned with it transferring," she adds.
The Best Black Eyeliners
Best Black Eyeliner for Smudging
Maybelline TattooStudio Smokey Gel Pencil Eyeliner
Perhaps it was just me, but I remember being 13 and trying to smudge my eyeliner out *just right* in the hopes of impressing my school's resident skater boy. Not much has changed—it can still be tough to achieve that perfect smudginess—but this dual-ended pencil has a sponge tip to distribute the pigment on the other side perfectly. This one is a drugstore eyeliner we particularly love but in a powder gel formula, making it the blendable liner.
Pros: Comes with smudge sponge; Glides easily; Long-wearing; Highly pigmented; Waterproof.
Cons: Dries fast; Difficult to sharpen.
Best Overall Black Eyeliner
Urban Decay 24/7 Glide-On Waterproof Eyeliner Pencil
With multiple awards and praise from editors and makeup artists alike, we couldn't not include this cult-favorite liner. Urban Decay's 24/7 eyeliner pencil is a cult favorite in the beauty world because its everything you could want in an eyeliner. It's waterproof, smudge-proof, and glides effortlessly across the lid. You can make sharp lines with the pencil tip, or if smudgy sexy is your vibe, you can smoke it out. Just know that once it dries, your liner look will not budge. I particularly love using it in my upper lash line to fake thicker lashes.
Pros: Editor-approved; Long-wearing; Waterproof; Glides easily; Offered in three different shades and finishes of black; Vegan formula; Blendable.
Cons: Over $20; Difficult to sharpen.
Best Longwear Black Eyeliner
stila Stay All Day Waterproof Liquid Eye Liner
It's been a makeup artist (O'Leary counts herself a fan) and editor favorite for years, and we don't see that ever changing. It's inky black, glides on like a dream, and doesn't budge once it's on. And when we say it doesn't budge, we really mean it does not budge. You can cry, rub your eyes, and even take a nap, and we'd bet your liner will still be flawless with this pick. There's actually one in my purse right now. You know, in case there's a liner emergency.
Pros: Pro and editor-approved; Incredibly long-wearing, Smudge-proof; Waterproof; Glides on smoothly; Precision tip.
Cons: Not very pigmented; Difficult to remove.
Best Gel Black Eyeliner
MAC Pro Longwear Fluidline
O'Leary says this pot-and-brush liner has been a staple in her makeup kit for years and it's not hard to see why. With the precision of a liquid liner, but an even smoother, silkier texture, MAC's Fluidline is a great option for graphic shapes. With its long-wearing, waterproof, and smudge-proof formula, your liner look is sure to last for up to 16 hours. And we love that this liner is doctor-tested. Plus, it even doubles as a brow gel!
Pros: Pro-approved; Long-wearing; Waterproof; Smudge-proof; Ophthalmologist and dermatologist tested.
Cons: Does not come with brush.
Best Black Eyeliner for Graphic Shapes
Dior On Stage Liquid Eyeliner
Its name isn't just marketing—this formula has been a backstage staple at photoshoots and Fashion Week since its release. We totally get it: its pigment is as deep and dark as it gets, and the pen makes it perfect for drawing lines, wings, and even avant-garde shapes. Dior offers the black shade in two finishes: matte and satin, so pick your poison. However, Dior claims both options last a whopping 24 hours, although we don't particularly recommend leaving your makeup on for that long.
Pros: Long-wearing; Waterproof; Highly pigmented; Offered in two finishes.
Cons: Over $25; Tip may dry out over time.
Best Black Eyeliner for Tightlining
CHANEL Stylo Yeux Waterproof Long-Lasting Eyeliner
Sometimes, there's nothing chicer than a subtle tightline. This fine pencil is perfect for loading pigment right onto your waterline for sexy yet near-imperceptible definition. This deep, dark pencil will not only make your eyes pop from a mile away, but it will also make your lashes appear more lush and full. And since it's waterproof, you won't have to worry about getting those dreaded raccoon eyes at the end of the day. It's even resistant to oil and humidity!
Pros: Mechanical pencil design; Comes with built-in sharpener; Waterproof; Highly pigmented; Smudge-proof.
Cons: Over $25.
Best Pencil Black Eyeliner
Charlotte Tilbury Rock 'N' Kohl Eyeliner Pencil
There's nothing worse than a pencil that drags—it can irritate your lids, and it's just plain annoying not to get great color payoff on the first try. That never happens with Charlotte's pencil, though. With pearl powder in the formula, this pencil hydrates your skin and glides across the slide in just one swipe. And whether you smudge it out or leave it be, it'll last for up to 14 hours once it sets.
Pros: Highly pigmented; Glides on smoothly; Waterproof; Longwearing; Blendable.
Cons: Over $25.
Best Pro-Approved Black Eyeliner
When O'Leary needs a reliable liquid liner, she turns to MAC's Brushstroke pen. She says, "It has the thinnest tip for precise winged liner!" Its precision brush tip can achieve any line your heart desires—use the tip for thin lines, or lay the brush flat against the lid for thicker lines. This liner is extra long-wearing too, 24 hours to be exact, so you won't have to worry about touch-ups or smudges.
Pros: Pro-approved; Includes a precision tip brush; Long-wearing; Ophthalmologist tested; Highly pigmented.
Cons: May be difficult to apply
Best Splurgeworthy Black Eyeliner
Victoria Beckham Satin Kajal Liner
The chamomile extract and vitamin E in this creamy formula make this one of the most comfy pencils on this list, and it looks as good as it feels. The sponge on its tip makes it easy to smudge it out along the lash line, or turn it into a chic, subtle wing. MC's very own Beauty Editor, Samantha Holender, loves this pencil. "The crayon is non-irritating (I have the world's most sensitive eyes for the record) and glides flawlessly on my waterline," she says. "Personally, I like to apply this in little dashes—it really amps up the pigment payoff."
Pros: Editor-approved; Ophthalmologist and dermatologist tested; Waterproof; Long-wearing; Glides on smoothly; Highly pigmented; Comes with smudge sponge
Cons: Over $20
Best Budget Black Eyeliner
Pixi Endless Silky Eye Pen
There's nothing worse than trying to apply eyeliner only for it to tug and skip across your lid. That won't be a problem here. Pixi's Endless Silky Eye pen is formulated to be extra creamy so it will glide across your lid like a dream. Because this eyeliner is so silky, even the most unpracticed makeup lovers can apply this one. Plus with the addition of mica, your eyes will have a slight luminous effect. This one also happens to be one of O'Leary's drugstore favorites.
Pros: Under $15; Pro-approved; Glides easily; Waterproof; Smudge-proof.
Cons: Difficult to sharpen; Tip is prone to breaking off.
Best Liquid Black Eyeliner
KVD Beauty Tattoo Waterproof Liquid Eyeliner
Not too long ago, this eyeliner went viral after a woman posted a selfie post-car accident. While her mascara ran, her winged eyeliner was flawless thanks to the insane staying power of this pick. If this liner can hold up during a car accident, it'll survive through tears, sweat, and humidity. With its thin felt tip, it'll work wonders for any makeup look you're going for, plus we love that it's vegan and cruelty-free.
Pros: Incredibly long-wearing; Waterproof; Highly pigmented; Vegan formula; Easy to apply.
Cons: Tip dries out over time.
Best Pigmented Black Eyeliner
Clinique Quickliner For Eyes Intense Eyeliner
If you want a pencil that's truly black—we're talking deep space, black hole-levels of onyx—this pencil is unrivaled. Shade "intense ebony" is about as dark as it gets, so this pencil isn't for the faint of heart. This pick has the intensity you would normally get from liquid liners, but in an automatic pencil for easy application. It's a silky formula too, so there's no tugging on the lid. And with a built-in smudge sponge, smokey eyes become a walk in the park.
Pros: Highly pigmented; Self-sharpening pencil; Glides easily; Comes with built-in smudge sponge; Ophthalmologist and dermatologist tested.
Cons: Not waterproof.
Meet the Expert
Lauren is a New York City/Minneapolis based makeup artist, men's groomer, and beauty expert. She grew up in Minnesota but had her heart set on living in New York City since she was very young. As a lifelong artist, she was always on top of the latest beauty trends. Lauren specializes in beauty, editorial, celebrity, commercial/print, film & TV work. A few of her clients include Guess, Maybelline, Saks Fifth Ave, Samsung, Conde Nast, and celebrities Niki Taylor, Kaia Gerber, Joey Fatone, Shaq, Charlotte Mckinney, Hannah Brown, James Van der Beek, and more.
Celebrity news, beauty, fashion advice, and fascinating features, delivered straight to your inbox!
Taylore Glynn is the Beauty and Health Editor at Marie Claire, covering skincare, makeup, fragrance, wellness, and more. If you need her, she's probably roasting a chicken, flying solo at the movies, or drinking a bad Negroni at JFK.