The 24 Best Sulfate-Free Shampoos
Give your hair the gift of a gentler cleanse.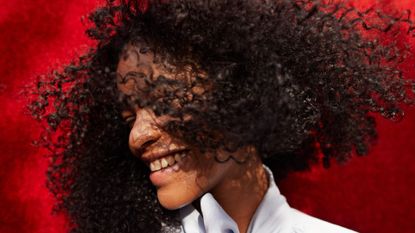 (Image credit: Klaus Vedfelt/Getty Images)
Sooner or later, everything in beauty gets a bad rap (sorry, parabens (opens in new tab), makeup wipes (opens in new tab), and chunky early-aughts highlights (opens in new tab)).And sometimes that's unfair—but sometimes, like with sulfate-filled shampoos, there's reason to be apprehensive. A refresher: Sulfates are detergents—the same kind found in dish soap—that strip the moisture from your hair and can leave it brittle, faded, tangled, and, yes, even oilier. And yet, they're are still found in the majority of shampoos (go check how many of your hair products have sodium lauryl sulfate in the ingredients list). Before there were more elegant and gentle cleansers, sulfates were a go-to for stripping away all manner of grime, oil, dirt, and debris. But now chemistry has advanced and it's the shampoo equivalent of using an anvil to place a thumbtack. Sulfates can contribute to dull hair, frizzy texture, and split ends, among other hair woes.
Which brings me to: May I suggest trying one of my favorite sulfate-free shampoos, below? They contain all of the good, hair-hugging ingredients you want, without any of the damaging ingredients your hair doesn't. And yes, I promise they'll still get your hair really, really clean.
1. For Environmentally Conscious
R+Co Bleu Primary Color Shampoo, $59
SHOP IT (opens in new tab)
Housed in stylish packaging that's both recyclable and recycled, this sustainable offering from R+Co is free of all the nasties, and yet still feels (and smells) like a trip to a luxe salon.
2. For Color-Treated Hair
Pureology Hydrate Shampoo, $28
SHOP IT (opens in new tab)
Sure, it's on the pricier side, but then again, it's not your average shampoo. This hydrating formula is basically the queen of all color-safe shampoos. It not only protects your hair from fading, but it also mitigates the inevitable damage that comes with each new dye job.
3. For Fine, Flat Hair
Bumble and Bumble Hairdresser's Invisible Oil Shampoo, $31
SHOP IT (opens in new tab)
If your hair is drier than Melba toast, look for a shampoo filled with lightweight oils—like this best-selling formula—to deeply moisturize your hair and leave it shiny. And don't worry; even though it has "oil" in its title, the formula also has serious sudsing powers that actually break down product buildup and scalp oils without stripping your hair.
5. For Dry, Damaged Hair
Moroccanoil Moisture Repair Shampoo, $24
SHOP IT (opens in new tab)
With a signature dose of the brand's revolutionary argan oil—which, molecularly, is small enough to penetrate the hair shaft and moisturize from the inside out–this sulfate-free version can help slick down lifted cuticles and make frizzy hair appear more sleek.
6. For Colored Hair
Sunflower Color Preserving Shampoo, $32
SHOP IT (opens in new tab)
A lightweight blend of botanical oils—sunflower, apricot, and a B-vitamin complex—quench parched strands. But it's the addition of a UV-protective filter that should really catch the attention of those of us with color-treated strands.
7. For Frizzy, Untamed Hair
Frizz Dismiss Sulfate-Free Shampoo, $22.50
SHOP IT (opens in new tab)
Why do I have such a soft spot in my heart for old-school Redken products? Who can say! What I can say is that there's nothing old school about this technology, which uses a sulfate alternative to cleanse hair alongside lightweight oils that won't weigh down coils or spirals.
8. For Cool Blondes
Amika Bust Your Brass Blonde Purple Shampoo, $20
SHOP IT (opens in new tab)
If you're an unnatural ice blonde, unfortunate brassy tones—and ragged, desiccated strands—are kind of part of the deal. This nifty offering taps keratin to rebuild compromised hair, while a generous dose of purple pigments counteract unfortunate orange hues.
9. For Extremely Dry Hair
Moisture Fast Food Sulfate-Free Shampoo, $58
SHOP IT (opens in new tab)
Fast food, but like, in a good way. Like, more Chipotle, less McDonalds. Inside, all the things that are proven to smooth and repair (botanical oils, silicones, keratins) and none of the things that aren't (sulfates, parabens).
10. For Color Infused Hair
Living Proof Color Care Shampoo, $29
SHOP IT (opens in new tab)
It's honestly hard to do new things in the world of shampoo but Living Proof does just that with their proprietary OFPMA which helps hair stay cleaner, longer. (It's a feather-light film-forming layer.) Hydrating esters enhance your hair's natural moisture layer while a chelating agent (hi, chemistry!) removes hard water minerals like iron and copper which can cause premature color fading.
11. For Each and Every Type of Hair
CHI Infra Shampoo, $14.99
SHOP IT (opens in new tab)
Wait, did everybody already know that CHI stood for Catatonic Hydration Interlink? Had no idea! What it actually means, however, I can help you with. The idea is that silk molecules, which by nature have a positive charge, lock into the damaged spots in the hair shaft, which have a negative charge, to rebuild and enhance shine and moisture. If that sounds like hocus pocus, I encourage you to review the 1,000-plus five-star reviews on Amazon instead.
12. For All Textures
Ouai Detox Shampoo, $30
SHOP IT (opens in new tab)
Apple cider vinegar gently and effectively cleanses away gunky product build-up from dry shampoo, hairsprays or other essential stylers. Also a great option after a week swimming in the ocean, pool, or lake. (Like, when travel is allowed again, that is.)
13. For Thin, Fine Hair
R+Co DALLAS Biotin Thickening Shampoo, $29
SHOP IT (opens in new tab)
Just because your want your hair clean doesn't mean you want your hair flat and limp. Biotin bolsters the hair's keratin structure while coconut oil and B5 vitamin work to plump and hydrate.
14. For Flat, Thin Hair
Caviar Anti-Aging Clinical Densifying Shampoo, $38
SHOP IT (opens in new tab)
First things first: This contains caviar, the fatty acids of which are said to help restore the hair shaft's shine, moisture and elasticity. Cleaning sulfates here are replaced with Amla Indian gooseberry, which stimulates healthy hair growth at the follicular level.
15. For Damaged, Dehydrated Hair
Moroccan Argan Oil Shampoo, $12
SHOP IT (opens in new tab)
For the price, you cannot beat the effectiveness of this argan oil-packed wonder that will both clean and smooth your strands.
16. For Weak, Broken Hair
Leonor Greyl Shampooing Crème, $51
SHOP IT (opens in new tab)
An array of botanical smoothers and replenishers—including bamboo marrow (!), silk, collagen, and wheat proteins, and garlic and horseradish extracts—combine in a creamy, restorative formulation. If silicone smoothers tend to be too heavy on your strands but you still need some streamlining, this could be the ticket.
17. For Limp, Flat Hair
Playa Every Day Shampoo, $32
SHOP IT (opens in new tab)
Contrary to whatever your brain has been telling you, your flat, fine hair still needs moisture—just really, really lightweight moisture. This low-suds shampoo weightlessly hydrates with coconut water and aloe leaf extract, while also adding a tiny bit of volume thanks to sugar beet extract.
18. For Brassy Brunette Hair
DpHue Cool Brunette Shampoo, $24
SHOP IT (opens in new tab)
If you've ever dyed or highlighted your brown hair, you know how quickly it can take on that dreaded brassiness. Enter: this hydrating shampoo. The gentle formula neutralizes orange hues with a dose of blue pigment (blue is opposite orange on the color wheel, so they cancel each other out). Use a few times a week to keep your hair bright and fresh (opens in new tab).
19. For Fine, Oil-Prone Hair
Earth's Nectar Mint Leaves & Tea Tree Shampoo, $22
SHOP IT (opens in new tab)
Trust me—you don't need a heavy-duty, hair-stripping formula to get your greasy scalp clean. And this natural, tea tree oil–infused shampoo proves it by cutting through oils to soothe scalp irritation and banish bad smells, all without leaving your hair feeling like straw.
20. For Thick, Frizz-Prone Curls
Briogeo Curl Charisma Rice Amino and Shea Moisture Shampoo, $24
SHOP IT (opens in new tab)
Curly folks, take note: This ultra-moisturizing shampoo uses a blend of natural oils to hydrate and soften dry hair, plus a dose of humidity-fighting tomato ferment to keep curls from shrinking up or frizzing out.
21. For Kinky Curls
SheaMoisture Curl & Shine Shampoo, $10
SHOP IT (opens in new tab)
Repeat after me: Curls need moisture. And if you're using anything other than a hydrating, sulfate-free shampoo, like this silk protein– and neem oil–infused formula, you're basically asking for breakage, tangles, and damage.
22. For Fine Curly Hair
23. For "Regular" Hair
Verb Volume Shampoo, $14
BUY IT (opens in new tab)
Not sure what hair type you have? Go with whatever formula makes you look like you're constantly walking by a wind machine, like this volumizing shampoo from Verb. It uses keratin proteins to amp up limp hair, plus vitamin B5 to hydrate dry ends without weighing them down.
Hannah Morrill is a writer and editor based in Portland, Maine. She's an avid reader, an indifferent face-washer and a sunscreen/retinol evangelist.