I Want More Hair
Can hair extensions turn a girl-next-door into a glamazon? Meredith Bryan goes to great lengths to find out.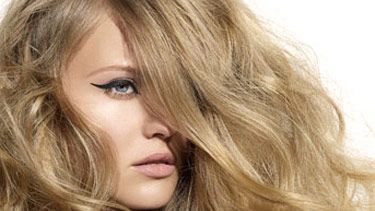 (Image credit: Don Flood)
I arrive at the Stephen Knoll Salon in New York City thinking of Blake Lively, whom I'd just watched seduce the captain of the Dalton lacrosse team on Gossip Girl the night before, Belvedere martini in hand, aristocratic reams of blonde hair swept casually to one side. I should have that hair, I'd been thinking. And sure, it wouldn't hurt to be 21 and the star of a successful television series. But I am blonde; the hair, at least, should be achievable.
Soon, extensions whiz Ramona is cutting and styling my new "friends" — five wavy blonde horsetails attached to my head with tiny barrettes, which I can remove and reattach at my leisure ... for the rest of my life (for $1200, let's hope so). They're crafted from real human hair, probably from China or India, where hair generally grows long and isn't processed. I repress the image of a poor rural woman selling her locks for food and concentrate instead on Ramona's styling instructions. "Total hair idiots" snap these things in and out with ease, she assures me.
I wonder why I didn't try this sooner. Perhaps extensions have gotten a bad rap, tainted by celebs like Britney Spears and Paris Hilton, who have more cash than taste. Ramona swears that classy women get extensions, too — you just can't tell. She points out the private room where she discreetly styles top socialites (like Botox for the bob).
My hair is in desperate need of an intervention, having been fashioned into an ignominious shag by long hours at the office and the fact that I'm finally in a relationship (which I've used as an opportunity to quit trying ... er, at all). During its heyday in my single years, my shoulder-length mane did a mean Farrah Fawcett after 45 minutes with the blow-dryer. But now, nearing 30 and loved for reasons that don't include my ability to achieve volume, I wonder, Was all this upkeep still necessary? Maybe removable extensions are a smart compromise: minimal effort, maximum volume. Clip-on hotness!
Suddenly, Ramona is assaulting my entire head with a curling iron, teasing and sculpting my hair into an unruly, shabby-chic masterpiece. I stare into the mirror, trying to acquaint myself with the new me, who looks almost nothing like the old me, despite the fact that I've been at the salon for just one hour. My extensions are dead ringers for my own hair — Ramona had matched the color several days before with swatches — and best of all, they'll remain styled until I shampoo them after four or five wears. Adjectives that have never before described me spring to mind: coquettish, girly, pampered, smoker. I look 10 years younger and semifamous. I am no longer blonde. I am a blonde.
Walking down the street a short time later in oversize sunglasses, I notice a striking and immediate difference. Men in suits stare. Construction workers whistle. Women give me the once-over. I soon long for the anonymity of a messy ponytail. I feel like I'm wearing a polka-dot bikini.
In fact, I'm a little defensive by the time I step off the subway in my Brooklyn neighborhood. The extensions aren't uncomfortable, but I'm hyperaware of them, afraid they're going to spontaneously fly off when someone brushes by me on the street or when I sling my bag over my shoulder. (They don't.)
By nightfall, my hair is calling the shots, and it's telling me I'm the type of woman who convalesces over a leisurely alfresco drink rather than rushing home to her laptop (even on a Tuesday). So I meet my boyfriend, N., for an early drink. "You look like you're in a shampoo commercial," N. says. It's hard to talk about anything but my hair, so we mostly look around to gauge whether it's throwing other people off, too. I'm relieved that I actually stand out less here (no one in Brooklyn uses a hairbrush!); I could easily be a singer in a cool indie band.
Getting ready for a friend's rehearsal dinner several days later, I enlist a fellow bridesmaid's curling iron to approximate Ramona's haute bed head, compulsively back-combing my real hair to hide the barrettes. It works. When I arrive, my college friend Marcus approaches me with mouth agape, insisting he didn't recognize me. Like Ramona had promised, he can't immediately pin it to the hair — no pun intended — he just thinks I look good. Perhaps I've lost weight? I cough up my secret. Soon, he and three others are fishing for the barrettes, marveling at my coif's realism. So impressed is my friend Anne that she immediately books an appointment with Ramona.
Back in the real world, inured to the compliments, the extensions start to get a wee bit tedious. Unclipping them after one particularly long night — granted, I looked fantastic; I barely remember my formerly lifeless strands! — I fight the urge to reach for the scissors. My old hair and new hair are hopelessly intertwined, near-dreadlocked, actually. I decide before finally tossing the tangled extensions in a heap on the floor that my "friends" could use a shower.
The hand-wash and style (while suspending the extensions gingerly from clothes hangers) process consumes almost an entire Sunday, and it feels about as sexy as rinsing dentures.
The next morning, as they hang demure and chastised in my bathroom, I set off for work in an unglamorous ponytail. Extensions are a little much for the office, where I don't have time to worry about being one precariously clamped barrette from a public hair catastrophe. For the first time in a week, I don't think about my hair until at least lunch. Extensions may never save me from harried weekday frumpiness, but I later pack them away lovingly, readied for a wedding or dinner party or the next time I just feel the need to remind N. — or myself — that I can turn heads when I want to.
Meredith Bryan is a regular Marie Claire contributor and a staff writer at The New York Observer.
Click here to go to YOU, BUT BETTER — Marie Claire's 2009 Best Beauty Boosters.
Celebrity news, beauty, fashion advice, and fascinating features, delivered straight to your inbox!