Michael B. Jordan on Black Panther, Diversity, and Being the Face of Coach
"It's so dope and powerful to encourage everyone to be proud of who they are, no matter how 'different' it may seem to others."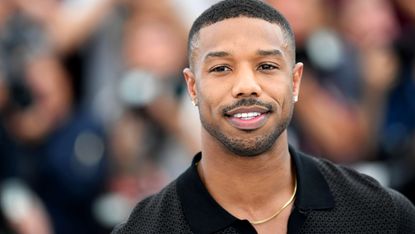 (Image credit: Getty Images)
Golden hour's approaching, and 1 Hotel Brooklyn Bridge's balcony is serene. Naturally, I take a selfie, because who am I to let good light go to waste? This small act of self-love also helps me keep my cool, considering I was about to sit down with one of Hollywood's coolest guys: Michael B. Jordan.
You saw Jordan sitting front row at Coach's New York Fashion Week runway show last month, because the world-renowned actor is the global face of Coach for Men. I'm whisked up to the top floor and led into an industrial, wood-adorned suite where Jordan is waiting to talk about his collaboration with Coach Fragrance. To my surprise, no fancy suit, cameras, or security is in sight, nor is there a protective entourage hovering nearby. Jordan is sitting back on a leather couch in a t-shirt and jeans, one hand resting on his low-cut fade, and the other scrolling on his phone. He's chilling...this is chill...I convince myself in my head. "Hey, I'm Mike," he says, casually extending his hand when he stands up to greet me. His team member walks away. For the next few minutes, Jordan and I chill on the couch and talk cologne.
I already know what you're thinking: The answer is yes, he smells divine. Imagine his effortlessly cool, calm, and collected aura coupled with flirty notes of pear, spicy vetiver, and woody cardamom, which make up Coach's Cologne for Men ($85). The sleek, gradient bottle sits in front of us perched on a coffee table. "This scent is more edgy," Jordan describes as he picks up the cologne. "It's a nighttime scent. I like that it's strong, earthy, and it lingers." It's right next to Coach Platinum for Men ($95), which launched last year. "The platinum fragrance is really good for daytime," he recommends. "It has pineapple notes and a lil' spice to it. It's more of a lighter scent, and not super-strong so I enjoy it."

To Jordan, what differentiates both colognes is the effect each has on his mood. "[Coach] Platinum is energizing," the 32-year-old says. "It makes you feel more confident as you're moving throughout the day. [Coach for Men] is more risque—it'll make you feel like ayeee wassup," he gestures as we share a laugh. I ask what his favorite mood is to be in, and he describes himself as a laidback and quiet person. "I'm a real chill dude, so my mood is usually relaxed," he says.
As for how one of the biggest actors in the world stays relaxed, Jordan says he meditates and sits still. "There's value in being still and letting things come to you instead of being clouded by constant distractions," Jordan shares. "It's important to listen to vibrations and become in touch with yourself. I do it a lot in the shower—it's a good place because no one's bothering me. I do small versions of meditation every day. But actually sitting down and zoning out is something I do three or four times a week."
We move on to the rest of his "super low-maintenance" grooming routine. Jordan just started getting regular manicures and pedicures, considers flossing "hella important," and avoids washing his hair every day. "It's good to let the natural juices build up," he explains. "It's healthy for your hair." With skin, he keeps it simple. "I do a basic rinse," the actor shares. "I wish I could say something elaborate about my skincare routine but it's just kind of like whatever. I really don't have a regimen."

However, he does take pride in his hair. "First of all, I just got inducted into the beard club because I couldn't even grow a beard up until [Erik] Killmonger" [the supervillian Jordan played in Black Panther], he admits. "I'm not genetically built to have a full beard, so it was a major thing. I use a bit of coconut oil on my beard and hair, but that's it." When it comes to keeping his fade together, he's careful about who cuts it. "I travel with my barber, he's right in the other room," Jordan says. "He's like a big brother to me. I've known him for a really long time and he's cut my hair for a bunch of films. I'm definitely particular about who cuts my hair, and I don't want anyone pushing back my line," he says.
Although Jordan's been wearing a low-cut fade for a while, he's experimented with longer styles, like braids and dreadlocks, in the past. In fact, his culture-shifting character Killmonger, proudly wears dreadlocks throughout Black Panther, which Jordan confirms has a deeper meaning. "First of all, Ryan Coogler [writer and director of Black Panther] is a guy from Oakland—he's from the Bay Area, and we were thinking about how there are a lot of cats in the Bay that rock locs," Jordan explains. "It's the same in Newark, New Jersey, where I grew up. Locs have always been around. We started thinking about what hairstyle a guy like Erik Killmonger would wear. In terms of upkeep, you don't have to keep re-twisting locs because the point of them aren't to look refined. We wanted to pick a style that was true to where Killmonger is from, which is Oakland. But we also wanted a style that adults and kids in this generation can rock now. When we thought of the evolution of black hair, locs with tapered sides and a fade cut in the back was it."
Black hair, for that matter, is a much bigger conversation Black Panther expanded on. In today's society, it takes courage for black women and men to proudly wear natural styles like those worn by Jordan and his co-stars, Lupita Nyong'o, Danai Gurira, Letitia Wright, Angela Bassett, and more. It's 2019, and yet statistics show that black women are 50 percent more likely to be sent home or know of a black women sent home from the workplace because of her hair. People of color, men and women alike, in professional settings are consistently marginalized and treated unfairly for wearing braids, dreadlocks, and other naturally textured styles. It wasn't until July of this year that California became the first state in history to pass legislation that protects POC from discrimination based on natural hairstyles.
To Jordan, these issues stem from a lack of awareness. "From the outside looking in, people don't have perspective on our culture, and what these styles mean to us," he shares. "Sometimes, it's related to a stigma, stereotype, or some other propaganda that's been put out there by the media. So they associate braids or locs as 'ghetto,' 'bad,' or 'thuggish,'... or whatever the fuck it is. It's a misconception. We need to continue to support and reinforce the positivity in these styles so that people can unlearn the typical messaging that comes with them. There's so many cases I've seen about this; like the high school boy who was a wrestler, and the referee forced him to cut his locs off before his match. That's wild. Thank you for your work to keep shedding light on these subjects."
These glaring examples foreshadow the cyclical, deeply-rooted racial issue in America. It's why it's more important than ever before for black actors in Hollywood, like Jordan, to keep creating things for us, and by us. Black Panther is a beautiful visual representation of blackness, in all its glory. "There's Angela with those beautiful gray dreadlocks, Lupita and her numerous natural hairstyles, and Danai with her shaved head," Jordan references. "This is also about empowering women to be comfortable with whatever hairstyle, whether you have a head full of hair or a shaved head, you can still rock it with confidence. It's so dope and powerful to encourage everyone to be proud of who they are no matter how 'different' it may seem to others."
As our conversation comes to a close, we both nod in agreement. It feels like our final nod symbolizes the "Wakanda Forever" salute to one another in celebration of black excellence. I leave feeling hopeful. Hopeful for America's future. Hopeful for Hollywood's long-awaited step in the right direction in support of superstars, like Jordan, who stand-up for racial equality. And most importantly, hopeful for the next generation of little brown girls and boys who can finally see themselves represented in the media through powerful portrayals of beauty in every form. To hold onto the high for a little longer, I head home blasting Black Panther's album soundtrack in my headphones.
For more stories like this, including celebrity news, beauty and fashion advice, savvy political commentary, and fascinating features, sign up for the Marie Claire newsletter.

RELATED STORY
Maya Allen is the former Digital Beauty Editor at MarieClaire.com where she covered makeup, skincare, haircare, wellness, you name it! She has a 15-step skincare routine, owns over 200 red lipsticks, and enjoys testing the latest and greatest in beauty. On most weekends, you can find her at her happy place, which is her makeup vanity. There, she's usually blasting her speakers while singing along to lyrics at the top of her lungs, and making sure her highlighter is on point.