Apple Cider Vinegar as a Hair Rinse: Your Guide
"It does a little bit of everything," says colorist Justin Anderson.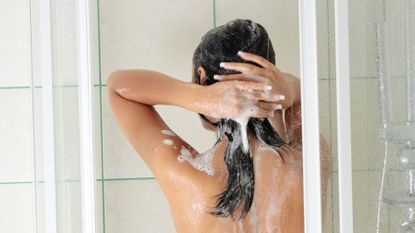 (Image credit: B-D-S/Getty Images)
Marie Claire Newsletter
Celebrity news, beauty, fashion advice, and fascinating features, delivered straight to your inbox!
Thank you for signing up to Marie Claire. You will receive a verification email shortly.
There was a problem. Please refresh the page and try again.
If there's one thing that I can get behind, it's a good home remedy, and apple cider vinegar is one of the best. The natural ingredient has so many benefits, it deserves to be not just a staple in your kitchen pantry but in your bathroom cabinet, too. From homemade face masks and acne treatments to health-related remedies for detoxing and lowering blood sugar, apple cider vinegar is a hero ingredient you'll want to invest in. While not a new method, Gen Z is flocking to TikTok to share the frizz-defying, hair-cleansing powers of rinsing your hair with apple cider vinegar.
If you're wrinkling your nose at the thought of essentially washing your hair with vinegar, you're not alone—I was a skeptic too. So I spoke with professional colorist and blonde expert Justin Anderson to answer all the burning questions you may have about rinsing your hair with apple cider vinegar.
What is an apple cider vinegar hair rinse, exactly?
When it comes to the products Marie Claire recommends, we take your faith in us seriously. Every product that we feature comes recommended by a MC writer or editor, or by an expert we've spoken to. Learn more about how we review products.
The "What" of this natural remedy is very straightforward: An apple cider vinegar rinse is when you cleanse your hair using a liquid apple cider vinegar.
"Hair rinses are a shampoo alternative, so you can still wash away any grime or gunk without over-cleansing or stripping the good oils and color out of your hair," says Anderson.
What are the benefits of apple cider vinegar for my hair?
Full of vitamin B, biotin, folic acid, and Vitamin C, apple cider vinegar can help with dandruff, dullness, and frizz, and provide a sensitive cleanse.
"Apple cider vinegar is a fantastic ingredient in hair care. It does a little bit of everything—from taming frizz to strengthening hair, to boosting scalp health to locking in color, and more," says Anderson.
No matter your hair type, you can benefit from the natural follicle strengthening powers of this rinse. "It works for all hair types! Thicker and textured hair doesn't need to wash as often, so an apple cider vinegar rinse is a great alternative in between shampoos," says Anderson.
Should I DIY an apple cider vinegar rinse?
The differences between an at-home apple cider vinegar rinse and one you buy at a Sephora or Ulta all depend on what else is added to the mixture. Anderson cautions against using just pure apple cider vinegar: "Apple cider vinegar is a natural astringent, which is great to remove buildup, but it's too harsh for hair on its own." When you make it at home, there's always the chance of messing up the quantities, versus buying a pre-made mix that has been tested and has other nutrients in the batch.
Anderson created one of the OG rinses in apple cider vinegar hair products: dpHUE's Apple Cider Vinegar Hair rinse. "We use top quality apple cider vinegar (from George Paul Vinegary) and mix it with conditioning ingredients for a seamless addition to your existing hair care routine. Our rinse has the added benefit of offering healing properties for the scalp and adding shine to hair follicles."
If you do decide to use ACV from the store, make sure you mix it with water. A quick recipe: Use two to three tablespoons of raw apple cider vinegar for every 4 cups of water.
How do I use an apple cider vinegar rinse?
This hair rinse works like any regular shampoo, with one big difference: The apple cider vinegar isn't going to lather. Due to the lack of sulfates, don't expect any form of lathering, which is the biggest sell for those who need the clean without the suds.
How often should I use apple cider vinegar on my hair?
Anderson says that you can rinse your hair with apple cider vinegar whenever you need to, really. "Since it's a gentle wash, you really can't 'overuse' it. It's like your favorite T-shirt—you don't want to wash that too often or it'll start to fade. This is where ACV fits in." The apple cider vinegar acts as a detergent while maintaining the natural hair oils that usually get stripped away with regular shampoo.
While we're discussing hair rinses? Another great option that is coming back as a trend is rinsing your hair with rice water. Yes, natural rinses are here to stay, and we're all for it.
Related Stories
Celebrity news, beauty, fashion advice, and fascinating features, delivered straight to your inbox!
Alexis Gaskin is a Freelance Beauty Writer for Marie Claire who can often be found painting her nails to match every outfit. She covers beauty, skincare, and fat fashion and will get distracted by any and all Halsey-related content or anything glittery.