Fringe Benefits: Will Bangs Change Your Life?
We've all wondered: Will bangs change my life? Sarah Z. Wexler chops in search of hair Nirvana.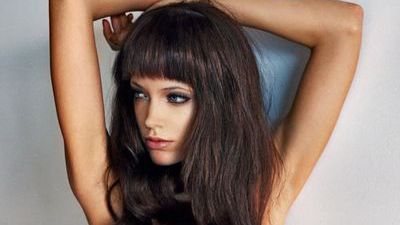 (Image credit: Sarah Z. Wexler)
This isn't the first time I've walked into a hair salon clutching a ripped-out magazine photo of a celebrity's haircut (often naturally straight, fine hair that's been styled by a SWAT team of professionals) in hopes of duplicating the look on my own (thick, frizzy) head. There was a misguided attempt at The Rachel, of course, and the Winona Ryder Pixie Disaster of '99. Today, more realistic and better trained in the art of hot-styling tools, I hold a shot of my bangs "spirit animal," Zooey Deschanel. I'm hoping to add her adorable blunt-cut fringe to my own long, similarly textured hair. Truthfully, though, I could've picked out a picture of just about any star, since it seems half of Hollywood is rocking the fringe lately: Jessica Alba, Lauren Conrad, Jessica Biel, Kerry Washington, Alexa Chung, Taylor Swift … The list goes on.
Still, I'm terrified, considering the last time I attempted bangs was in elementary school and the results were not pretty—not pretty as in, it looked like auburn broccoli was growing out of my forehead. That was before I considered styling products, or even bobby pins, so it meant months of covering my terrible bangs with an array of Blossom-inspired hats. I know that by trying again, I am putting the next year of my hair-upkeep life into a stylist's hands, so I've come to pro hairstylist Ryan Trygstad at Sally Hershberger Downtown in New York City, who has cut bangs for Emmy Rossum and Demi Lovato.
First, he tells me the good news: Face-shape-wise, I'm approved for blunt bangs. (They work on long or oval faces but are less flattering on round or short ones since they take off some length from your forehead.) The bad news is that texture-wise, I'll have to deal with the double trouble of a hairline cowlick and natural waves. Before I can call my mom to complain about this genetic injustice, Trygstad tells me the solution is simple: a keratin treatment on the front section of my hair so my bangs will lie flat and be easier to blowdry straight. After the treatment, I close my eyes as he snips a handful of my long hair until it hits right below my eyebrows, tapering it a little longer at my temples. I practically skip out of the salon—my hair is definitely strawberry-blonde Deschanel!
Over the next few days, I revel in a compliment-fest. My bangs make my glasses look cooler; they make my ponytails seem perky and stylish; they even make me seem vaguely French. They also inspire my friend Cristina, who has always wanted bangs but hesitated because of her wavy texture, to hit the salon. (Hers look amazing, too, and we can't stop telling each other this.) My bangs are someone else's dream bangs! Another upside is I become less vigilant about tweezing my eyebrows since they're pretty much hidden, as is the burgeoning wrinkle in between them. I decide that everyone who gets Botox should quit it and just get bangs instead.
A week in, I notice I'm breaking out on my forehead. (Bangs Catch-22: Hair's natural oils and product buildup can cause acne, but bangs also make it so no one can see my forehead—I'll call it even.) Rainy days send me into hysterics and have me employing an arsenal of bobby pins to tamp down the inevitable frizz by pulling my fringe back. Going to the gym requires a very strong headband and a complete wash and restyle of my bangs. And unlike the rest of my hair, the bangs need to be washed every day or they look greasy, so I spend many mornings trying to shampoo the front of my hair in the sink. (I use dry shampoo often, but it just makes a mess when my hairline is soaking wet from a speed walk to the subway or 30 minutes on the treadmill.) On the plus side, blowdry time is quick thanks to the keratin, and when I put in the 15 minutes, my bangs look great. But some mornings I don't have—or just don't feel like putting in—those extra 15 minutes, and bangs don't have an "off" switch. Then a close friend tells me she now sees just bangs and glasses, not my actual face. The need for frequent trims (every three weeks or the hair starts to poke me in the eyes) makes me consider a DIY approach, which I know can only end badly. To fit in trims, I cancel a personal training session before work, and another time I bail on dinner with friends. You know that girl you think is cool but she's so needy it starts to feel like the friendship isn't worth it anymore? After four months, my bangs are that girl.
So I decide to say good-bye to my blunt fringe, spending a few weeks with good side-swept bangs, and a few more with an awkward in-between length; they probably won't be totally blended in with the rest of my hair for some time. Most hair grows only about half an inch per month, and since my hair growth is even slower than that, it takes a full eight months before people stop saying, "Growing out your bangs, huh?" I have good company for quitting, though: Michelle Obama, who got bangs earlier this year, has since described them as "irritating" and decided to grow them out. Like the babydoll dress I once loved but that now hides in the back of my closet, bangs aren't for me, but they're still a trend I'm glad I tried.
"Everyone who gets Botox should quit it and just get bangs instead."