How to Style '70s Hairstyles for 2023, According to Hairstylists
Alexa, play Fleetwood Mac.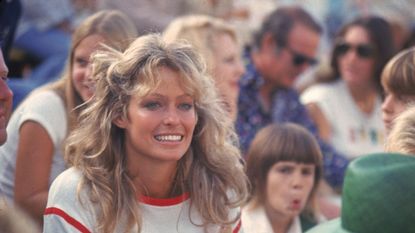 (Image credit: Fotos International)
TikTok, Instagram, and red carpets galore are calling for a return of the '70s. Everyone has seemingly gotten aboard the curtain bang train, Farrah Fawcett-esque flips are everywhere, and massive, fluffed-up volume is having a mega-moment. Why are we throwing it back to '70s fashion trends, you ask? It seems as though we're collectively ready to have a little fun with our looks. "After COVID-19 lockdowns, people want to go all out with their hair, makeup, and dressing. They want to go big," hairstylist David Cotteblanche tells Marie Claire.
While some of these rocker-chic or bohemian-inspired styles can be created with a bit of hairspray and some hot rollers, others might require a semi-daring chop, added dimension, or maybe even some extensions or clip-ons. Interested in hopping on the '70s hair trends? Good news: We tapped two top hairstylists to break down how to achieve the most popular looks. So whether you're trying to pull a Miley Cyrus and rock a mullet or channel Stevie Nicks' rocker waves, keep reading.
Curtain Bangs
Wondering how to achieve the big, swoopy bangs donned by '70s Hollywood stars and high schoolers alike? "Start with a blow dryer and brush," says Cotteblanche. After washing your hair with shampoo and conditioner, use your fingers to flatten from the roots and pull straight down as you blow-dry. Once the hair is fully dry, use a comb down the middle of your scalp to create a center part. Then, use a 1-inch ceramic curling or iron brush to bend the tips of of the bangs outward.
The Fawcett Flip
"Farrah Fawcett had a big wavy look, with her curls curling away from the face," Cotteblanche says. The best way to achieve this look is with a two-inch curling iron, he adds. Make a middle part, then set your hair in hot rollers facing the back all over your head. After the rollers have cooled, remove them and brush the hair back and shake the curls loose. Use a sea salt spray and hairspray to help the waves keep their body and shape.
Rocker Waves
If Stevie Nicks would rock it, so would we. "This look is about cropped layers and creating tons of texture," notes Cotteblanche. After washing your hair, air dry it while periodically flipping your hair upside down for maximum lift at the root. Once it's dry, use a one-and-a-half to two-inch curling iron to curl the top strands backwards and the sides frontwards for a mixture of textures. Finish off with a dry texturizing spray, and go forth and head bang.
R+Co Zig Zag Root Teasing Texture Spray
Edgy Mullet
In the mood for a drastic cut? Go for a mullet. "Also know as the hybrid 'business in the front, party in the back' look, the mullet is known for its short layers around the top of the head with longer, choppy locks around the bottom," explains Matrix Brand Ambassador Castillo. "Layers frame the face beautifully, while also adding texture and dimension where it's most needed."
The key to styling a choppy cut like this is to add texture from the get go. "Using a mousse right before you blow dry will help lock in volume and hold, which ultimately helps out a lot with the many layers in your hair," he explains. For added dimension, reach for a one-inch curling iron or flat iron to add waves and bends from the mid-shaft to the ends. While you can cap your styling there, Castillo recommends backcombing at the crown for a bit of added texture.
Baby Bangs
With everyone from Zoe Kravitz to Halle Berry taking micro bangs for a test run, there's no denying this look is having a resurgence. "They are normally cut straight across or they're curved to shape your face, but the shorter you go with the bangs, the more taming you will have to do in the long run," explains Castillo.
To make styling as foolproof as possible, it's important to start when the hair is damp. "I'll apply a few dollops of gel, mousse or moisturizing styling cream with my fingers," he says. "Then, I'll comb the product through, while also brushing them into place." Once that's set and done, either set the bangs into place with creaseless clips or blow dry the hair in a downwards direction. "If your hair is on the coarser, kinkier side, finish the look with a few passes of a small straightening iron," he adds.
Taylore Glynn is the Beauty and Health Editor at Marie Claire, covering skincare, makeup, fragrance, wellness, and more. If you need her, she's probably roasting a chicken, flying solo at the movies, or drinking a bad Negroni at JFK.