The 10 Biggest Hair Trends for 2023, According to Hairstylists
It's the year of sleek, statement-making styles and baby bangs.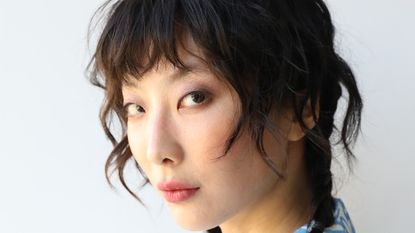 (Image credit: Monica Shipper/Getty)
I'm all for heatless hairstyles, taking a beat from bleach, and low-maintenance looks, don't get me wrong. But, life is all about balance. So while easy, breezy cuts and colors have been the status quo for the past few years, it's due time for a little shake up—a pivot if you will. As such, the 2023 hair trends are a little, well, extra. Think: More high-maintenance haircuts, dyes that require religious touch-ups, and glossy finishes that necessitate a stockpile of hair products to "get the look."
"2023 will be a big year for bold, vibrant, statement-making hair trends," says celebrity hairstylist Justin Anderson (opens in new tab). On the haircut front, pixies, bangs (yes, OG blunt bangs), and even bobs are making a major comeback. And when it comes to color? Gear up for more red (it's the new neutral), icy blondes à la the Targaryans, and a sprinkle of cinnamon brown highlights that will transcend the typical warm-toned winter hue. In short, experimentation is the name of the game. Go big, go home! Get the chop! Take the risk! You get the point.
If you're not sure where to start, please, scroll ahead. I tapped the best hairstylists in Hollywood to get the down low on the hair trends that will reign supreme in 2023.
Blunt Bob
"We were so attached to overly textured hair for so long, in cut and in style, and I'm seeing a major resurgence of clean looks coming back," says celebrity hairstylist Clariss Rubenstein. "The blunt bob is a clean, classic look. It has a heavy weight line at the perimeter and can be worn wavy or straight. It's timeless and polished. The sleek bun is having a major moment, and this cut is sort of the short-haired girl's answer."
Red Hair Revival
Everyone from Zendaya to Gigi Hadid had a red hair moment last year, and there's no sign that the hue is going anywhere, anytime soon. "Red has had a huge moment this summer, and I think we'll still see that continuing next year but with more playful tones," says Anderson. "Strawberry, copper, and rich auburn hues will continue to be a top trend." But DIY-ers be warned: You can only lift your color so much with box dye. "If you want to go lighter, please consult with a trained professional to lift your hair color gradually so you don't damage your strands," says celebrity hairstylist Lacy Redway.
The good news? There are a ton of at-home products, like dpHUE's Gloss+ (opens in new tab), to help tide you over between salon visits.
High Shine Styles
Glass hair, but make it bouncy. "Smooth, sleek locks doesn't necessarily mean pin straight. A shiny, polished blow dry, although a classic look, is very hot right now," says Rubenstein. So grab your round brush and a shine-boosting product (she recommends the Unite U Oil), and go to town. You can add a few curls, do a half up situation with a hair bow, or even pop in some rollers. The actual style is totally your call—the trend here is all about the light-catching finish. As Anderson puts it: "There is nothing more gorgeous than the look of intensely shiny, reflective, healthy-looking hair."
Bold, Bright Blondes
When Anderson, who is responsible for blondes like Kristin Cavallari and Gwyneth Paltrow, and celebrity hairstylist Jenna Perry, whose clients include Jennifer Lawrence and Bella Hadid, say there's a new blonde trend—you listen. "2023 will be the year of bold platinum hues. Think old school Hollywood blonde with a modern twist," says Anderson. Perry, for her part, predicts winter blonde, aka Targaryen blonde a la House of Dragons, will take center stage. "It's the lightest shade of blonde that there is," she adds.
While this is a high-impact color, keeping your blonde bright and your roots to a minimum takes work. You will likely need regular touch-ups and toning sessions, but a solid at-home maintenance routine is equally as important. I'm a big fan of purple toning shampoos (Olaplex (opens in new tab) is my personal favorite), but you also can't go wrong with dpHUE's Brightening Powder (opens in new tab). "It will pull out all the minerals and impurities that like to cling to blonde strands, causing them to look dull and lifeless. This will be your secret weapon to keep your blonde in its brightest state."
Dramatic Chops
Ok, hear me out: This next trend isn't so much a trend. It's more of a you-do-you approach to haircuts. "We haven't seen a major 'haircut' moment in a while, but 2023 is the year for statement making styles," says Anderson. The options run the gamut, but commitment to a vibe is key. You could opt to go sleek and sophisticated with a bob (peep the above) or go all-in on a pixie cut. If it makes a statement, it's a go.
Shades of Brunette
Being brunette was never out, it's just really in at the moment. And the shade options are endless. Perry predicts a light brown cinnamon shade that resembles "the color of a teddy bear" will top the trends. Anderson's brunette affection falls on the other end of the spectrum. "Rich, deep chocolate brunette colors will be coming back in full force. Vibrant, warm tones look stunning on so many people and mix well with caramel or honey hues for some added dimension." Rubenstein, however, wants justice for the shades that fall smack in the middle. "I love that medium brown is being embraced. For so long us girls with medium brown hair felt like we had to go lighter or darker. Turns out, medium brown is perfect just the way it is. Maybe add a touch of gloss just for shine. Thank you, Hailey Bieber," she jokes.
Regardless of where you land, you'll need a decent mix of hair masks and blue shampoos to keep your tone in tact. Try dpHUE's Cool Brunette Shampoo and Conditioner (opens in new tab) or a Davines hair mask (opens in new tab).
Going Grunge
Fashion and beauty collide with this next trend. "From the 2010s-fueled Indie Sleaze revival (See: Hedi Slimane's Winter 2023 for Celine) to edgy latex and studded leather becoming everyday wears, grunge fashion is fastly dominating this year's trend cycle. In short, the darker and messier, the more in-your-face and unruly your style is in 2023, the better," says Marie Claire Style Editor Emma Childs.
On the beauty side, that translated to the return and re-imagination of the smoky eye and a slew of choppy, asymmetrical hairstyles. "This haircut is bold and will require a lot of patience to grow out," warns Redway. But, here's the good news: You can pull off the look with a wig or set of extensions that create a sharp angle around your face.
"This hairstyle is meant to be smooth and sleek," says Redway. She recommends using a hydrating shampoo and conditioner, like the Nexxus Ultralight Smooth Shampoo and Conditioner, that gives a silky effect as a first step. Then whip out your blow dryer and flat iron (don't forget heat protectant, people!), and you're good to go. Just remember: "Do not use crease clips if you want to keep the sides flat and smooth."
Bangs, Baby
"I don't want to call it a trend because I feel it's a hairstyle that will always find a place in any hair conversation—bangs are here to stay," emphasizes Redway. But the bangs we're going to see in 2023 will have a 1990s or 1970s twist. "We'll see really short ones, choppy ones, or edgy ones. We'll also see versions of bangs combined with our other trends, like the red or auburn hair color, which is a bold way to debut your new look." Rubenstein is on board with the whole bang situation, predicting a rise in curly fringe. "Whether you're wavy or curly, it's super cute and gives a 70s throwback vibe." Just grab a great curl cream (Rubenstein recommends the Bumble & Bumble Curl Cream (opens in new tab)) and you'll be set.
Finger Waves
Let's say you decided to get one of the statement, grungy haircuts we talked about above. It's very cool as is, but there's a way to up the ante even more. How, you ask? Via retro-inspired finger waves. "They'll make an appearance with different haircuts," says Redway. "We could even see the inspiration of finger waves making appearances with mullets and pixies."
Mid-Length Mane
If you've been waiting for a sign to bid your split ends ado (let's be honest: a two inch dusting does next to nothing), then listen up. Midi cuts are having a moment. "It can be anywhere between the collar bone and the armpit, be very layered, or have one length—it's super versatile," says Rubinstein. "You can shed your super long hair while still having the ability to put it all the way up." Your styling options remain endless; you can go sleek and straight, add some waves, or even go for a more textured, natural vibe.
Meet the Experts
Clariss Rubenstein is a Los Angeles based hairstylist. Born in Paris, she discovered her passion for art and style at an early age. She attended the Vidal Sassoon Academy in Los Angeles and later worked under top stylists at the renowned Chris McMillan Salon. Her talent and ambition paid off and she opened a boutique studio, Gloss, in Beverly Hills, where she currently works. Clariss's clients include Jennifer Garner, Dakota Fanning, Mindy Kaling, Kaley Cuoco, Leighton Meester, Allison Williams and Alison Brie. Her work has been featured in editorials for Vanity Fair, Jalouse and LadyGunn. Her advertising work includes James Perse, Chanel, Louis Vuitton and Tommy Hilfiger.
Lacy Redway is a New York based hairstylist. After studying at The Aveda Institute in Manhattan, her career quickly took off. A combination of Lacy's proficiency with all hair textures as well as her magnetic personality have earned her an esteemed roster of clients including Tessa Thompson, Laura Harrier, Priyanka Chopra, Anne Hathaway, Karlie Kloss, Sarah Paulson, Elizabeth Olsen, Ruth Negga, Gabrielle Union, and Diane Kruger, among many others. Lacy has collaborated with respected photographers like Rankin, Gavin Bond, Alexander Neumann, Warwick Saint, Ben Hassett, Michael Schwartz, Alexei Hay, Micaela Rossato, and Erik Madigan Heck.
A native of Southern California, Justin grew up near and in the water, surfing with his parents and siblings. His fascination with the way ocean water and the sun naturally lightened hair, led to his interest in hair color as a profession. He apprenticed with leading blonde experts before his undeniable talent led to his own chair and Vogue anointing him, "a rising star of blonde Hollywood." His work with celebrities catapulted him to the top of the Beverly Hills salon community and demand for Justin's services extended well beyond blondes. Today, Justin leads dpHUE in the development of products and educational content to enable people everywhere to best care for their color and keep their hair healthy.
A gemini born in Rhode Island, Jenna Perry had been a hair dresser since 2005. After assisting many stylists and colorists in fashion, Jenna mastered her craft, bayalage, at Ion Studio in Soho. She then founded Jenna Perry Hair in 2019.
Samantha Holender is the Beauty Editor at Marie Claire, where she reports on the best new launches, dives into the science behind skincare, and keeps up with the latest trends in the beauty space. She has previously written for Us Weekly, Popsugar, Makeup.com, Skincare.com, and Philadelphia Wedding. Follow her on Instagram @samholender.