How to Master the Perfect Fishtail Braid
It's a lot easier than it looks.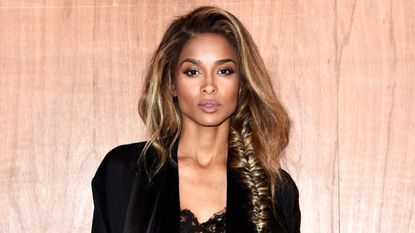 (Image credit: Pascal Le Segretain)
The tightly interwoven fishtail braid gets a bad rap for looking overly complicated to try at home, but it's really just a matter of practice. If you're tired of sweeping your hair back into yet another ponytail, perfecting the fishtail braid is a crucial hair hack to learn for busy mornings.
It simply requires an elastic band and a little patience, but once you do, you'll find an effortlessly chic style that's equally wearable for the office or a summer date. Follow along below to find out how to master this versatile style in six easy steps and don't forget to check out all of MC's braid tutorials at the bottom of the page.
Step 1.
Sweep hair over your shoulder into a ponytail and secure with a rubber or elastic band. Separate this ponytail into two large sections or equally sized ponytails.
Step 2.
Grab a half-inch piece of hair from the left section. Next, cross it over the rest of the hair in the left section and pass it under the entire right section.
Step 3.
Next, repeat step two on the right side (in reverse), being sure to cross a half-inch piece from the right section over the rest of the hair in the right section and then under the hair in the left section.
Step 4.
Repeat this process on both sides until all of the hair is threaded together, then secure the ends with an elastic.
Step 5.
Cut off the elastic band you used to secure your hair at the top.
Step 6.
Gently tug at the finished braid and loosen it slightly via the pancaked method to create a messy 'do. And, if you want a sultry, undone look like Ciara's, leave some of the hair out of the braid to majestically drape around your face.
RELATED STORIES
RELATED STORIES
RELATED STORIES
Follow Marie Claire on Facebook for the latest celeb news, beauty tips, fascinating reads, livestream video, and more.
Celebrity news, beauty, fashion advice, and fascinating features, delivered straight to your inbox!