47 Braided Hairstyles to Inspire Your Next Look
You'll steal the show.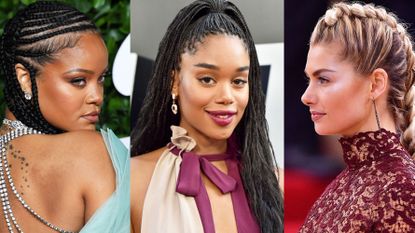 (Image credit: Getty)
A braided hairstyle is the single best way to let your creativity shine through. Hey, your messy ponytail had a good run! That wild, swirled-up bun served you well for a while—but it's begging to be retired. And if straight hair is your signature style, please put down the flat iron: heat damage is real and will be at an all-time high now warm weather is here. Braids mean many things to many people, and whether you're using your own natural locks (or locs) or adding a style like French braids or Dutch braids to your hairstyle, braids are absolutely one of the lowest-maintenance, highest-style options around.
The styling options are endless when it comes to braids. From an accessorized crown braid to jumbo knotless box braids, you have choices galore. We've pulled braidspo from far and wide to present you with all types of looks suitable for every occasion and hair texture. Some of these styles may take a great chunk of your day to achieve but will last for weeks, while other styles can be achieved in no time at all. Ahead, we've rounded up 40+ mood board-worthy braided styles to inspire your next look.
1/47
Jhené Aiko
At the Grammy's this year, the album of the year nominee rocked out in long, criss-crossed box braids with loose, curled ends and edges pressed and laid.
2/47
Kelly Rowland
We understand, retiring your everyday top knot or ponytail is difficult. So why not just switch it up a bit with box braids styled into a high pony instead? It's a protective style that's perfect for summer months.
3/47
Rihanna
Rihanna proves that you can still be the belle of the ball with criss-crossing cornrows and laid baby hairs. To replicate this slicked look, apply edge control on your baby hairs using a small toothbrush, then tie your hair down with a silk scarf.
4/47
Tessa Thompson
Jumbo knotless braids are never not a good idea. Not only is this style completely painless to install, but you can cut the styling time in half compared to small individual braids if your patience wears thin.
5/47
Olivia Culpo
If looking regal is your vibe, do as Culpo did and add a mesmerizing twist to your formal updo with a medium-sized braid along the side pulled back into a bun of ringlets.
6/47
Justine Skye
Sometimes, simplicity reigns supreme. Justine Skye stuns in a loosely braided fishtail braid with a subtle violet tint you can't help but noice.
7/47
Solange Knowles
Looking to jazz up your lewk? Embellish your cornrows with beads or try a vibrant color like bleach blonde. If you're as bold as Solange, go ahead and do both.
8/47
Thandie Newton
Style your straight-backs into a bun for a classic look like Newton's. Cornrows that fall into an elegant low bun is the perfect play on this everyday style.
9/47
Laura Harrier
Granted, this style is absolutely beautiful, but please note that these long micro-braids take quite a while to complete (usually six-plus hours depending on the braider). The plus side is the versatility. Rock your braids half-up like Harrier, in a low ponytail, or even up into a top knot—the styling options are endless.
10/47
Skai Jackson
For a sleek and effortless style, braid your cornrows into a high ponytail like Jackson. Warning: you may want to swing your ponytail back and forth every time you pass a mirror. Embrace it!
11/47
Jordyn Woods
Here, another example showcasing the beauty of versatility with wearing tiny box braids. Woods looks incredible in this '90s staple, the half-up, half-down hairstyle.
12/47
Jessica Hart
Switch up a simple French braid by showing off your highlights with an elongated mohawk like Hart. Her hair color completely steals the show in this braid.
13/47
Yara Shahidi
Triple cornrow braids look divine and literally take no time. Curly girls: Shahidi shows you can totally pull this style off.
14/47
Emily Ratajkowski
Ratajkowski giving golden goddess vibes with her crown braid coupled with face-framing layers and a dainty headband for an extra ethereal effect.
15/47
Tracee Ellis Ross
With braids, there's power in your part. Ellis experiments with shape by simply parting her cornrows with smaller and bigger chunks of hair for a three-dimensional finish.
16/47
Kerry Washington
Complementary colors interweaved into braids turns a simple look up several notches. Kerry's streaked, straight-back braids take texture to new heights.
17/47
Gabrielle Union
Summer is here, which means protective styles with minimal upkeep will save you so much time. Union's straight-back box braids are one of those no-brainer braided styles you can keep going back to.
18/47
Amandla Stenberg
Single box braids are more fun with splashes of color, as gorgeously proven by Stenberg. Plus, this style requires zero commitment to permanent color because they're extensions.
19/47
Lucy Hale
Remix a sleek low pony with a center braid, which evidently will steal the show. All you need is a good pomade and boar bristle bush to replicate Hale's slick-back.
20/47
Issa Rae
Leave it to Issa to wear a side bun so well. And you're in luck because this style requires half the work. Let the lower half of your hair hang freely, and braid the top up into a side bun. Bonus points for accent braids on the side because they're more fun.
21/47
Jorja Smith
Try to take your eyes off of Jorja Smith's angelic face and focus on her box braids. These tiny, individual braids grant you the freedom to wear your hair in an array of styles, like a simple low bun.
22/47
Lupita Nyong'o
Just when you thought Nyong'o couldn't look any more regal, single cornrows add a dimensional layer of elegance to her braided updo. The lesson: Cornrows will singlehandedly jazz up a classic look.
23/47
Tia Mowry
With triple cornrows scooped and wrapped into a braided knot, Mowry's bun feels anything but boring.
24/47
Shay Mitchell
The ultimate this-ol'-thing hairstyle, Mitchell's low and loose three-strand braid defies gravity with a billion face-framing layers.
25/47
Kate Hudson
A bow by any other name is still a bow, but tie it around soft, segmented French braid, and it becomes decidedly less elementary.
26/47
Emma Watson
Don't fear Watson's messy, textured updo. Just create three super-loose and teased French braids, than wrap the ends together into a tiny bun.
27/47
Dania Ramirez
Soft and fuzzy, Ramirez's halo braid isn't a feat of magic, but the result of gently tugging and pulling each section of the braid for an undone feel.
28/47
Blake Lively
The loose, unraveled version of the fishtail braid: the bedhead fishtail.
29/47
Amanda Seyfried
The beauty of this braid is that it's not overly perfect: It's pancaked enough that it avoids looking too precious and it makes a cool contrast to Seyfried's polished red carpet gown.
30/47
Janelle Monáe
The bigger and bolder, the better, according to the very wise Janelle Monáe. Here she piles a tilted braid atop her head and lets the rest hang down on her shoulders in a side braid.
31/47
Charlize Theron
The low braided bun: a less snooze-worthy take on the chignon.
32/47
Cheryl Cole
A beautiful long and segmented waterfall braid: the ideal way to accessorize a gown with a low-back.
33/47
Kate Bosworth
The unofficial hair mascot of your average music festival, and for good reason: it's pretty and prevents any sweaty hair moments in the sun.
34/47
Nicole Kidman
A perfectly coiled and braided (and giant) chignon to trump all chignons.
35/47
Zoe Kravitz
Kind of like Beyoncé's high side ponytail, except Kravitz has swept up her natural braids atop her head.
36/47
Busy Phillips
The best reason to dip dye your hair: the chance to try out a mermaid braided style.
37/47
Ciara
A stunning take on the fishtail braid: half of the hair coiled up in a tight sight braid and the other half left loose and flowing on top.
38/47
Rachel McAdams
We dubbed this one of the sweetest hairstyles to get married in and you can see why: the double braids and the flower tucked behind the ear are pure magic.
39/47
Lucy Liu
A double braided beauty that combines a small French braid by the crown with a lengthy side fishtail braid (long haired girls, step right on up).
40/47
Cate Blanchett
A wispy, twisted French braid updo that will make them do a double-take.
41/47
Alicia Keys
An especially creative way to wear braids? Pulling your hair into a braid that starts from the back of the crown and pinning it up along the side of your head. Difficulty Level: Expert.
42/47
Jennifer Aniston
A cute little, 5-minute braid tuck is the best way to add some oomph to your hair without really lifting a finger.
43/47
Maria Menounos
A stylized fishtail that focuses on adding wavy volume to the top of the crown and thick, puffy pancaking (or flattening out) to the braid itself.
44/47
Blake Lively
What's a braids story without a double appearance from the IRL Lara Croft of braids, Blake Lively? Pro tip from this look: Try a high ponytail/braid hybrid by looping a length of hair around the top of it and securing it just the way you would hide a hair tie.
45/47
Scarlett Johansson
Exhibit A: The Milkmaid. It does wonders when you don't want a single hair in your face.
46/47
Diane Kruger
Exhibit B: Two exquisite pigtail buns that look like the modern version of the Princess Leia style.
47/47
Penelope Cruz
A *double* braided milkmaid for a Grecian-style hair crown.

•••
For more stories like this, including celebrity news, beauty and fashion advice, savvy political commentary, and fascinating features, sign up for the Marie Claire newsletter
Marie Claire email subscribers get intel on fashion and beauty trends, hot-off-the-press celebrity news, and more. Sign up here.
Hannah Morrill is a writer and editor based in Portland, Maine. She's an avid reader, an indifferent face-washer and a sunscreen/retinol evangelist.