Exactly How to Dye Your Hair at Home and Look Completely Perfect
DIY dye jobs have a bad rap—but here's why they rock.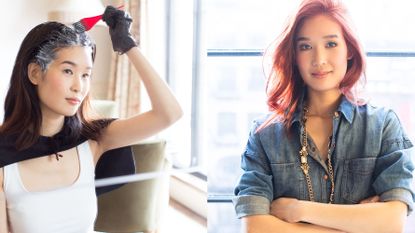 (Image credit: Stephania Stanley)
Marie Claire Newsletter
Celebrity news, beauty, fashion advice, and fascinating features, delivered straight to your inbox!
Thank you for signing up to Marie Claire. You will receive a verification email shortly.
There was a problem. Please refresh the page and try again.
Real talk: DIY dye jobs have a bad rap. But this is 2015, meaning dyes are better and easier to use than ever before. Here, with the help of the new Vidal Sassoon Salonist™ kit, our model gets the red hue she's always wanted—without the help of pricey pros.
1/11
The Before
Meet Charlotte Cho, co-founder of SokoGlam, a U.S.-based Korean beauty destination site. Months ago, she experimented with a deep red hair color, and now that the vibrant hue is almost completely grown out, she's ready to revitalize her statement-making mane with VS Salonist™ 5/45² Medium Intense Red.
2/11
The Supplies
The Vidal Sassoon Salonist™ kit comes complete with the following: one pair of protectant gloves; one tube of rich color cream; one bottle of color-activating lotion; one sachet of VS Serum™; one tube of color-preserving conditioner; one expert brush; and one expert bowl.
3/11
The Prep
If you've previously dyed your hair, like Charlotte, your roots and lengths are different colors and will react differently to new color. This is why colorists treat the roots (any new, uncolored hair growth) and lengths (the rest of the hair) separately in the studio. VS Salonist™ uses the same two-step process.
First up, the roots. Drape a towel over your shoulders to protect your clothing. Wearing the gloves, empty the entire contents of tube 1 and bottle 1 into the bowl.
4/11
Mix, Mix, Mix
Using the brush, evenly blend the mixture until it's smooth and creamy. Don't worry about the color in the bowl—that's not your final hair color!
(Pay close attention to the measurement indent on the inside of the bowl; you'll use ¾ of the mix on your roots. Save the rest for a later step).
5/11
Paint It On
Starting at the hairline, use the brush to apply the color just on your roots. The length of your roots depends on how long it's been since your last color. A few weeks? Paint about ½ an inch to an inch. Several months? Your roots could be up to two inches long or more. (If you've never colored your hair, cover both your roots and lengths with the mixture).
For even distribution, brush the mixture down towards your ears, then start moving back towards your crown, parting each section roughly ½ inches apart with the tip of the brush. (When you're done with the top section, start over at the nape and work your way up).
6/11
The Second Phase
Don't take your gloves off just yet! For this shade (5/45² Medium Intense Red), go directly to the second step and add the VS Serum™ packet into the leftover ¼ color mixture. Take your brush and blend it together until it's nice and smooth. (Tip: Always read the instructions for each shade, as they are different depending on the shade, just like at the salon.)
This serum adjusts the formula so the color of your lengths blends seamlessly with your roots. It also gives the color of your ends visible depth and tone.
7/11
Work It In
No need for the brush this go round; scoop the mixture into your hands and apply it to the rest of your hair, pulling it all the way down to your ends. Gently massage it in—that way you can ensure you'll evenly coat every single strand.
8/11
The Waiting Game
It takes 30 minutes for the 5/45² Medium Intense Red to completely process, so kick back and catch up on some Netflix while you wait.
An FYI: Because Charlotte's lengths were previously colored, the hair texture below her roots is porous and will change color more quickly. That's why salons always treat roots first.
9/11
Cleanse and Condition
Time's up! Rinse the color mixture out with lukewarm water, before lathering up with a color-safe shampoo. After rinsing out the shampoo, apply the VS Colour Preserve Conditioner™ and leave it on for two minutes, then rinse it out with cool water.
10/11
The Big Reveal
Blow-dry and style your newly colored strands, and you're all set—no drive home or cab hailing required.
Oh, you need pro tips for an at-home blow out, too? Got you covered.
11/11
Girl on Fire
Don't forget to deep treat your hair each week with the conditioner to keep your new color vibrant.
Extensions provided by True Indian Hair.
Celebrity news, beauty, fashion advice, and fascinating features, delivered straight to your inbox!
Managing editor. Bona fide beauty addict. Full-time globe-trotter. Part-time DJ. Skinny leather pants lover. Exercise hater. Deep-fried tofu fanatic. Recovering red-lipstick abuser.