Editors handpick every product that we feature. We may earn commission from the links on this page.
The 12 Best Deep Conditioners and Masks Your Curly Hair Will Love
Say hello to springy, quenched curls.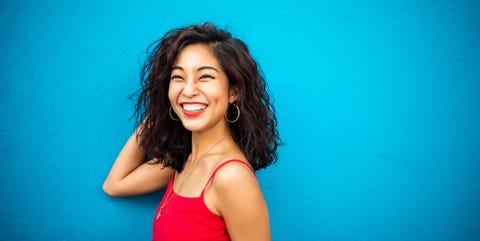 MStudioImages
Getty Images
If you have curly hair, we salute you, we see you, we envy you, and we offer you this list of twelve deep conditioners absolutely ideal for putting moisture where you need it most. If your hair is curly and you swear it's dryer than that strands of your straight or wavy-haired peers, you're not imagining things. Here are the facts: On the surface of your hair, cuticles lay in an interlocking pattern, working like little shields to keep moisture inside the shaft. When your hair is curly, those cuticles lift up by nature, meaning that hydration can seep out. The result? Hair that looks frizzy, not fresh; curls that look diffused, not springy; and a coiled pattern that can be irregular.
The good news? There's a relatively easy solve to all of that. We're talking about deep conditioning, in all its glory. As with any beauty endeavor, all deep conditioners aren't created equal. For starters, you'll want to look for something without sulfates—they end up lifting cuticles even further. Next, consider the texture and form-factor of the product you're considering. Lighter weight versions, like serums, spray-on oils, or milks, will play better with fine curly strands. For thick and dense coils, consider creams, puddings, and masks. Some will want to be left on and rinsed out, others still spritzed in and styled per usual. Some can be used every time you shower. Ahead, twelve deep conditioners for curly hair that stylists and curly-haired editors swear by.
Most Softening Conditioner
Love Curl Mask
Davines
amazon.com
$36.00
"This is one of the most softening products I've ever used, and to be honest the whole Love range is softening," says Chicago-based hairstylist Ryan Babbitt, who notes it's gentle enough for finer curls. For thick, dense or wavy hair, try the OI Butter, also from Davines.
Best for Dry Curls
Coco Creme Deep Moisture Mask
Carol's Daughter
amazon.com
$11.99
There are a lot of great conditioners for curly hair in the Carol's Daughter universe. But when it comes to to fuzzy, desiccated curls—IYKYK—this blend of coconut, mango, and murumuru calms everything from 4c ringlets to 1c waves.
This Lightweight Lotion
24 Miracle Milk Leave-In Conditioner
"This is so rich and nourishing, but somehow still light," says Babbitt, who uses it as a detangler, a cutting lotion, and a daily leave-in on curly hair. Also? It smells "fresh and honest."
This (Mostly) Natural
Don't Despair, Repair! Deep Conditioning Hair Mask
Briogeo
sephora.com
$36.00
The rosehip oil in this reparative, clean cream contains fatty acids, which plugs damaged divots in the hair shaft, making strands appear both stronger and smoother, but not greasy or overly laid.
This Luxe Option
Honey Infused Hair Mask
It is okay to raise a skeptical brow to influencer product collabs. But while it was created by Negin Mirsalehi, it's not a collab, and there's absolutely nothing to question here. The primary ingredient is honey from the influencer's family apiary. After shampooing, comb onto wet strands for five minutes. The results: Soft coils, no frizz, and a heavenly honey scent.
This Treatment Turned Leave-In
Trauma Treatment
What it lacks in an artful name, it makes up for in versatility and effectiveness. "It really works for hair that is flimsy and lacks shine," says Babbitt. It's not overly heavy, so in addition to using it as a one-off treatment, curly types can sometimes use it as a regular leave-in. "Color-treated curly hair soaks it right up," he says.
For Stubborn Curls
Curl Elongator Conditioning Cream
Living Proof
sephora.com
$38.00
The idea with this product is that you work it into damp strands section by section, then dry and style as normal. Rather than a tangled mess, you'll be left with a defined bouncy curl pattern from root to tip. Start with a small amount, and get ready to be pleasantly surprised by the long-term results.
Best for Everyday Usage
Leave-In Conditioner
Naturally Africa
naturallyafricahaircare.com
$9.99
Sometimes, products for curly hair are too heavy for everyday use. But the women behind this Cape Town haircare brand know better. This combo of jojoba and vegetable protein absorbs quickly and reshapes confused curls over time.
Best Rinse-Out
Stellar Strands
Kinky Curly
amazon.com
$15.95
Housed in a fitting gold-trimmed jar, this rinse-out combo of argan oil and macadamia oil works over time to quench brittle curls and discourage breakage and snapping, while improving the long-term springiness of your curls. For particularly coarse or parched strands, try it under a hair cap for up to 30 minutes.
Best on All Curls
High Porosity Finishing Elixir
Shea Moisture
amazon.com
$19.98
"Curly hair tends to have higher porosity and less shine than other textures, and this product really deal with that," says Babbitt. "Also I'm always into Shea Moisture. The company is so responsible, the ingredients are so clean, the products are easy to find and they really work." NB: Can be used on dry or damp coils.
Best In-Shower Option
Curl Defining Conditioner
Kim Kimble
shopkimkimble.com
$25.00
A deep conditioner lightweight enough for all your wash days, formulated from Beyoncé's longtime hairstylist.

This Clean Version
Curl Defining Conditioner
Curls don't have a gender, and neither should the hair products that soothe them. This amino-acid rich complex leaves hair soft and full of movement and wafting with a pleasant, natural scent.

This content is created and maintained by a third party, and imported onto this page to help users provide their email addresses. You may be able to find more information about this and similar content at piano.io