19 Deep Conditioners and Masks Your Curly Hair Will Love
Say hello to springy, quenched curls.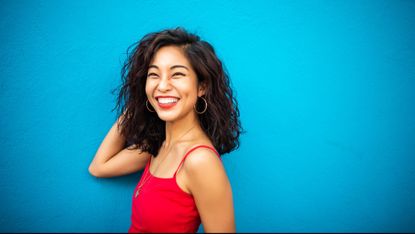 (Image credit: Getty Images ¦ MStudioImages)
It's well-established that deep conditioner is a critical part of any curly hair routine, especially if your strands fall on the more damaged and dry end. Protein and moisture are even more important for hair that's prone to frizz to keep strands from being damaged from environmental exposures. If your hair is curly and you swear it's more dry than the strands of your straight or wavy-haired peers, you're not imagining it. Here are the facts: On the surface of your hair, cuticles lay in an interlocking pattern, working like little shields to keep moisture inside the shaft. When your hair is curly, those cuticles lift up, meaning that hydration can seep out. The result? Hair that looks frizzy, not fresh; curls that look diffused, not springy; and a coiled pattern that can be irregular.
The good news? There's a relatively easy solution to all of that. It's what we mentioned above: Deep conditioning, in all its glory. As with any beauty endeavor, all deep conditioners aren't created equal. For starters, you'll want to look for something without sulfates—they end up lifting cuticles even further.
How do deep conditioners work on curly hair?
Why you can trust Marie Claire Our expert reviewers spend hours testing and comparing products and services so you can choose the best for you. Find out more about how we test.
A deep conditioner is defined as any hair treatment that works to put moisture and nourishment into the hair cuticle, and is washed out after 30-45 minutes. And before you ask: Yes, there is such a thing as leaving hair masks and creams in for too long. The weight of the product can flood the hair and cause curls to fall flat from over-moisture. Depending on your hair type, porosity, and damage level, leaving on a deep conditioner for longer than an hour or designated on the product isn't recommended. Sometimes hair oils and leave-in conditioners will be used for deep conditioning, but it's always a smart practice to wash out any excess product to avoid limp curls. Ahead, deep conditioners for curly hair that curly-haired editors swear by.
1/19
Davines Love Curl Mask
Most Softening Conditioner
"This is one of the most softening products I've ever used, and to be honest the whole Love range is softening," says Chicago-based hairstylist Ryan Babbitt, who notes it's gentle enough for finer curls. For thick, dense or wavy hair, try the OI Butter, (opens in new tab)also from Davines.
2/19
Briogeo Don't Despair, Repair! Deep Conditioning Hair Mask
This (Mostly) Natural Deep Conditioner
The rosehip oil in this reparative, clean cream contains fatty acids, which plugs damaged divots in the hair shaft, making strands appear both stronger and smoother, but not greasy or overly laid.
3/19
MATRIX Unbreak My Blonde Reviving Leave-In Treatment
For All Hair Types
Even if you've never even looked at a bleach mixture, your hair might need some reviving. Thankfully, this treatment works for all hair types. Weekly treatments over time will tame frizz and reshape curls—even after one use, you'll notice a change. Citric acid is the key ingredient to add shine and help bond weakened strands.
4/19
Carol's Daughter Coco Creme Deep Moisture Mask
Best for Dry Curls
There are a lot of great conditioners for curly hair in the Carol's Daughter universe. But when it comes to to fuzzy, desiccated curls—IYKYK—this blend of coconut, mango, and murumuru calms everything from 4c ringlets to 1c waves.
5/19
Shea Moisture High Porosity Finishing Elixir
Best on All Curls
"Curly hair tends to have higher porosity and less shine than other textures, and this product really deal with that," says Babbitt. "Also I'm always into Shea Moisture. The company is so responsible, the ingredients are so clean, the products are easy to find and they really work." NB: Can be used on dry or damp coils.
6/19
Living Proof Curl Elongator Conditioning Cream
For Stubborn Curls
The idea with this product is that you work it into damp strands section by section, then dry and style as normal. Rather than a tangled mess, you'll be left with a defined bouncy curl pattern from root to tip. Start with a small amount, and get ready to be pleasantly surprised by the long-term results.
7/19
JVN Nurture Deep Moisture Mask
For Deep Repair
Jonathan Van Ness wants you to take care of yourself and your hair, and that's why he created JVN Hair. This subtly scented deep moisturizing mask boasts camellia seed oil and rice protein to improve shine and create a strong barrier in hair cuticles. No silicones here—squalane and hemi-squalane are the real heroes that give hair a lustrous sheen without the harshness of any plastics.
8/19
XMONDO prismatic glow hydrating mask
For Brittle Hair
Brad Mondo is sick and tired of damaged hair, and he wants to help all the brittle and over-processed strands out there immediately. The welcoming fragrance of this mask makes for a pleasant experience, while argan oil and baobab oil penetrate hair to repair with each use. This mask leans on the thick side, so make sure to give it a good rinse to avoid flat hair.
9/19
BREAD BEAUTY SUPPLY Hair Mask Creamy Deep Conditioner
For Medium to Thick Hair
The velvet texture of this deep conditioner helps loosen curls while penetrating hair with nutrients like the Australian Kakadu plum and starflower oil. The Australian plum works from root to tip for a pillow-soft feel on even the most damaged curls.
10/19
Hask Argan Oil Repairing Deep Conditioner
The Packet Miracle
Go into any Target or Walmart, and you'll sachets filled with different deep conditioners and hair treatments to revive lifeless hair. A favorite is this mask from Hask: Its main ingredient, argan oil, repairs split ends while hydrating. You can't go wrong with one of Hask's hair masks, and adding several to your cart will keep you stocked for months.
11/19
Biolage ColorLast Deep Treatment Pack Multi-Use Hair Mask
For Color Treated Hair
For those with colorful strands or a shade different from their natural hue, any product could cause that color to fade. Using color-safe shampoos and conditioners is one thing, but a color-protecting hair mask that adds shine and repairs? Sign me up.
12/19
PATTERN Treatment Mask
The Gel Mask
Unlike most hair masks, this formula is enriched with rice water to help combat shrinkage and shape curls, coils, and curl types. The jelly texture spreads easily through hair because it's not as thick as a traditional deep conditioner. It's ideal for adding moisture to help prep hair for a twist-out or protective style.
13/19
MIZANI 24 Miracle Milk Leave-In Conditioner
This Lightweight Lotion
"This is so rich and nourishing, but somehow still light," says Babbitt, who uses it as a detangler, a cutting lotion, and a daily leave-in on curly hair. Also? It smells "fresh and honest."
14/19
Gisou Honey Infused Hair Mask
This Luxe Option
It is okay to raise a skeptical brow to influencer product collabs. But while it was created by Negin Mirsalehi, it's not a collab, and there's absolutely nothing to question here. The primary ingredient is honey from the influencer's family apiary. After shampooing, comb onto wet strands for five minutes. The results: Soft coils, no frizz, and a heavenly honey scent.
15/19
L'anza Trauma Treatment
This Treatment Turned Leave-In
What it lacks in an artful name, it makes up for in versatility and effectiveness. "It really works for hair that is flimsy and lacks shine," says Babbitt. It's not overly heavy, so in addition to using it as a one-off treatment, curly types can sometimes use it as a regular leave-in. "Color-treated curly hair soaks it right up," he says.
16/19
Naturally Africa Leave-In Conditioner
Best for Everyday Usage
Sometimes, products for curly hair are too heavy for everyday use. But the women behind this Cape Town haircare brand know better. This combo of jojoba and vegetable protein absorbs quickly and reshapes confused curls over time.
17/19
Kinky Curly Stellar Strands
Best Rinse-Out
Housed in a fitting gold-trimmed jar, this rinse-out combo of argan oil and macadamia oil works over time to quench brittle curls and discourage breakage and snapping, while improving the long-term springiness of your curls. For particularly coarse or parched strands, try it under a hair cap for up to 30 minutes.
18/19
Kim Kimble Curl Defining Conditioner
Best In-Shower Option
A deep conditioner lightweight enough for all your wash days, formulated from Beyoncé's longtime hairstylist.
19/19
Odele Curl Defining Conditioner
This Clean Version
Curls don't have a gender, and neither should the hair products that soothe them. This amino-acid rich complex leaves hair soft and full of movement and wafting with a pleasant, natural scent.
Hannah Morrill is a writer and editor based in Portland, Maine. She's an avid reader, an indifferent face-washer and a sunscreen/retinol evangelist.