Hair Color Rehab
Sun, salt water, and humidity can suck the life — and vibrancy — out of your strands. Nurse them back to glossy perfection with our post-summer expert plan.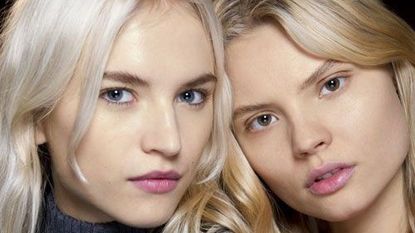 (Image credit: Jason Lloyd-Evans)
Platinum hits
DIAGNOSIS: Green swimmer's hair.

CAUSE: Proteins in your hair and copper found in pool water create a chemical reaction.

SELF-HELP: Wash hair with a clarifying shampoo — like Pureology Perfect 4 Platinum Shampoo, which is void of color-altering sulfates and sodium chloride — immediately after a dip to get rid of mineral deposits. In a pinch, rinsing hair with equal parts white vinegar and water also does the trick, says Teca Lewellyn, Procter & Gamble Beauty scientist.

PRO RX: For really stubborn stains, opt for a salon formula that can chemically lift discoloration with bleach, Lewellyn advises. "Bleaching can cause dryness, so ask your colorist to use fast-acting formulas that are less likely to fry your hair." Try: Wella Professionals Blondor Multi Blonde Powder.

PREVENTION: Bleached hair is more porous, which causes it to soak up extra copper and chlorine in the pool, explains Lewellyn. If sporting a silicone swim cap isn't your style, she recommends rinsing hair with fresh water and coating strands with a leave-in conditioner (to minimize the absorption of chemicals by cuticles) before jumping in.
DIAGNOSIS: Fried ends.

CAUSES: Too much styling or bleaching.

SELF-HELP: "A telltale sign you've done major damage: short bang-like pieces that aren't part of your haircut," explains celebrity colorist Michael Canalé. Intense breakage from overbleaching requires heavy-duty therapy like Living Proof Restore Recovery Regimen, a monthlong repair system with patented moisture-binding molecules. Or try a DIY hot-oil treatment: Mix 4 tablespoons of olive oil with 1 tablespoon each of coconut oil and protein-rich conditioner; comb through; cover hair with a plastic cap for deeper penetration; leave on for an hour (or even better, overnight); then rinse with warm water.

PRO RX: Bottle blondes are subjected to higher levels of peroxide, says Canalé. For super-stressed strands, he suggests an intensive salon prescription like the Shu Uemura Art of Hair Silk Bloom Restorative Treatment that fortifies frail hair with a potent cocktail of vitamin E, ceramides, and argan oil.

PREVENTION: "If you can get away with it, skip the double process and just highlight your hair to avoid excess damage," Canalé advises.
DIAGNOSIS: Brassiness.

CAUSE: Mineral deposits in hard water.

SELF-HELP: "A violet color-correcting shampoo with cool tones helps counteract any yellowness," says Dhaniel Doud, manager of Redken Education. Just make sure you distribute it evenly through wet hair and leave it on for five minutes max, he warns. "The goal is to create a super-sheer lavender veil on hair that masks yolky hues — not to sport purple streaks."

PRO RX: Ask your colorist for a few face-framing baby-blonde highlights (which instantly brighten), followed by a professional-grade, ammonia-free toner to diffuse any leftover brassiness.

PREVENTION: Invest in a good shower filter that blasts calcium deposits, and wash hair every other day to prevent color from fading, says Tammy Sherman, creative director at the Frédéric Fekkai Salon at NYC's The Mark Hotel. In between shampoos, rinse with lukewarm water and use an ultra-hydrating conditioner like Fekkai Advanced PrX Reparative Conditioner.

MC RECOMMENDS: Clairol Pro Shimmer Lights Blonde & Silver Shampoo, $9 (top center); Paul Mitchell Forever Blonde Dramatic Repair, $18; Aveeno Nourish+Strengthen Conditioner, $7; Living Proof Restore Recovery Regimen, $38 for five ampoules.

Brown sugar

DIAGNOSIS: Orange streaks.

CAUSES: Sun and excessive heat styling.

SELF-HELP: When brown hair fades, underlying warm tones of red, gold, and orange start to appear, explains Clayton Lee, lead color educator at Bumble and Bumble in NYC, who recommends spot treating with tinted hair powders for a quick fix. "Lightly spritz streaks from root to end in a quick downward motion," she advises. Blue color-depositing shampoos like Aveda Blue Malva Shampoo can also help neutralize orangey shades and liven up drab color.

PRO RX: To combat carroty hues at the salon, ask your colorist to apply an ashy toner that's one to two shades deeper than your current color. "During beach season, getting monthly cool-tone glosses help keep brassiness at bay," explains Lee.

PREVENTION: Spritz on a sun protection mist to help shield against UV rays that cause fading when you're, say, walking to work. But if you're going to be spending a lot of time outside, throw on a broad-rimmed hat or stylish silk scarf, advises Gina Gilbert, senior colorist at the Serge Normant at John Frieda Salon in NYC. To buffer against heat damage, keep blowdrying to a minimum and use a thermal protector before styling. Redken Duo Shield 07 Color Protecting Gel-Cream blocks breakage with xylose, a heat-neutralizing sugar molecule, and cranberry oil.
DIAGNOSIS: Limp locks.

CAUSES: Humidity and semipermanent dyes that coat strands and weigh them down.

SELF-HELP: U.K.-based stylist Lee Stafford suggests sprinkling a half teaspoon of all-purpose flour (a natural thickening agent that won't strip color) into a dollop of shampoo to pump up fine hair. Mix it in your palms and wash as usual. "The flour temporarily puffs up hair, making it look and feel fuller."

PRO RX: "Unlike blondes who bleach their hair — which actually causes the cuticle to swell — brunettes typically use semipermanent dyes that only deposit color, which can make hair look flat," says Sharon Dorram of Sharon Dorram Color at Sally Hershberger. Painting on subtle copper highlights will help physically thicken hair and add more dimension.

PREVENTION: Some women make the mistake of over-conditioning their fine, color-treated hair, Dorram explains. "Deal with hair based on its needs: If it feels parched, use a mask — otherwise skip it and just rinse." Opt for lightweight dry oils when styling and beware of heavy-duty (read: volume-deflating) stylers with greasy ingredients like silicone and mineral oil.

Crimson pride

DIAGNOSIS: Dullness.

CAUSES: Dry summer heat and intense air-conditioning zap moisture and shine.

SELF-HELP: To brighten locks and purify the scalp, add five drops of apple cider vinegar to a bowl of cold water and dunk your hair. Comb through (do not rinse) and let it air-dry, advises Paris-based colorist Christophe Robin.

PRO RX: Dyed red hair can appear dull if there's no dimension for light to bounce off of, Robin explains. "At the salon, I use a mixture of equal parts red henna, warm water, and hair mask for 10 minutes on strands, from the mid-shaft to the ends, before applying permanent hair color. This pre-dye process makes the overall color look more intense and less flat."

PREVENTION: Steer clear of dry shampoos that contain white talc, which can make red hair appear matte and dull. The real trick to maintaining shiny red hair is to start with a healthy base. Once a week, massage an infusion of lavender, wheat germ, and olive oils on scalp and strands to get rid of buildup and add moisture.
DIAGNOSIS: Major fading.

CAUSES: Water damage and UV exposure.

SELF-HELP: Hot water is a redhead's nemesis — it opens up cuticles (think tiny shingles on each strand's surface) and allows color to seep out, explains celebrity colorist Rita Hazan. On the bright side, hydrating treatments work wonders to prevent fading. Try a vitamin-E-rich avocado mask weekly to revive dry tips: Heat 1 tablespoon of coconut oil in the microwave for 10 seconds and massage into scalp and hair; coat freshly mashed avocado on the ends only (tips tend to be drier than oil-producing roots); leave on for 15 minutes; rinse with cool water and shampoo.

PRO RX: "Damaged hair doesn't have the ability to absorb and hold on to pigment as well as healthy hair," says Aloxxi colorist Marco Pelusi, who recommends getting protein-injecting keratin treatments before coloring. "Since color molecules bind to protein in the hair, you'll want to replenish it before you dye." In addition, trim dry ends to instantly refresh the look of red hair and make color appear more vibrant.

PREVENTION: "Red dyes fade the quickest, so choose a natural-looking shade — think strawberry if you're blonde and auburn if you're brunette. That way it'll still look great as it fades," advises Hazan. Ideally, shampoo one to two times per week with products specifically designed to keep color looking bright.
Shades of gray

Colorist Rick Wellman of Manhattan's Patrick Melville Salon takes your lackluster grays to silver fox status

· Think you're ready to ditch dyeing altogether? Wait until your hair is at least 30 percent gray naturally (a salt-and-pepper look). Otherwise, the silvery streaks will come off looking unpolished.

· When transitioning from dyed hair to your natural tone, do it gradually. Each time you color, choose a semipermanent dye that's one shade lighter than your previous hue and just touch up the roots.

· Gray hair tends to be coarser and drier, so using a smoothing shampoo and conditioner like Wella Age Restore with shea butter and antioxidant-rich rooibos will help soften strands.
Celebrity news, beauty, fashion advice, and fascinating features, delivered straight to your inbox!